EU states expel three Russian diplomats in tit-for-tat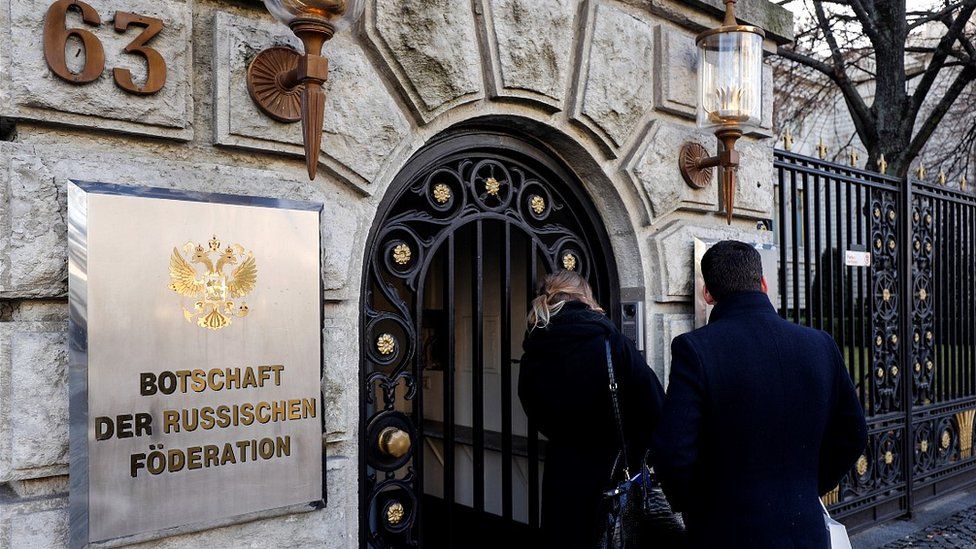 Germany, Poland and Sweden have each expelled a Russian diplomat in a tit-for-tat move after Russia expelled three diplomats from those countries.
The Kremlin accused the three EU diplomats of participating in mass street protests in support of jailed opposition leader Alexei Navalny.
Their expulsion was announced while EU foreign affairs chief Josep Borrell was visiting Moscow on Friday.
The three countries affected condemned Russia's move as unjustified.
One Russian diplomat must now leave the Berlin embassy, another the Stockholm embassy and a third the Russian consulate in Poznan, Poland.
The German foreign ministry said its diplomat expelled from Moscow had merely been "observing developments in Russia by lawful means", in line with diplomatic conventions.
Mr Borrell published a blog piece on Sunday giving a bleak assessment of the state of EU-Russia ties.
He wrote that "an aggressively-staged press conference and the expulsion of three EU diplomats during my visit indicate that the Russian authorities did not want to seize this opportunity to have a more constructive dialogue with the EU".
The signals he received from Russia, he said, "confirmed that Europe and Russia are drifting apart".
The EU has condemned the jailing of Navalny and called for his immediate release. It has also urged Russia to hold a transparent investigation into the poisoning of Navalny last August with the nerve agent Novichok.
Navalny, 44, accuses Russian President Vladimir Putin of directly ordering the attack.
The Kremlin denies any role in the poisoning and disputes the Western conclusion that Novichok - an extremely toxic Russian chemical weapon - was used.
Last October, the Organisation for the Prohibition of Chemical Weapons (OPCW) concluded that Novichok had poisoned Navalny. That was also the conclusion of toxicology experts in Germany, Sweden and France.
Navalny - a fierce critic of President Putin - nearly died, but got emergency treatment first in Siberia, then in Berlin.
His return to Russia on 17 January and immediate arrest triggered mass protests by his supporters across the country.