Why this teen set up a prize-winning fake cosmetics shop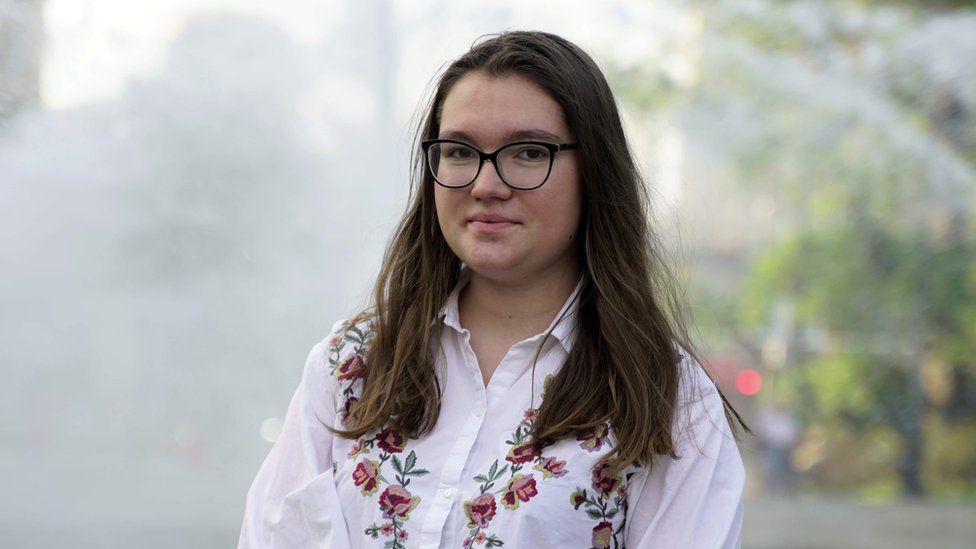 Disturbed by reports of rising domestic violence under coronavirus lockdown, a Polish high school student decided to launch a fake online shop to offer a lifeline to victims trapped in their homes.
Her idea won a European Union prize that came with €10,000 (£8,700; $12,120).
"Firstly, I heard about the increase in domestic violence cases during the pandemic. Then I heard about a French initiative, where people go to the pharmacy and ask for a special mask that lets the pharmacist know they are a victim of domestic violence," Krystyna Paszko explained.
"I thought it was a brilliant idea, so I came up with the idea of selling cosmetics."
In April, Krystyna, who was 17 at the time, decided to launch the fake online shop "Camomiles and Pansies" to sell those cosmetics. The idea is that the victim can hide requests for help from their abuser at home by appearing to be shopping online.
When a victim writes asking to buy a cream, a psychologist responds instead of a salesperson and asks how long the "skin problems" have been going on for, or how the affected skin reacts to alcohol. If someone places an order and leaves an address, it is actually code asking for authorities to visit their home.
After Krystyna openly wrote about her plan on her own Facebook page, she was inundated with questions.
"I thought it would only be for my friends, and friends of friends. I thought I would help maybe one person or two, but the shares on Facebook were big and it became really popular," she said.
With so much interest, Krystyna contacted the Women's Rights Centre, a Polish NGO, asking for assistance. In response it provided psychologists and lawyers to work with the website.
Since its launch, more than 350 people have contacted the website. Most of the victims are young, under 40, and about 10% are male.
"More younger women prefer to write on Facebook than to call on the phone, it's more natural for younger women to use Facebook chat. Most of the men writing to us are teenagers," she said.
Krystyna credits her interest in human rights to her role in the scouts - she leads a Warsaw scout group and created its Facebook page.
"For many years I've been interested in human and women's rights, and because of that I read about the increase in domestic violence and wanted to do this. Before, I had created my scouting page. Scouting taught me how important it is to help others and to be interested in the world around me," she said.
The initiative was one of 23 projects to receive the EU's Civil Solidarity Prize, a one-off contest offering €10,000 to reward civil society organisations tackling the consequences of Covid-19.
The president of the Women's Rights Centre, Urszula Nowakowska, said she was "very impressed" by Krystyna's project. She said official police data does not show a rise in domestic violence cases last year, but calls to her organisation's hotline during the first few months of lockdown rose by about 50% compared with 2019.
Prime Minister Mateusz Morawiecki subsequently asked Poland's Constitutional Court to decide the issue.
In November, the justice ministry pushed through legal amendments allowing the police to expel perpetrators of abuse from the home.
However, there is still no way to stop them from approaching their victims outside the home, at the workplace or during the school pick-up, Ms Nowakowska said.
Poland introduced a promising multi-agency intervention system called the "Blue Cards Procedure" in 2010, but many have become disillusioned with it, she added.
"What I have observed in the last 15 years is that people are more eager to treat domestic violence cases as family conflicts, rather than a crime. I think this system is contributing a lot to that because it's not effective, it's very bureaucratic," she told the BBC.
She said there are around 70,000 domestic violence cases annually in Poland, of which only between 13-14,000 are treated as crimes.
When Krystyna found out she had won the EU's Civil Solidarity Prize she was pleased that a spotlight was being shone on the problem of abuse. "It makes the public face this problem and makes people think about this," she says.
She was pleased too for her team, who had worked hard to pull off the initiative - and for now they plan to keep it open.