German charged with spying for Russian military intelligence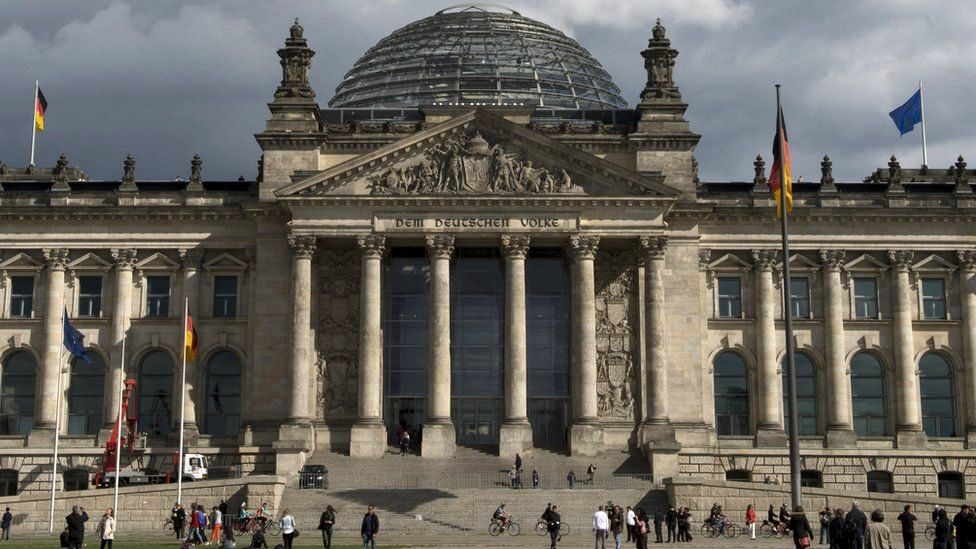 A German citizen suspected of passing floor plans of the country's parliament buildings in Berlin to a Russian military intelligence agency has been charged with espionage, officials say.
The man, identified only as Jens F, worked for a company that carried out maintenance on electrical equipment in the Bundestag and other premises.
He is accused of sending files showing the building's plans to Russia's GRU.
German prosecutors say the man appears to have acted on his own initiative.
"The defendant had access to PDF files with the floor plans," federal prosecutors said in a statement on Thursday.
It is alleged that in the summer of 2017, the accused compiled a disc of these files, which he then decided to pass on to an employee in the Russian embassy in Berlin.
The embassy employee "mainly works for the Russian military secret service GRU", prosecutors said.
Russia's GRU, or Main Intelligence Directorate, is the intelligence arm of the Russian military, tasked with carrying out undercover international operations.
According to German news magazine Der Spiegel, Jens F is a 55-year-old former army officer who allegedly had links with the Stasi secret police between 1984 and 1990. The magazine said it had received this information from sources linked to the investigation.
The feared Stasi had a huge network of spies and informers in former East Germany.
Jens F has reportedly been under investigation for months, with a search carried out at one of his properties in 2019.
Prosecutors have not provided any further information about the case.
Berlin has previously warned of the risk of Russian meddling in Germany's elections and democracy. The country is due to hold federal elections later this year.
Ahead of the general election in 2017, German politicians warned that hackers and others acting for the Russian state could undermine the process.
Last May, German Chancellor Angela Merkel confirmed reports that she had been targeted by hackers thought to be the GRU.
She was asked in parliament about a report in Der Spiegel that said the GRU had obtained emails from her constituency office in a hacking attack in 2015.
"It pains me," Ms Merkel said of the "outrageous" attack, which involved a theft of data from computers in the German parliament.
The Russian government denied hacking the German parliament's data.
In 2018, the government's IT network also came under attack, amid reports that Russian hackers were also to blame.
Russian hackers have also been accused of interfering with elections in the US and the UK.
You might also be interested in: