Daphne Caruana Galizia: Fresh charges over murder of Maltese journalist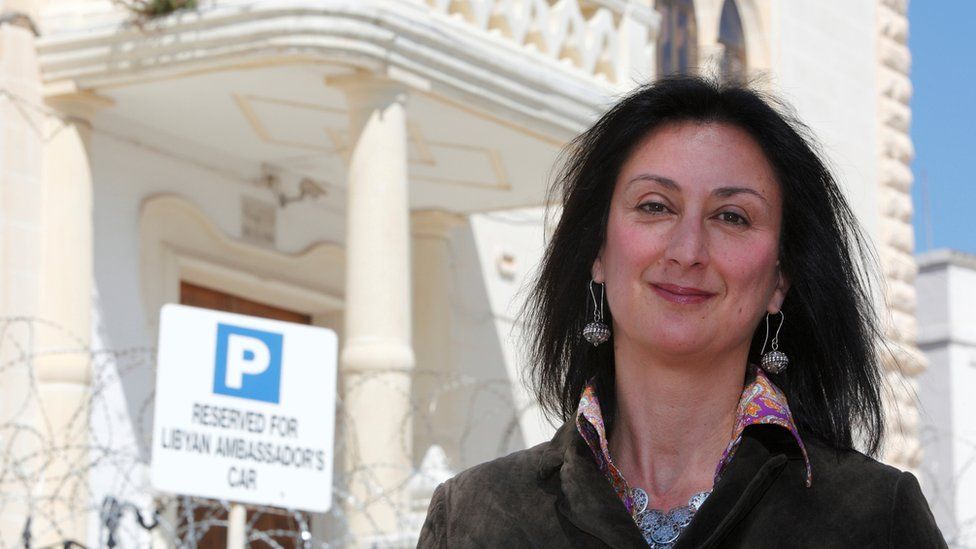 Two men have been charged in Malta with supplying the car bomb that killed investigative journalist Daphne Caruana Galizia in 2017.
Robert Agius and Jamie Vella appeared in court on Wednesday and are accused of complicity in the assassination - charges they deny.
Another suspect, Vincent Muscat, was jailed for 15 years on Tuesday when he admitted involvement in the murder.
Caruana Galizia uncovered networks of corruption in Malta and abroad.
Known as a "one-woman WikiLeaks", she was killed aged 53 by a car bomb close to her home in October 2017. Many suspect the killing was ordered by top establishment figures.
The latest suspects charged, both 37, are known to police for links to organised crime on the island.
He was one of three men in court earlier this week accused of involvement in the killing - the other two were brothers George and Alfred Degiorgio, also in their 50s.
Authorities said on Tuesday that police had found machine guns, shot guns and pistols in fresh searches.
"With the evidence we have, we are in a position to say that every person involved, be it mastermind or accomplice, is under arrest or facing charges," Police Commissioner Angelo Gafa said.
A fourth person, Maltese businessman Yorgen Fenech, was also charged with complicity over the killing - an allegation he denies.
Caruana Galizia, a journalist for 30 years, was relentless in her investigation of alleged corruption by Maltese politicians and officials in her popular Running Commentary blog.
She was a harsh critic of the government and in effect triggered an early election in 2017 by publishing allegations linking the then-prime minister to the Panama Papers scandal.
Joseph Muscat, who is not related to the suspect, denied the corruption allegations. But he later resigned as prime minister in December 2019 after an investigation implicated his close associates in the murder.
After her assassination, Caruana Galizia's son Paul hit out at what he called the country's "mafia state", saying his mother had been killed "because she stood between the rule of law and those who sought to violate it".