Michael Collins' wolf slippers spark Twitter storm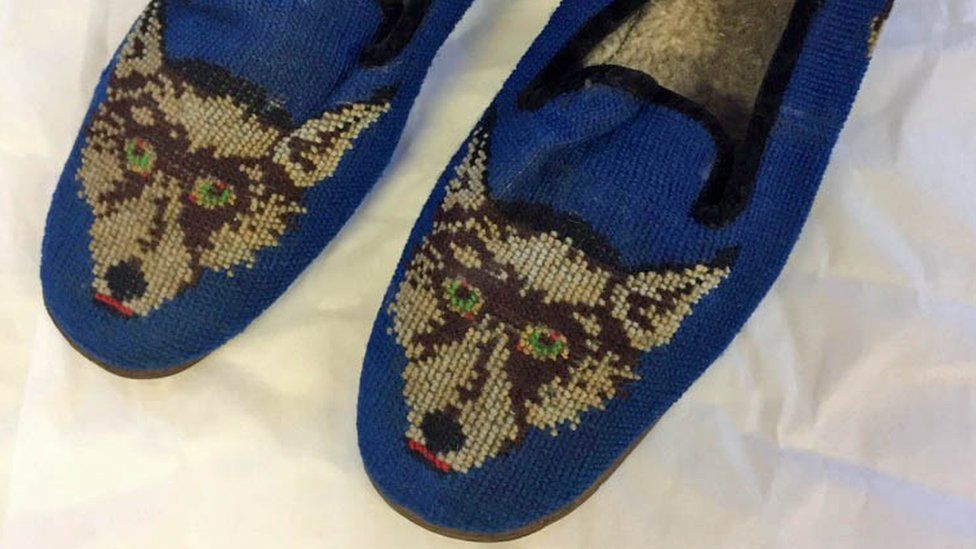 What kind of revolutionary leader would kick back in a pair of slippers like these?
They are not your ordinary pair of house shoes - a vibrant blue, lined with lush wool.
And, the detail that is the most intriguing - the staring green eyes of a wolf, its tongue slightly protruding like an emoji designed by the Brothers Grimm.
They look almost out-of-the-box brand new. And yet they're about 100 years old.
We know this because these slippers belonged to Michael Collins, the Irish republican who led the military campaign for Ireland's independence a century ago.
And when Collins' plush puppies emerged on Twitter in the last week, Irish users were stunned.
The BBC is not responsible for the content of external sites.
The picture was tweeted by Dr Gillian O'Brien, taken during a Zoom class for her public history students at John Moores University.
"It's incredible to put up something about Michael Collins and not have a row," she laughed.
"When I saw it had 30 or so reactions I thought 'Oh God, please, no one find a way to get into a row about these slippers'.
"I've even had some people replying to ask if it was a hoax. I suppose because they look quite modern, the stitching is almost like retro Pac-Man.
"The colour is so vivid. The design is high-end - you could see an Italian count wearing them."
The slippers went down a storm, with many users honouring them in the most online way possible - by turning them into memes and visual gags, riffing on everything from old photos of Collins to The Devil Wears Prada.
The BBC is not responsible for the content of external sites.
Skip twitter post 2 by (Old Gill)ian
Allow Twitter content?
This article contains content provided by Twitter. We ask for your permission before anything is loaded, as they may be using cookies and other technologies. You may want to read Twitter's cookie policy, external and privacy policy, external before accepting. To view this content choose 'accept and continue'.
The BBC is not responsible for the content of external sites.
End of twitter post 2 by (Old Gill)ian
Like many historic figures, Collins is fairly strictly defined in people's minds - the military leader; the serious revolutionary; a saint or a sinner depending on your view of history.
So, for Dr O'Brien, the slippers have allowed people to connect, possibly for the first time, with the human side of one of Ireland's most famous individuals.
"People feel they know everything about Collins. And they either like him or dislike him.
"In the past, I've done quite a lot of work researching him. I was down in west Cork and in one day I heard nine different stories about his death - and every single person was adamant they had the right story.
"Everyone knows everything, yet we know nothing."
One of the major figures who brought about Ireland's independence from Britain and the partition of the island into what would become Northern Ireland and the Republic of Ireland.
He led the Irish Republican Army (IRA) during the War of Independence with Britain, which lasted from January 1919 until July 1921. His leadership came to be known for his use of guerrilla tactics by the vastly outnumbered rebel forces.
During peace talks with Britain in 1921, he led a delegation which negotiated and agreed the Anglo-Irish Treaty, which would create an independent Irish Free State. The treaty also confirmed the partition of Ireland.
It was hugely divisive in Ireland - when it was passed by the Irish parliament, it set the stage for the Irish civil war. Collins would be the commander-in-chief of the Irish National Forces during the war, but was assassinated by anti-Treaty forces in 1922.
For Brenda Malone, at the National Museum, the interest online, particularly at a time when no one can actually visit museums, has been "a real joy".
"The slippers are beautiful, whimsical, stylish. Collins is such a famous figure but so often he's thought of in a flat, 2D manner and in black and white. These bring colour."
The slippers first came to the museum in 1958, donated by Bridget O'Connor, the wife of Batt O'Connor, a builder and developer, who supported the Collins-led Irish rebel forces during the War of Independence between 1919 and 1921.
The belief is that Collins left the slippers in one of the houses owned by the O'Connors. But, beyond that, facts about them remain as elusive as Collins himself.
The BBC News NI website has a dedicated section marking the 100th anniversary of the creation of Northern Ireland and partition of the island.
There are special reports on the major figures of the time and the events that shaped modern Ireland available at bbc.co.uk/ni100.
Year '21:You can also explore how Northern Ireland was created a hundred years ago in the company of Tara Mills and Declan Harvey.
Listen to the latest Year '21 podcast on BBC Sounds or catch-up on previous episodes.
"The question we all want answered is where did he get them?" said Ms Malone.
"Did he choose them? Were they a gift, from a lady friend perhaps? Or the O'Connors? That's why it's great to have this online because whenever items like this go out to the public, we always get information back."
The slippers are a size nine, which is notable as Collins was known as "the Big Fella".
The significance of the wolf also remains a mystery, although Dr O'Brien and Ms Malone both draw a line to Wolfe Tone, a revolutionary forebearer of Collins who led the Irish Rebellion of 1798.
"It's one of those things that brings your mind on a journey. It's really sparked people's imagination - but we'll never know unless we find out who gave him the slippers," adds Ms Malone.
The museum curator, who blogs about forgotten objects from the country's past at The Cricket Bat That Died For Ireland, said the slipper sensation is another reminder that items give us the personal stories we need to really understand history.
"Objects lead to enhanced understanding, emotionally rather than intellectually - but it's just as valid."
Or, as Dr O'Brien puts it, they show that "everybody has to get up and have some food and get on with their day".
"We never think of figures like this having a life. Collins' day wasn't all involved with spying.
"Also, I have to say, he had a very good taste in slippers."
You may also be interested in:
On 7 April 1926 an Irish woman stepped out from a crowd in Rome and fired a shot at one of the 20th century's most infamous dictators.
One bullet grazed the nose of Benito Mussolini, but the Italian leader survived the assassination attempt.