Dutch head to polls as Covid crisis looms large
By Anna Holligan
BBC News, The Hague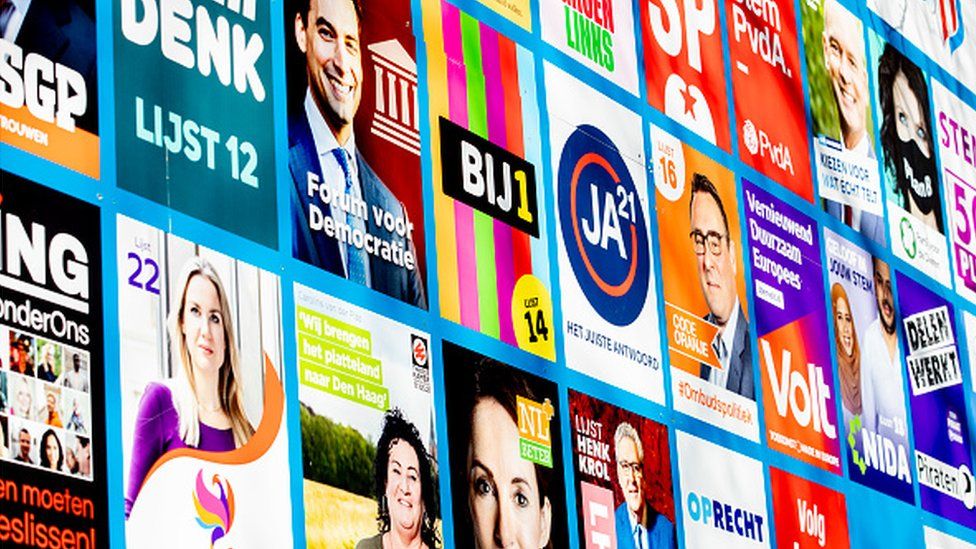 His government collapsed over a racial profiling scandal in the tax office, his country was the last in Europe to roll-out its vaccination programme, and with an average of 5,000 new daily infections, the Netherlands remains under its strictest lockdown to date.
And yet, Mark Rutte, the prime minister who presided over all of this, is odds on for a fourth term in an election involving 37 different political parties.
Why this election matters
With coronavirus restrictions in place, polls opened for vulnerable voters on 15 March, and everyone else votes on Wednesday in what will be the first "Covid election" in the EU this year.
The timeframe is laid out within the constitution, so the recent collapse of the coalition government is purely coincidental.
When people enter the freshly-sanitised polling booths, the pandemic and its consequences will be on their minds. Many have lost jobs and family members. Entire industries have collapsed, including hospitality and tourism, and voters will be thinking about another summer where they will be unable to go on holiday or visit family.
In fact, one in five voters say the crisis has influenced their choice of party.
While 2020 may have appeared to have been a disastrous year for the Dutch PM, Mark Rutte could not have wished for a more favourable environment.
He has, after all, wiped out his key opponents.
Under his smiling, bespectacled exterior, Mr Rutte is "super-cunning", according to Andre Krouwel, a political analyst at the Free University of Amsterdam. "Everyone who watches politics knows he's vicious and he has strategically eliminated every other candidate that might have challenged him," he says.
The current health minister, Hugo de Jonge, is a member of the Christian Democratic Appeal (CDA) party. He gave up his leadership challenge to focus on the day job of an escalating Covid crisis. The leader of the Labour Party (PvdA), meanwhile, stepped down because of a childcare allowance scandal.
Mr Rutte then convinced people he should stay on in power to keep things ticking over. In a time of chaos and uncertainty, the down-to-earth images of him munching an apple while riding his bike have appealed to many.
And for those concerned about polarising rhetoric, spiralling conspiracy theories and parties tapping into the disinformation movement, Mr Rutte is seen as the antidote to all of this. People are rallying round his flag.
"The Dutch aren't looking for a PM with big ideas who delivers great speeches," says Sheila Sitalsing, a journalist who wrote a book chronicling 2020 called Diary of an Insane Year. "They like a good manager. Mark Rutte creates the illusion that he is the most normal prime minister we've had."
His centre-right liberal People's Party for Freedom and Democracy (VVD) is clearly confident in him. Unlike previous years, it is Mr Rutte's face beaming out of billboards and tram stops rather than the party logo.
"It's all about him being a leader... leading us through crisis, [but there is] nothing on immigration, housing, climate, healthcare," Ms Sitalsing says. "It's completely centred around Mark Rutte."
But Mr Rutte is not without his critics.
Kristie Rongen, a victim of the benefits scandal, was widely seen as challenging Mr Rutte more than any of his political opponents during one of the pre-election debates.
Kristie told me she blamed the man she called "Teflon Mark" for her years of hunger, burnout, and depression.
In spite of his lead, Mr Rutte is going to need partners to govern. That is the norm in the Netherlands.
The next government will need three, four or even five parties to secure a majority in the 150-seat parliament.
And although the billboards featuring 37 party posters may suggest the Dutch are more polarised than ever, only a handful of parties matter when it comes to forming a government. Around 12 are expected to get enough seats to potentially influence policy.
Geert Wilders: The familiar face of the anti-Islam populists leads a party - the Party for Freedom (PVV) - currently running second in the polls, but even he acknowledges he is unlikely to be invited to form a coalition. Few parties will work with him, and many consider his policies to be unconstitutional.
Sigrid Kaag: A potential first female prime minister of the Netherlands is how her supporters see her. She swapped international diplomacy for domestic politics and has been standing out with her conciliatory tone. Their centre-left position could make her D66 party appealing coalition partners.
Jesse Klaver: The idealistic Green Left leader told me his vision for the country involved speeding up the vaccine programme and improving testing. But walking out of previous coalition formation negotiations might make other parties - who all expect some level of compromise - reluctant to work with him.
Thierry Baudet: Predicted to get about three seats, some analysts believe it could be more. "[He is] mobilising the fringes of Dutch society, alleging Covid-19 was invented by a political elite," says Mr Krouwel. "He's combining conspiracy theories with populist anti-elitism."
Mr Baudet's FvD is the only party holding rallies during the pandemic. He has tweeted his support for former US President Donald Trump, and appears to see political capital in adopting a similar style.
But that approach is unlikely to win him, or Geert Wilders, a place in the next government.
Most Dutch voters do not have a fixed preference, with around half deciding where to mark their cross on election day. This means predictions should be flavoured with an extra dash of salt.
Mr Rutte is performing well, so what's creating the most intrigue is who might govern alongside him.
It may take a while, there may be some shifts, but at the end of it all - despite these extraordinary circumstances - we may end up with something very similar to now.