Coronavirus: EU and UK try to end row with 'win-win' on vaccines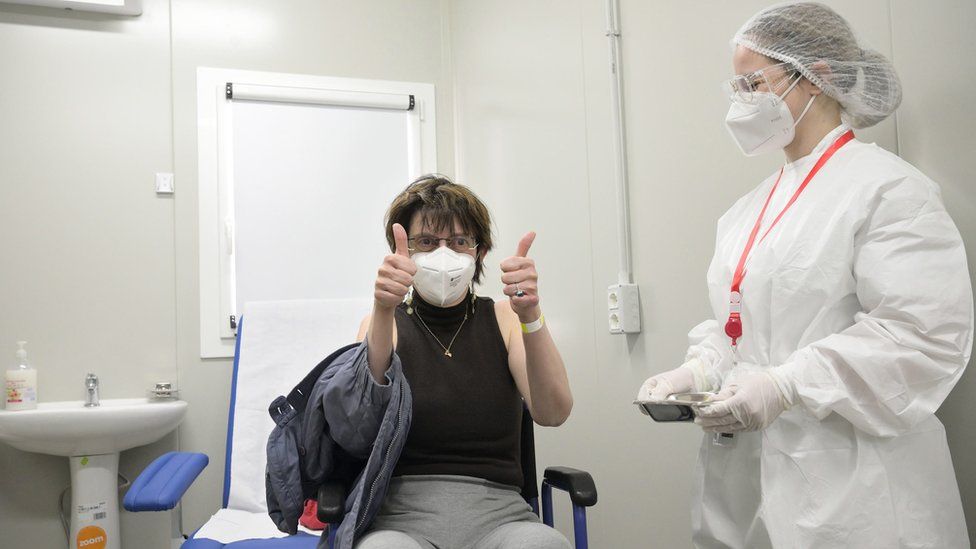 The UK and the European Union have said they are working together to improve their relationship, after weeks of tensions over Covid vaccine supplies.
In a joint statement, they said they wanted to "create a win-win situation and expand vaccine supply for all".
The European Commission earlier proposed tougher export controls on vaccines, amid tensions over supplies of the Oxford-AstraZeneca jab.
Prime Minister Boris Johnson warned that "blockades" were not "sensible".
The joint UK-EU statement said that "openness and global co-operation" would be key to tackling the pandemic.
"We are all facing the same pandemic and the third wave makes co-operation between the EU and UK even more important," it said. "We will continue our discussions."
But there was little harmony earlier on Wednesday when the Commission announced plans for all vaccine shipments to be assessed on the destination country's rate of vaccinations and exports. The proposals, which will be put before EU leaders on Thursday, are seen as focused on the UK and US in particular.
The tone of the EU-UK statement was positive, but actual progress between the two sides was described to me by an EU diplomat as "slow, cumbersome and difficult". On both sides.
That doesn't mean impossible, but at their summit on Thursday, some EU leaders - along with the European Commission - will still be pushing for tougher controls on vaccine exports. And they could hit the UK.
EU insiders say they had hoped never to use the controls. They say they want them as a means of exerting pressure on vaccine companies and on countries with vaccine production sites that are not exporting to the EU.
With a third wave of the pandemic hitting much of mainland Europe, EU leaders are coming under increasing pressure to show voters they are taking action to ramp up both the supply of jabs and their vaccine rollout, on both of which they are trailing behind the UK.
EU Health Commissioner Stella Kyriakides rejected a suggestion that the aim was to punish the UK. "We're dealing with a pandemic and this is not seeking to punish any countries," she said.
Asked whether the UK might retaliate, Mr Johnson told MPs he did not believe "that blockades of either vaccines or of medicines, of ingredients for vaccines" would be "sensible". Companies might draw conclusions about future investments "in countries where arbitrary blockades are imposed", he added.
Meanwhile, in other developments:
Amid continuing anger in Europe at AstraZeneca, a French government spokesman said the UK-Swedish company's failure to deliver on its commitments was "totally unacceptable"
In Italy, police raided a plant where 29 million AstraZeneca doses had been processed. An EU official told the BBC he asked for the weekend raid to ensure everything was on track
Meanwhile in Germany, Chancellor Angela Merkel made a dramatic U-turn and cancelled a planned five-day lockdown over Easter following widespread criticism. "This mistake is my mistake alone," she said
EU states are trying to speed up their vaccination campaigns after a sluggish start. Italy's PM said he wanted to increase the country's rate of inoculations per day from 170,000 to half a million
Some 19 EU states are recording a rise in infections - these include Poland, Spain and France
The tougher export controls are most like to affect countries that have higher vaccination rates than the EU, such as the UK and US.
The key criteria for the proposed regulations are "reciprocity" and "proportionality":
The EU says there is no reciprocity if a country importing vaccines from the EU restricts exports itself either by law or other means, so "it may be appropriate to consider whether exports to this country are justified"
Member states and the Commission will also consider the epidemiological situation in that non-EU country, its vaccination rate and existing availability of Covid-19 vaccines
There will be no outright export bans, which are opposed by countries such as the Netherlands and Belgium.
Vaccine manufacturers would be assessed to see if they were fulfilling their contract with the EU, although no specific algorithm is planned.
Is the UK being targeted?
In an interview with the BBC, the EU's Internal Market Commissioner Thierry Breton insisted the bloc's issues were with AstraZeneca and not the UK government. "I know that there's some tension... but as long as we have transparency, I think [relations] will be able to be normalised," he said.
He said if AstraZeneca had provided the agreed 120 million doses to the EU, member states would have been at the same rate of vaccination as the UK: "We have been heavily penalised and we just want to understand why".
AstraZeneca denies that it is failing to honour its contract with the EU.
A UK government spokesperson said: "We are all fighting the same pandemic. Vaccines are an international operation; they are produced by collaboration by great scientists around the world. And we will continue to work with our European partners to deliver the vaccine rollout."
Last week, European Commission President Ursula von der Leyen complained that the EU had exported more than 10 million doses to the UK, but the UK had so far exported none in return.
Her colleagues added that this had to be seen in the context of the EU being both a global Covid hotspot and also the biggest exporter of vaccines. Since the end of January, EU countries have exported 43 million doses of vaccine to 33 countries not subject to export authorisation, they say.
UK sources insist vital components are being sent to the continent, for example for the Pfizer vaccine, and they have emphasised the UK's role in investing early in vaccine development, BBC correspondent Nick Beake reports.