Coronavirus: NI 'a month ahead' of Ireland on vaccines
By Shane Harrison
BBC News Dublin Correspondent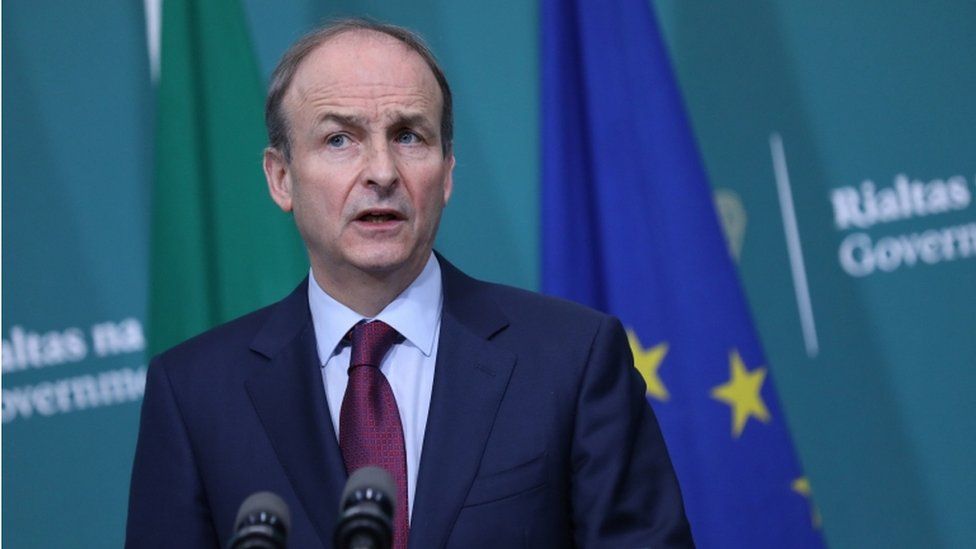 Northern Ireland is about a month ahead of the Republic of Ireland's Covid-19 vaccination programme, according to the taoiseach (Irish prime minister).
Micheál Martin said it did not make much sense to talk about north-south vaccination alignment because NI was part of the UK programme while Ireland was part of the EU's.
Alignment would be ideal, he said, but "we're not in that situation".
An alignment on mandatory quarantines, however, would be "useful", he added.
Those who fail to provide a negative PCR test taken within 72 hours of departure also face mandatory hotel stays in quarantine.
Speaking in the Dáil (lower house of parliament) on Wednesday, Mr Martin admitted he did not know with any certainty what plans the Northern Ireland Executive had on the matter.
The issue of abortion north of the border was also raised by several TDs on Wednesday.
The Democratic Unionist Party (DUP) in Northern Ireland also believes the government's abortion proposals are a devolved matter.
Mr Tóibín, who left Sinn Féin because he opposed the party's position on abortion, wanted to know what the taoiseach had done to "defend devolution".
Several TDs, including Sinn Féin leader Mary Lou McDonald, Labour leader Alan Kelly and Richard Boyd Barrett from People Before Profit, criticised Mr Tóibín's contribution, with some saying it was odd to see a republican defending what they called the DUP veto.
The taoiseach said while he had not engaged with anybody he did not think anybody should have a veto on the matter.