Coronavirus: EU urges unity as leaders meet for key vaccine summit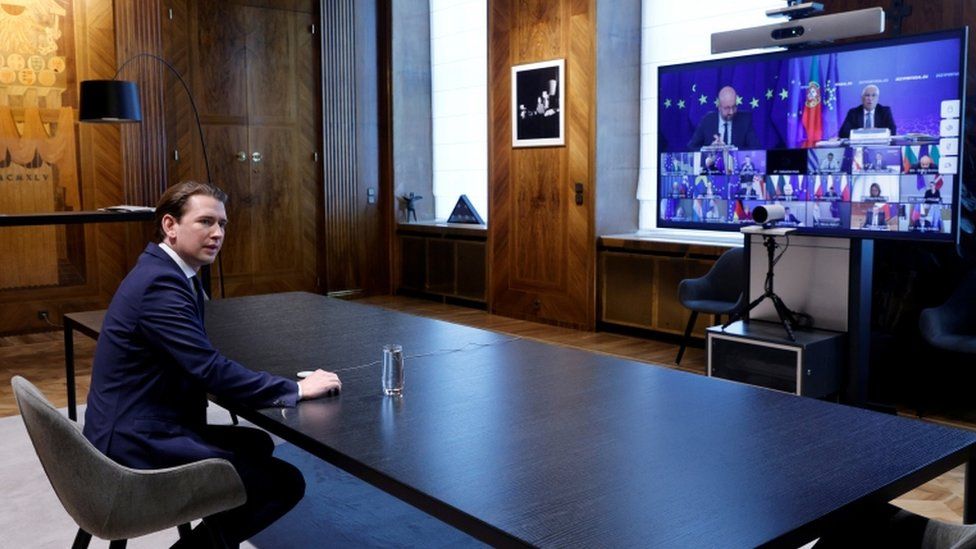 European countries must not turn on each other amid growing tensions over Covid vaccine supplies, the president of the EU Parliament has said.
The call for unity comes as EU leaders hold virtual talks to discuss supplies and improving distribution across the bloc's 27 member states.
Some countries have complained that doses have not been distributed fairly.
The meeting on Thursday will also see EU leaders decide whether to approve proposals to toughen export controls.
Such controls could affect supply to the UK, where Prime Minister Boris Johnson has warned against imposing "blockades".
Some EU states, led by Austria, are calling for a revision in the bloc's distribution method after failing to obtain enough doses earlier this year.
"There is no sense in us turning on each other, just as there is no sense in thinking that others are doing much better," European Parliament President David-Maria Sassoli said at a press conference on Thursday.
"The more unity we show, the more trust we will inspire," he added. "Salvation lies in working together."
Vaccine rollouts in EU states have started sluggishly, and the bloc has blamed pharmaceutical companies - primarily AstraZeneca - for not delivering its promised doses. The company has denied that it is failing to honour its contract.
What's happening on Thursday?
European Council President Charles Michel is hosting the video conference with EU leaders, as tensions rise over how to distribute doses among member states.
Austria's Chancellor Sebastian Kurz is heading a campaign with five Eastern European nations to address what they say has been an uneven distribution of vaccines.
"If no solution is found here it could cause damage to the European Union the likes of which we have not seen in a long time," Mr Kurz said ahead of the summit.
The EU is also divided over plans to introduce new export controls on vaccines in an effort to boost its own supply.
Some member states fear the controls would disrupt global supply chains and damage already strained relations with the UK after Brexit, the BBC's Katya Adler says.
The proposals are most likely to affect vaccine-exporting countries that have higher vaccination rates than the EU, such as the UK and US.
When considering whether to limit exports, the EU would consider the state of the pandemic in that country, its vaccination rate, and whether the country is itself exporting vaccines.
There would, however, be no outright export bans.
A site in Belgium produces the Oxford-AstraZeneca vaccine, and another in the Netherlands is expected to increase supplies of the jab in the EU.
On Thursday, an EU official told the AFP news agency that 21 million vaccines had been sent from the bloc to the UK but none had been sent the other way.
A draft of the summit's conclusions, seen by various news media including AFP and Reuters, reportedly says EU leaders will stress "the importance of ... export authorisations" while emphasising that vaccine producers must respect agreed delivery deadlines.
Ahead of Thursday's meeting, the former president of the European Commission Jean Claude Juncker urged the bloc to avoid a "stupid vaccine war" with the UK.
"This cannot be dealt with in a war atmosphere," he told the BBC's Hardtalk programme. "We are not in war, and we are not enemies."
He added that threats of export bans could cause "major reputational damage" to the EU.
Meanwhile, German Chancellor Angela Merkel called for the EU to boost its capacity for vaccine production.
"We can see clearly that British facilities are producing for Great Britain," she said. "The United States isn't exporting, and therefore we are dependent upon what can be produced in Europe."
Mrs Merkel also defended the EU's decision to procure coronavirus vaccines jointly, before warning that the impact of the pandemic could go "far beyond this year".
French President Emmanuel Macron expressed frustration at the slow pace of much of Europe's vaccine rollout. "We didn't shoot for the stars," he told the Greek television channel ERT before the summit. "We were wrong to lack ambition."
In another development, Denmark suspended its use of the Oxford-AstraZeneca jab by a further three weeks and said it was still looking at a possible link to blood clots.
Europe's medicines regulator declared that the jab was "safe and effective" last week, and is convening a group of experts to explore the issue further on Monday. There is no evidence that the jab is connected to the reports of clots.
On the eve of this meeting, a ghost of summits past visited with a warning.
Jean-Claude Junker's concern that the EU's reputation could be damaged by threatening export bans is shared, in part, by some member states. The Netherlands, Sweden, Ireland and Belgium are worried about the impact on supply chains.
Italy - which has already blocked a consignment of AstraZeneca doses - and France believe tougher action is needed to ensure the EU gets its fair share.
There are also smaller divisions over the distribution of the jabs the EU has actually managed to get hold of. Austria is leading a handful of disgruntled Eastern European nations who want a bigger portion.
The way the European Commission unveiled its proposals for stricter controls on exports has meant there has been little time for members to consider them. So, while we may see some degree of unity in a non-specific joint statement, clear agreement on the best and quickest way to tackle the EU's vaccination crisis does not seem imminent.
How bad is coronavirus in Europe?
A third wave of infections is sweeping across much of mainland Europe.
EU states have seen some of the deadliest outbreaks of the pandemic, with Italy recording more than 106,000 deaths, France 93,000, Germany 75,000 and Spain 73,000.
Yet recent figures show just 12.9 doses of vaccine have been administered per 100 people in the EU compared with 44.7 in the UK and 37.2 in the US.
Speaking earlier this week, Mrs Merkel said the British variant had become the dominant strain circulating in Germany and amounted to "a new pandemic".
"The situation is serious," she said. "Case numbers are rising exponentially and intensive care beds are filling up again."
Poland will close nurseries, pre-schools and hairdressers for two weeks from Saturday after coronavirus cases surged.