Italian officer 'caught selling secrets to Russia'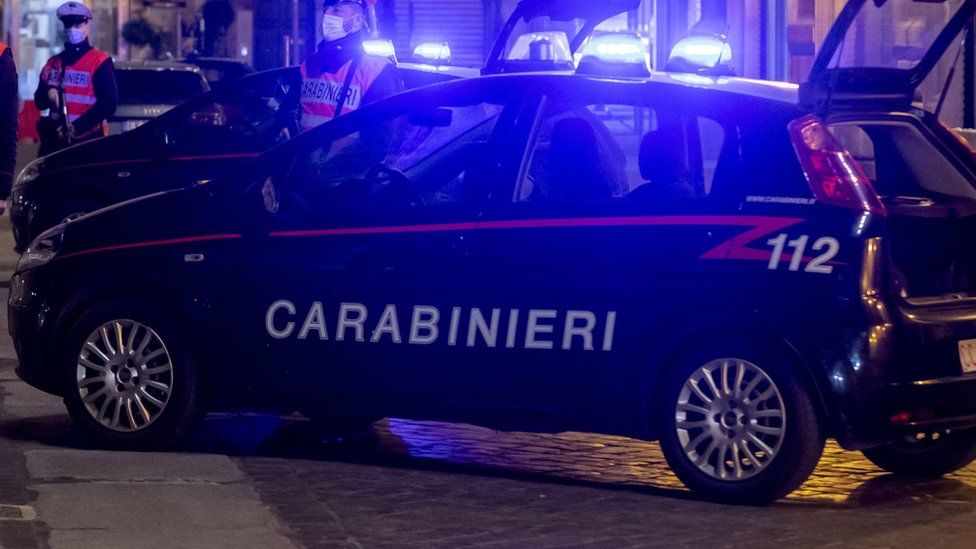 An Italian navy officer has been arrested after being caught in the act of handing secret documents to a Russian military official, police say.
The men were stopped by military police on suspicion of serious crimes relating to espionage and state security.
The Russian, who reportedly worked at the Russian embassy in Italy, is expected to be expelled.
The foreign ministry in Rome summoned Russia's ambassador Sergey Razov and then expelled two Russian officials.
Italian Foreign Minister Luigi Di Maio said the pair were "involved in this extremely serious affair". The Italian officer was identified as a navy frigate captain working in the office of Chief of the Defence Staff.
The Kremlin said it hoped the "very positive and constructive nature of Russian-Italian relations will continue" but Russia's foreign ministry is expected to respond to the expulsions.
The carabinieri del Ros special operations group swooped on the men in Rome on Tuesday evening "during a clandestine meeting between the two," a police statement said.
They were "caught immediately after the transfer of a document by the Italian officer in exchange for a sum of money", it added.
Italian media reported that the exchange had taken place in a car park and involved €5,000 (£4,250; $5,900) in cash.
While the navy captain was arrested, Italian police said the Russian officer's diplomatic status was currently being assessed.
Italy's Corriere website reports that papers seized in the naval officer's flat suggest he may have passed on Nato secrets, thereby placing other countries' national security at risk. According to the Ansa news agency, the documents involved military communications.
The Russian embassy confirmed the involvement of a military attaché official but said any further comment was inappropriate.
Kremlin spokesman Dmitry Peskov said "we don't have information about the reasons for or the circumstances of this detention". The foreign ministry in Moscow told Ansa that it regretted the expulsions of two embassy staff and would make a further announcement on possible steps in response.
It has the makings of a Cold War thriller: the Italian naval captain handing top-secret files, including Nato documents, to a Russian military attaché for the princely sum of €5,000; the two caught red-handed as police burst in; an arrest, diplomatic expulsions; the risk of 15 years in prison…
But beyond the drama, the story will add to concerns that Italy has become somewhat of a back door for illicit Russian activity in the EU.
Rome is one of the more Moscow-friendly members. In 2019, an Italian and Russian were arrested for colluding to steal trade secrets from an American aviation company.
Prosecutors are investigating whether Russians tried to siphon funds to the League party of Matteo Salvini.
And when the coronavirus pandemic exploded in Italy last year and the EU was slow to help, Moscow despatched supplies under the banner "From Russia with Love" - an operation that some here believed raised security fears given the large number of military officers sent in.
Russian decline in relations with Nato
Police moved in following a lengthy operation by Italy's Aisi domestic intelligence agency. Italian media are describing the incident as the most serious since the Cold War.
UK Foreign Secretary Dominic Raab said on Twitter that the UK stood in solidarity with Italy in "exposing and taking action against Russia's malign and destabilising activity that is designed to undermine our Nato ally".
Relations between Moscow and Nato have deteriorated since Russia seized and annexed Ukraine's Crimea region in 2014. The poisoning of leading Russian opposition figure Alexei Navalny, now being held in a Russian penal colony, has also led to a decline.
When US President Joe Biden said this month that he considered Russia's Vladimir Putin "a killer", the foreign ministry in Moscow demanded an explanation and Mr Putin retorted that "it takes one to know one".
Last week, Nato member Bulgaria expelled two Russian diplomats for "intelligence activity incompatible with diplomatic relations".
Italian fighter planes were involved in a Nato operation to intercept Russian planes over the Baltic Sea on Monday.