Paris hits back at filthy streets hashtag campaign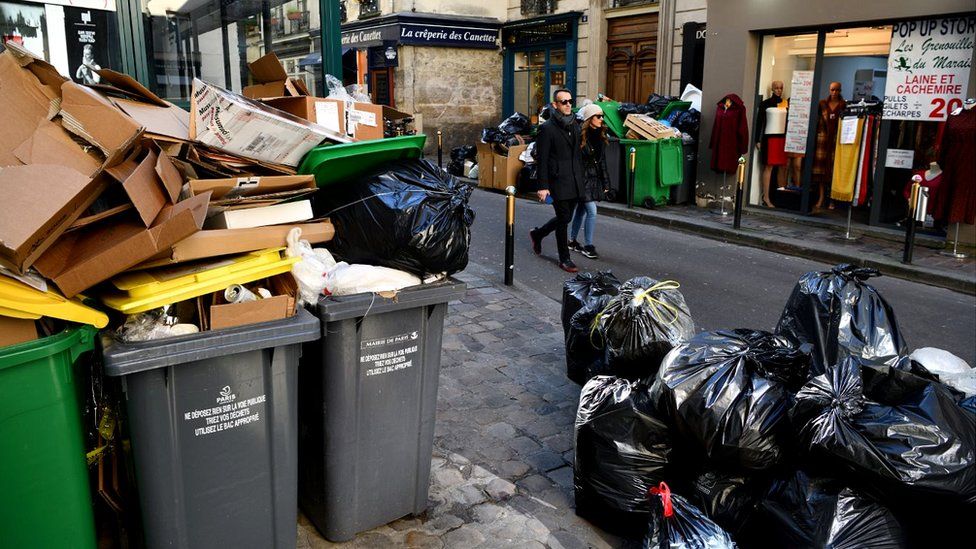 Paris officials have blamed a "political smear campaign" after angry comments and pictures of filthy streets spread on social media criticising a "trashed Paris".
The hashtag "saccage Paris" went viral over Easter, with many of the messages accusing the city's Socialist leadership of ruining the capital.
They complained of uncollected rubbish, damaged pavements and graffiti.
The Paris deputy mayor said keeping the city clean had always been a problem.
However, the social media campaign was a "travesty of reality", Emmanuel Grégoire insisted. Paris was densely populated and cleaners were doing all they could, he told RTL Radio, but he said the French capital was no different from London, whose mayor Sadiq Khan faced exactly the same issues.
Among the thousands of tweets, Cyrille Capuano said that for years Paris had not lived up to its reputation as the city of light, and he accused Mayor Anne Hidalgo of turning it into a public dump.
"If you take a picture every day of the worst moment of your daily life that isn't reality. You have to draw a distinction between occasional issues of cleanliness and the slant of political protest," Mr Grégoire said.
Is Paris as dirty as all that? Permit a resident of 25 years to cast doubt upon this new piece of received wisdom.
Back in the 1990s the commonest complaint in the city was the ubiquity of déjections canines - dog faeces to you and me. Today, the owner who fails to clear up after his or her pet is rare and furtive. And the streets are cleaner.
Every day I see not one but several visits to my street by cleaning vehicles and bin lorries. The individuals - mostly of immigrant origin - jumping on and off the back of the trucks are unsung heroes.
How many of the people complaining about the dirtiness of Paris are also the ones who complain about being stuck in traffic behind rubbish collections, or about the anti-car (and thus clean-air) policies of the mayor?
Of course the public sphere is being degraded. But so is it everywhere. Graffiti is so commonplace as to be like ambient sound. Uncivic behaviour is growing. Some areas of Paris are worse than others. And fairly regularly, it is true (this is France), the bin collectors strike.
But it is worth remembering that in Paris 2.18 million people live in a circle just 10km (about six miles) across. Evacuating their daily ordure is a feat.
While some of the pictures focused on mounds of rubbish, others highlighted an increase in graffiti, street furniture and overall ugliness.
There were pictures of broken, antiquated benches and before-and-now comparisons suggesting general negligence.
Rachida Dati, who is mayor of the seventh arrondissement (district) of Paris, which takes in the Eiffel Tower, called for an emergency council meeting to tackle the problems of "cleanliness and sanitation".
But on the left another mayor, Jérôme Coumet from the 13th district further to the south, said he did not see evidence of a ruined city, just an orchestrated campaign.
Others noted that the Covid pandemic had led to depleted council teams, and closed restaurants meant Parisians had to eat more often in the street.
A month ago, the Paris mayor launched a consultation on how to give Paris a "new aesthetic". Unlike the social media campaign that attracted tens of thousands of comments, the website offering a rethink and a new urban landscape for the city has prompted a mere 1,650 contributions.
Another questionnaire launched on Twitter by Parisian Quentin Divernois has fared better, attracting 4,000 suggestions on how to look after the historic elements of Paris dating back to Baron Haussmann, whose urban renewal in the 19th Century gave Paris the boulevards and parks it is known for today.
You might also be interested in: