Navalny: Jailed Putin critic 'losing sensation in legs and hands'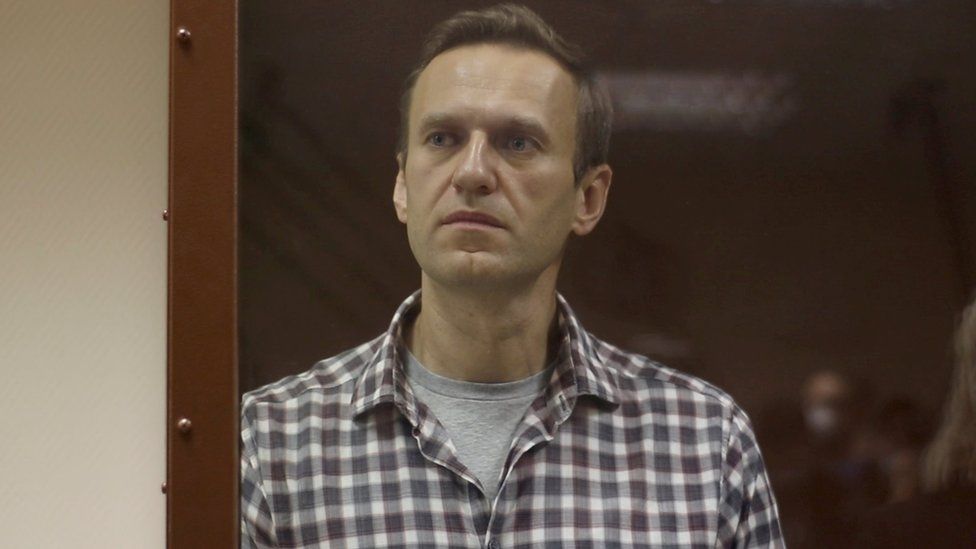 The health of jailed Kremlin critic Alexei Navalny is deteriorating and he is beginning to lose sensation in his legs and hands, his lawyer says.
Vadim Kobzev said Navalny, who has been sent to a penal colony for two and a half years, had been diagnosed with two spinal hernias.
Last week, Navalny started a hunger strike to demand proper treatment for acute back and leg pain.
The White House said reports that his health was worsening were disturbing.
Mr Kobzev, who visited Navalny on Wednesday, said on Twitter (in Russian): "Alexei is walking himself. He feels pain while walking. It is very concerning that the illness is clearly progressing in terms of losing sensation in his legs, palms and wrists."
Earlier this week, Navalny, 44, was moved to a sick ward in the prison in the town of Pokrov with symptoms of a respiratory illness. He had complained of a persistent cough and temperature.
His temperature was oscillating and had fallen to 37C (98.6F) on Wednesday after reaching 39C (102F) on Monday, according to the lawyer, who said Navalny was losing 1kg (2lbs) a day due to a hunger strike.
In an Instagram post, Navalny said prison authorities were trying to undermine his hunger strike by roasting chicken near him and placing sweets in the pockets of his clothes.
Also on Wednesday, White House Press Secretary Jen Psaki said the Biden administration considered Navalny's imprisonment "politically motivated and a gross injustice" and called for his immediate release.
Earlier, human rights group Amnesty International said Navalny had been incarcerated in conditions that amount to torture and may slowly be killing him. Campaigners say the prison is known for its especially harsh conditions.
Navalny's lawyers, who have been visiting him in custody, say there are no doctors at the colony and the medical unit on-site is run by a single paramedic.
Last week, Russia's prison service denied Navalny's allegations that he was not receiving proper treatment, saying he had been given "all the necessary medical assistance in accordance with his medical indications".
On Monday, he said as many as three people from his unit had been taken to hospital with tuberculosis recently, a claim the Russian prison service denied.
Navalny was given a suspended sentence for embezzlement in 2014, a conviction widely seen as politically motivated.
He was airlifted to Germany for treatment after he was poisoned in Siberia with a Novichok nerve agent. When he returned in January he was immediately taken into custody and a court jailed him for defying the probation terms of the suspended sentence while he was being treated in Germany.