Coronapas: The passport helping Denmark open up after Covid
By Adrienne Murray
Copenhagen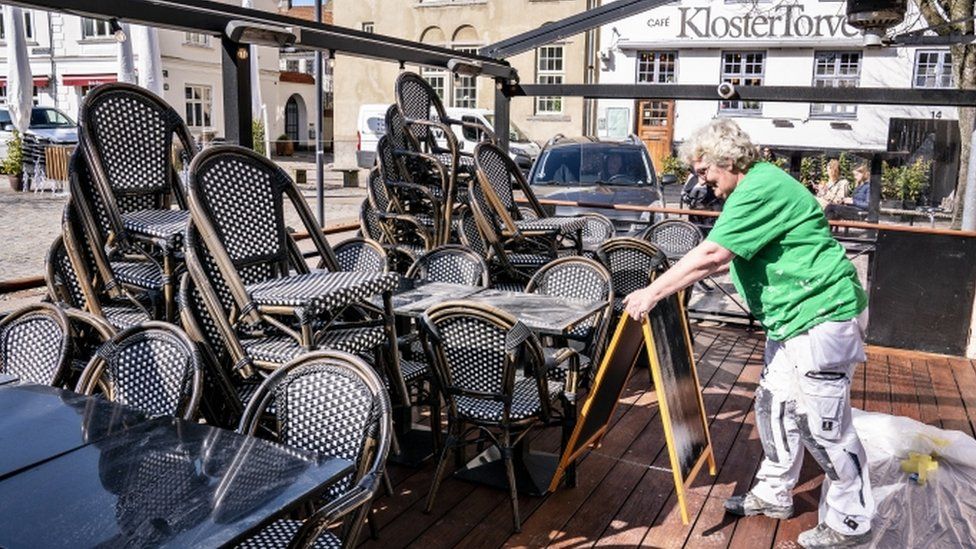 Football fans will be allowed into stadiums from Wednesday and bars, restaurants and museums are reopening as Denmark takes a big foot forward in lifting its coronavirus restrictions. The big condition for Danes to take advantage of these new freedoms is that they must prove they are infection-free, by showing a coronapas or corona passport.
It's a digital app on your phone which shows whether you have had a negative test result within the last 72 hours, a certificate of vaccination or proof of a previous infection two to 12 weeks earlier. It can also be in paper form if necessary.
Digital certificates are seen as Europe's route out of lockdown, and the EU wants to have its scheme in place across all 27 member states by the end of June.
Privacy concerns have made the passes controversial in some countries, but Denmark is among the first to embrace the idea fully.
Why Denmark is fast out of the blocks
Unlike much of Europe, this Scandinavian country succeeded in avoiding a third wave and has started easing a lockdown that began last December.
Denmark's infection and death rates are now among the lowest in Europe and authorities here believe coronavirus is under control.
"We can open more now in Denmark, and that is the opposite of what many others are experiencing," Prime Minister Mette Frederiksen said when the reopening plans were revealed last month.
Many of the steps rely on the corona passport. It already applies to hairdressers and tattoo parlours, but not shops, and will be required for cinemas, theatres and gyms. Those who don't comply risk being fined.
The pass works off a smartphone app called MinSundhed (MyHealth), linked to the Danish ID system
All residents have a unique ID number, called a CPR, and a yellow health card with a barcode containing their ID details
The card is scanned when you take a test at a government centre and your sample is linked to it
Private providers scan your card or write down your CPR - you get a text message linking through to the result
You log on to the app and access digital health records or coronapas
You present your phone to enter relevant businesses, and staff check its validity against an ID
Paper certificates are accepted too and younger children are exempt. A more advanced app is set to replace MyHealth next month.
'It makes you feel safer'
Zoos and theme parks were the first to handle Denmark's corona passports. Copenhagen Zoo is already bustling with families, and you could almost forget there is still a pandemic.
I watched as a long queue formed outside and entrance staff checked the phones of visitors. "We had to establish these new checkpoints," says spokesman Jacob Munkholm Hoeck. "We've put a lot of resources into this. That's the downside. But it is running smoothly."
"It makes you feel more safe," one parent in the queue told me.
"I think it's part of how life is right now," said another parent called Portia. "We have to accept it to keep the infection rate low."
But a third parent called Christian told the BBC he was sceptical: "I don't think we really need it."
Gitte Alsing was able to reopen her New Hair Shop on 6 April and hopes the coronapas will put a stop to any future closures.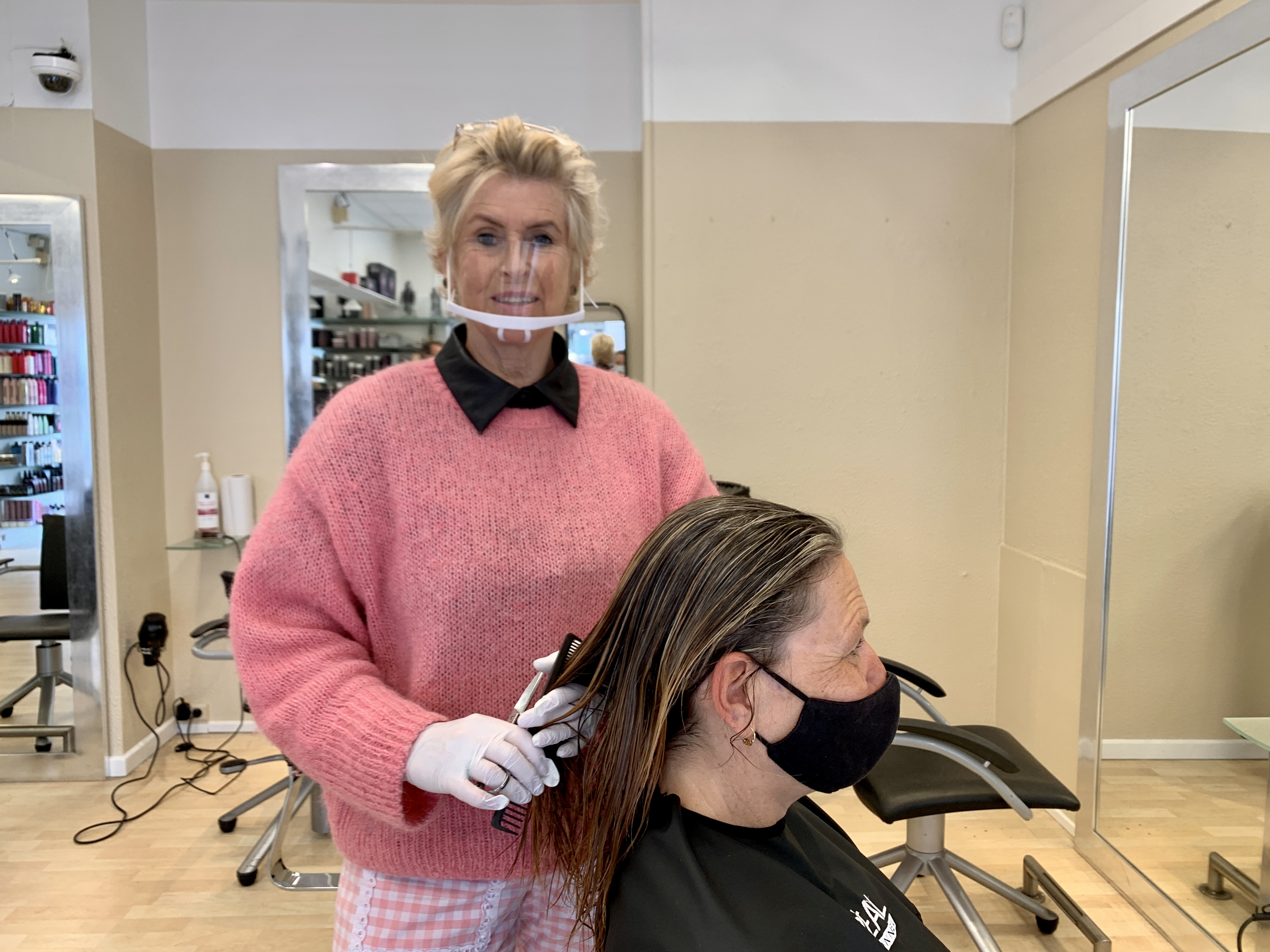 BBC
For me, it's good. We can start everything up and we can be more secure
In the first days, she said, there was a lot of waiting around because the high volume of users meant delays in using the app.
But using the coronapas has since been smooth and her customers don't seem to mind. "They're just happy to have a haircut," says Mrs Alsing.
"I'm vaccinated. I just have to find my pass on my phone and show it," said Mette Bache. "We need to start again. I think it's OK."
Another customer, Klavs Gregersen, shrugged off the requirement for a negative test. "Our family, we take a test every week. I think a lot of people do that. You're going to do it anyway."
Dozens of new drop-in facilities have sprung up and Danes are being encouraged to go once or twice a week to have the free tests.
Denmark has a higher rate of testing per capita than any other country worldwide.
"There are 5.8 million of us here in Denmark," says Kirstine Vestergaard-Nielsen, deputy head of Emergency Medical Services Copenhagen. "We can test more than half a million each day."
Around one million Danes, or almost a fifth of the population, have received their first vaccine dose.
However. as in other European countries, supply difficulties have delayed the rollout, and last week Danish health authorities halted the Oxford-AstraZeneca vaccine entirely.
Denmark now intends to vaccinate all adults by early August, so a strong testing regime is crucial for the passports to be effective.
'Policing' the corona passport
Wednesday is an important moment for Denmark's reopening, with customers inside as well as out in restaurants, bars and cafes. Museums, libraries and art galleries can open their doors too.
Football fans with a coronapas can attend matches, seated in separate 500-person blocks.
"I just don't think it should be up to the operators to do it," complains David Biffani, as he prepares to open his restaurant Mother Pizza in Copenhagen's hip meat-packing district. For him, screening customers is an unfair burden on businesses.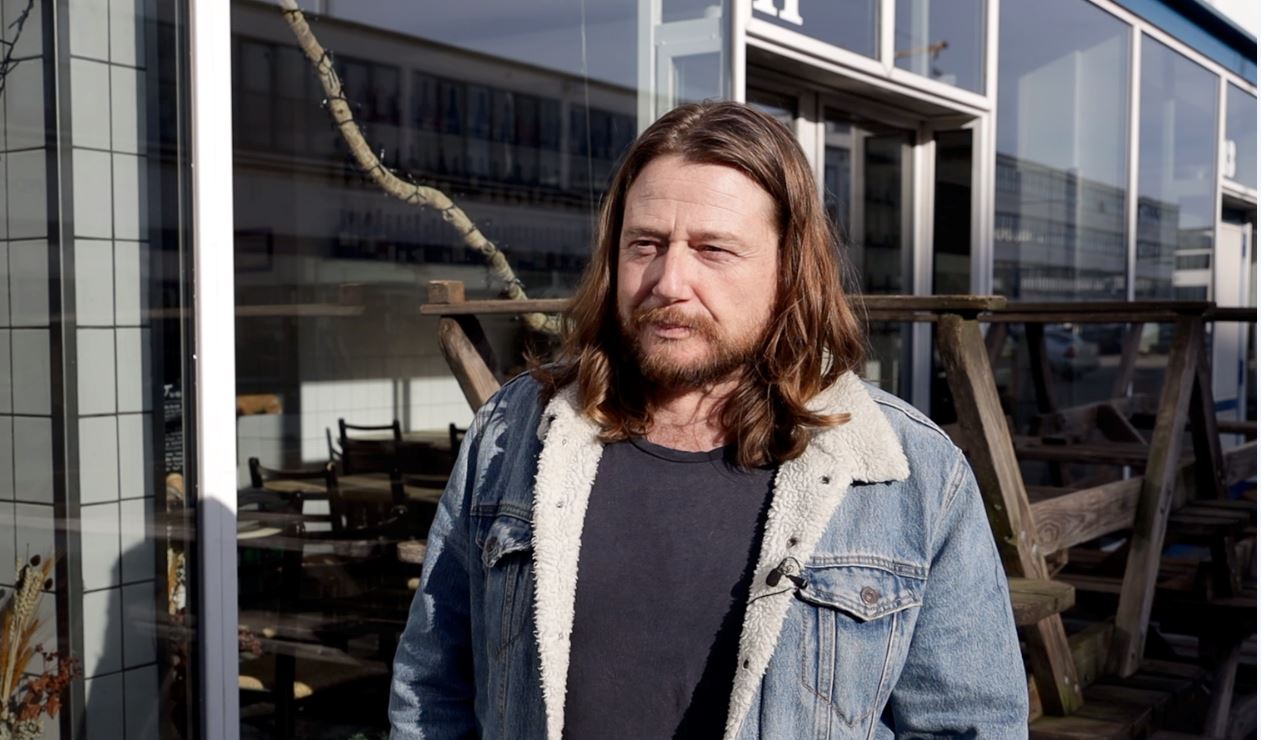 BBC
I think this is overkill at this stage when the vaccination is going OK and the number of deaths is quite low
The industry as a whole welcomes reopening but has reservations. Among the worries are potential technical glitches, unease about "policing" customers, and fears that more spontaneous guests may stay away.
How do Danes feel about the pass?
There has, however, been strong political support. Nine of the 10 parties backed the reopening plan and business group, the Confederation of Danish Industry, has also supported the rollout of corona passports.
"It's an extraordinary tool, in an extraordinary situation," says Chief Executive Lars Sandahl Soerensen. "The alternative at the moment is not opening up. It is a way to come through this crisis in an efficient manner. And it's temporary."
Over the past year the Danish public have largely supported the coronavirus measures. But some think the latest move is a step too far.
A petition to block vaccine passports received more than 40,000 signatures. Its creator argued such tools were unethical and divisive for society.
Recently hundreds attended a protest held by an anti-lockdown protest group.
However the introduction of corona passports has been less of a thorny issue in Denmark than, for example, in the UK.
A recent survey suggested that 67% of Danes thought the passport was a good idea, while only 16% opposed it.
'Everybody can get the passport'
The discourse has been less about ethics and more about practicalities. The widespread availability of tests, a trust in authority and a culture of samsfundssind (community spirit) may all explain why there has been little opposition to it.
"Danes are not that worried about the misuse of information," says Michael Bang Petersen, professor of political science at Aarhus University.
"Everybody can get the passport. It is seen as a way in which we can protect each other and return to a more normal way of life."
A handful of countries are exploring their own versions of vaccine passports.
There's no end date yet for Denmark's coronapas, and within a few weeks parliamentarians are set to debate its future.
As the EU prepares its digital "green" certificate in time for summer holidays, a number of other models are being developed across Europe. Many will have their eyes on how the Danish pass works out.