German gymnasts' outfits take on sexualisation in sport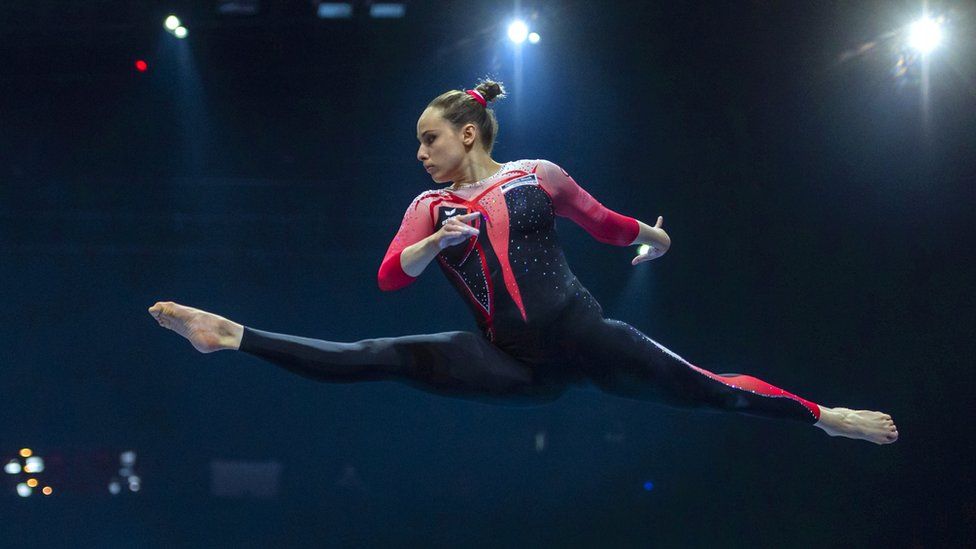 She did not break any rules, but Sarah Voss's full-body suit this week at the European Artistic Gymnastics Championships defied convention.
Until now women and girls have only covered their legs in international competition for religious reasons.
Voss, from Germany, said she was proud of her decision and she was supported by her country's gymnastics federation.
Two team-mates then did the same on Friday, wearing full-body suits during the women's all-around final.
The German federation (DTB) said its gymnasts performing in the Swiss city of Basel were taking a stand against "sexualisation in gymnastics", adding that the issue had become all the more important to prevent sexual abuse.
"We hope gymnasts uncomfortable in the usual outfits will feel emboldened to follow our example," said Voss.
Kim Bui had initially performed in a conventional leotard on Wednesday but said they had wanted to set an example as a team. Elisabeth Seitz said earlier that it was one less thing to worry about, as there was no risk of revealing anything by accident.
'I began feeling increasingly uncomfortable'
Voss explained her decision in an interview with public broadcaster ZDF: "We women all want to feel good in our skin. In the sport of gymnastics it gets harder and harder as you grow out of your child's body. As a little girl I didn't see the tight gym outfits as such a big deal. But when puberty began, when my period came, I began feeling increasingly uncomfortable."
The German federation said sport and gymnastics should be fields where female athletes felt comfortable in their clothing at all times.
Under the rules of the international gymnastics federation (FIG) competitors are allowed to wear a "one-piece leotard with full-length legs - hip to ankle", provided it is of elegant design.
Seitz said everyone trained in full-body outfits and then at one point asked themselves why they should not do the same in competition.
Dutch Gymnastics has also praised the move. A spokesman told public broadcaster NOS that judges had often deducted points when a competitor had tried to make her leotard more comfortable during their performance.
Voss said that while she had never herself been abused, she and her colleagues were role models for younger athletes and wanted to encourage everyone to stand up for themselves.
US gymnast Simone Biles, who has said she was sexually abused by jailed sports doctor Larry Nassar, said last week that one reason she was competing at the Tokyo Olympics this year was to speak out and give survivors of abuse a voice.