Paris seeks to ban through traffic in city centre by 2022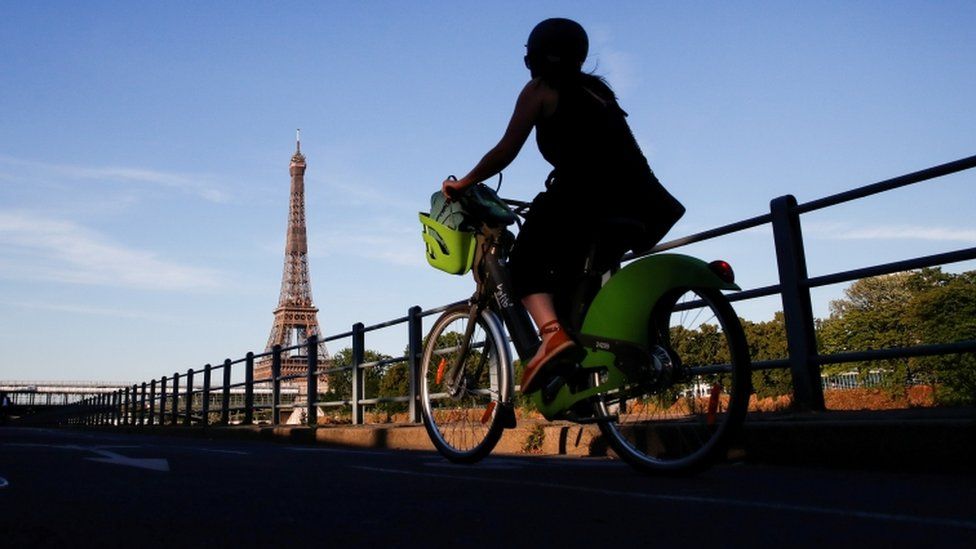 A plan to drastically reduce car traffic in the centre of the French capital Paris by 2022 has been put forward by the city council.
The scheme would ban through traffic in four central districts, giving priority instead to cyclists, pedestrians, and public transport.
The low-traffic zone will result in a "less polluted, greener, more peaceful and safer city", the council says.
During the pandemic, Paris added hundreds of kilometres of cycle lanes.
Mayor Anne Hidalgo was re-elected last year on a platform of creating the "15-minute city", making it easier for residents to access shops, schools and services within a quarter of an hour from home, either on foot or by bicycle.
A consultation on the new pedestrianisation plan with residents of Paris was launched on Wednesday. Residents and businesses would still be allowed to drive in the central area, but through traffic would be banned.
The consultation says the plans are "part of a movement to reclaim urban space dedicated to the car in favour of new, more user-friendly and less polluting uses".
Paris city hall published a proposed map, showing the area to be included, which stretches from the Bastille in the east to the Tuileries in the west, and covers both banks of the Seine, including part of St Germain.
Paris's deputy mayor David Belliard said the scheme followed the example of other cities such as Madrid, Nantes, and Rome, which have pedestrianised some areas.
However, the plan was "not about eliminating traffic completely", Mr Belliard said. And he invited residents to share their thoughts on the proposal in a questionnaire.
"Neighbours, people with reduced mobility, taxis and local traders will still be able to access [the city centre]," the deputy mayor said.
The consultation, which is due to end later this year, will play a role in determining who will be allowed to enter the zone.