Belarus raids top news site in widening crackdown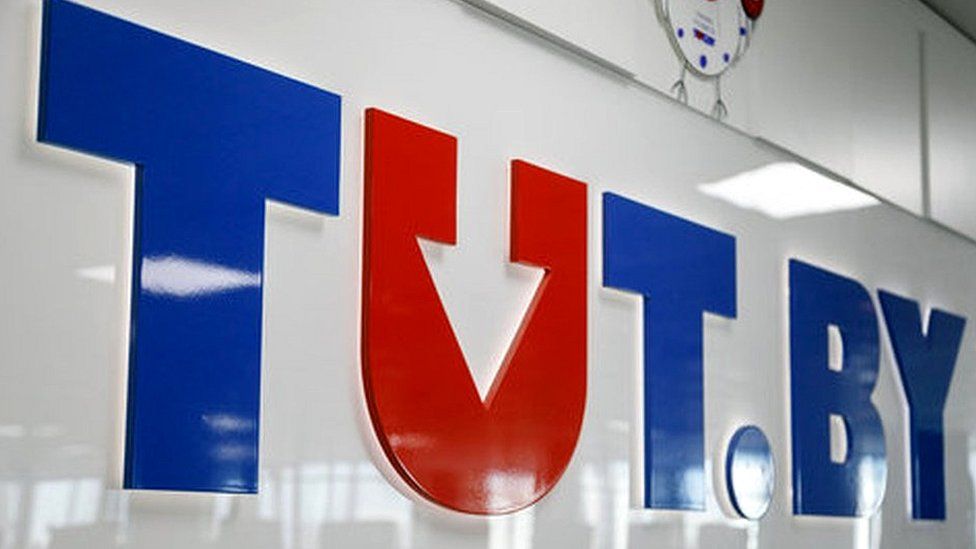 Belarus authorities have raided the offices of major independent news site Tut.by and the home of editor Marina Zolotova, taking the website offline.
Officials said a criminal case had begun over "large-scale tax evasion".
The raids are part of an increasing crackdown on dissenting voices.
Months after Alexander Lukashenko claimed victory in a presidential election denounced internationally as rigged, opposition figures have either fled the country or have been arrested.
The 66-year-old has ruled Belarus since 1994 and is into his sixth term.
Western leaders have backed main opposition leader Svetlana Tikhanovskaya, who claimed victory in the August presidential vote before she was forced to leave Belarus for neighbouring Lithuania. She had become a candidate after her husband was jailed and barred from running.
A wave of popular protests has been largely halted by widespread arrests and prison sentences.
"Tut.by co-founder Kirill Voloshin reports that the website's domain has been blocked," it announced on its Telegram social media feed. Pictures were posted online showing broken locks on doors in the editor's building and black plastic sheeting covering the glass door of the office.
Mrs Tikhanovskaya accused Belarus authorities of seeking to "kill media, kill political parties & civic communities".
I call on the international community to immediately react to the regime's crackdown against independent media in Belarus. This is a planned attack on our journalists & media, and they need legal protection & emergency relocation. It is crucial to help media continue their work. pic.twitter.com/9jZTjdvmi0

— Sviatlana Tsikhanouskaya (@Tsihanouskaya) May 18, 2021
Officials from Belarus's powerful financial investigations department have also targeted the homes of other journalists who work for the news site. Several journalists who had gone to work in the office were not reachable by phone, reports said.
A number of Belarusian journalists and others have been jailed in the past week:
On Monday Tut.by journalist Lyubov Kasperovich was given 15 days in police custody for attending an unauthorised mass event
Reporters Alexander Burakov and Vladimir Laptsevich were jailed on Saturday after being detained outside a court in the eastern city of Mogilev. They were covering the trial of opposition politician Pavel Severinets, who was arrested last June and is still in custody
Journalist Tatyana Kapitonova was accused of taking part in an unsanctioned rally and jailed for 10 days
Drummer Alexei Sanchuk, whose band played at last year's demonstrations, was jailed for six years last week for organising protests
Military officer Cpt Dzianis Urad, was jailed for 18 years last week for leaking a government order urging the military to crack down on protests
End for Belarus's biggest independent outlet?
Analysis by Andrey Kozenko, BBC Russian
Tut.by could hardly be described as an anti-government or an opposition news platform. Its coverage of political events has been balanced and it also publishes light news and classified ads.
But when protests began against the result of last August's presidential elections, so did Tut.by's problems with the authorities. Many of its journalists were detained, including Katerina Borisevich.
She was jailed after reporting on the death of protester Roman Bondarenko. Amnesty International has called Borisevich a prisoner of conscience.
Tut.by had already received a warning from the authorities. Tuesday's raids could result in the end of a major Belarusian media outlet, active since 2000.
Tens of thousands of protesters thronged the capital, Minsk, for months last year, furious at Mr Lukashenko's declaration of victory. There have been numerous cases of police brutality and some 2,700 prosecutions this year alone.
Four German lawyers filed a complaint this month with the German federal prosecutor on behalf of 10 Belarusians who allege they have been subject to torture.
Faced with the prospect of arrest and custody, protesters have chosen more careful means of objecting to Mr Lukashenko's rule.