Spain migrants: 'I said goodbye to my family and left with nothing'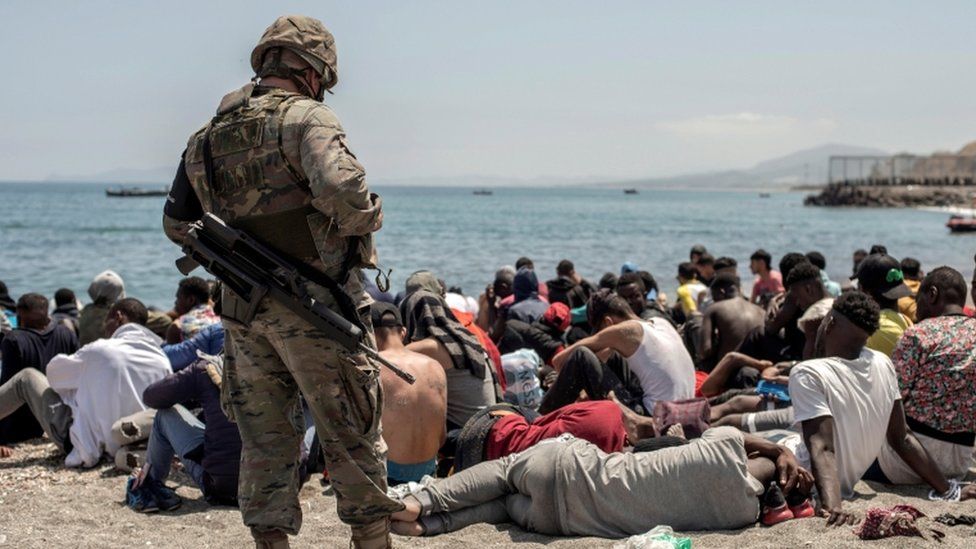 "I said goodbye to my family and left with nothing," said Mohamed, a 30-year-old from Morocco.
Speaking to Spanish broadcaster RTVE, he gave details of how he had joined the record number of migrants who have illegally entered Spain's North African enclave of Ceuta since Monday.
Like many, he said employment was his main reason for trying to make the crossing.
"I want to work and help my family. All of my friends, we want to work."
On the way to the border they were stopped by Moroccan authorities, he said, but then they let us continue, it was like a yes and a no".
More than 5,600 of the 8,000 migrants who have entered have been sent back, Spanish officials say. Dozens of young men queued up to re-enter Morocco on Wednesday morning.
According to Spanish news agency Efe, Moroccan police have now sealed the border area to prevent any more crossing attempts.
Spain's Ceuta and Melilla enclaves have become magnets for African migrants trying to reach Europe.
A Moroccan government minister has implied his country relaxed border controls this week in retaliation after a top militant opposed to Moroccan rule over Western Sahara was allowed hospital treatment in Spain last month.
The migrants - many using inflatable rings and rubber dinghies - started arriving in Ceuta in the early hours of Monday. While many were young men, whole families and around 1,500 children also entered.
At least one person died making the crossing this week.
On Tuesday, Spain deployed troops to help Ceuta's border police. Dramatic scenes were captured offshore as families waded through the water and officers from Spain's Guardia Civil went into the sea to rescue young children.
By Tuesday evening, reports said the number of people trying to enter by sea had decreased. Some migrants were voluntarily returning to Morocco while others could be seen being carried away by soldiers.
At the other Spanish enclave, Melilla, 86 sub-Saharan Africans entered on Tuesday via its southern jetty. Melilla has a formidable border fence and several hundred more migrants were blocked by security forces, Efe reports.
Spanish officials quoted by Efe said Moroccan guards had helped the Spanish forces in Melilla. Spanish media said it was different in Ceuta, where Moroccan border guards stood by and watched as migrants took to the sea to try to reach the enclave.
By Nick Beake, BBC News, Ceuta
With his small bag of possessions slung over his shoulder, 30-year-old Mokhtar Gonbor summed up why most of the young men were now heading home.
"We've got no food, no money and we were sleeping in the street last night." He was returning to Morocco - even if his life there was not what the one he wanted.
A few streets away, the locals at Fernando's bar drank their coffee and watched on an old television the extraordinary pictures of the record arrivals of the past 24 hours.
Mercedes, a woman in her sixties, explained that she felt sorry for the kids who didn't even have clothes. But she banged the table in anger when she told us that migrants were let through the border every time Morocco wanted money or something from Spain.
Her friend, Maria Jesus, chimed in: "The prime minister should tell Morocco how it is and put them back in their place."
What has the reaction been?
European officials have supported Spain's response to the border crossings, with EU Commission Vice-President Margaritis Schinas telling Spanish radio Europe would not be "intimidated by anyone" on the issue of migration.
Morocco withdrew its ambassador for consultations on Tuesday after Spain's Foreign Minister María Aránzazu González Laya told the envoy of her "disgust" at what had happened. Most of the migrants are said to be from Morocco.
Since the 17th Century Ceuta and Melilla have been under Spanish rule, though they are long claimed by Morocco. They have semi-autonomous status, like some regions of mainland Spain.
On Tuesday evening, the Moroccan Minister of State for Human Rights, Mustapha Ramid, suggested his country had been justified in easing its border after Spain allowed Polisario leader Brahim Ghali to receive treatment for Covid-19 in one of its hospitals last month.
"What did Spain expect from Morocco, which sees its neighbour hosting the head of a group that took up arms against the kingdom?" he wrote on Facebook, according to Reuters news agency.
The EU border force Frontex reports that illegal migration to Spain's Canary Islands - off the Moroccan coast - has surged this year.
However, the overall number of undocumented migrants reaching Europe so far this year remains far below the levels seen in 2015-2016.