Champion horse mystery in the Gulf angers Poles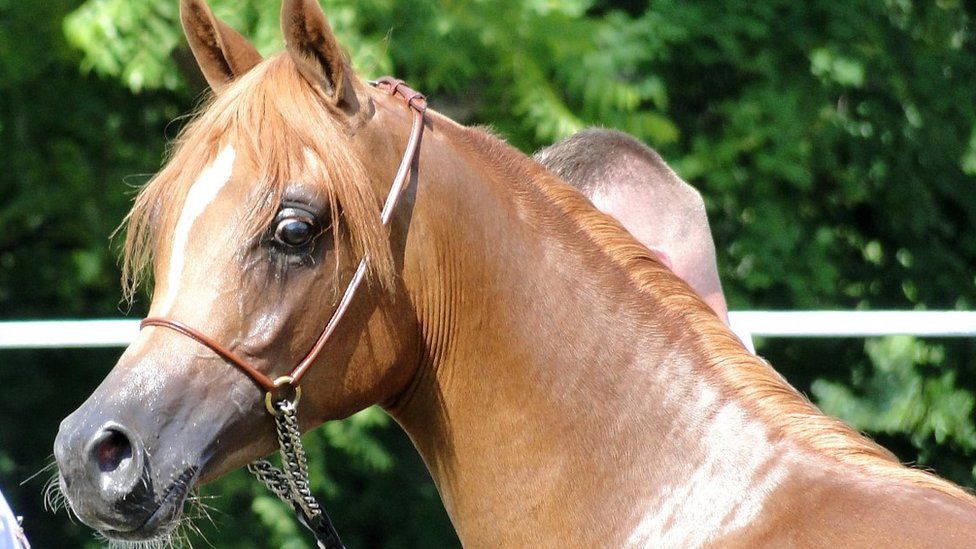 Purebred Arabian horses - spirited, fast and graceful - are treasured possessions for Gulf sheikhs and other rich collectors. And Poland, which breeds some of the finest, is anxious to get one back from Saudi Arabia.
Encarina, a four-year-old mare, should have returned last August to the world-famous Janow Podlaski stud farm in eastern Poland.
The prize-winning Arabian was leased in November 2019 to a little-known Saudi stud farm. But the Polish stud's efforts have so far failed to bring her back, and now the government has got involved.
"Nobody knows what's going on," says Alina Sobieszak, a Polish expert on Arabian purebreds who runs a specialist Facebook site. "I'm worried about Encarina's conditions - she's a very special mare," she told the BBC.
Janow Podlaski, which is state-owned, asked the Saudi embassy in Poland to intervene, to get Encarina sent back to Poland.
An official at Poland's ministry of agriculture and rural development, Tomasz Chalimoniuk, said Encarina was in quarantine, pending her return to Poland.
He told the BBC that the Saudi stud had asked to extend the lease because the Covid pandemic had disrupted horse shows and horse transportation. Another reason given was that an equine herpesvirus outbreak in Europe had triggered a temporary suspension of horse transports to Europe from the Gulf.
Champion horse from famous stud
Poland's three prestigious state-owned studs are considered national treasures, and Janow Podlaski, founded in 1817, is the oldest.
Its Pride of Poland auctions have drawn international buyers with deep pockets, including many from the Gulf. In 2015 a broodmare kept especially for breeding fetched €1.4m (£1.2m; $1.7m) at auction.
But the stud has since been beset by mounting debts and protests sparked by a management shake-up five years ago.
As a Polish junior champion mare, Encarina was especially valuable. At the age of two she began winning international prizes.
The chestnut mare was leased to the Saudis for €43,000, with extra for insurance. For a struggling stud, leasing horses provides vital income and these days Janow Podlaski cannot rely on auctions. It made a loss of 1.25m zloty (£240,000; $340,000) in 2019, even before the Covid pandemic shut out visitors.
'Like a balloon without air'
However, Encarina's condition in the Gulf has raised alarm. At a March 2020 show in Sharjah in the UAE, she came 11th out of 13 fillies in her class. For such a quality horse, that for Ms Sobieszak was "an absolute scandal".
Anna Stojanowska, formerly Poland's national horse-breeding inspector, was a judge at the show and has told the BBC that Encarina was "in very bad condition, tired and weak, like a balloon without air".
"She's a very pretty horse, but I didn't recognise her."
Encarina appeared fed up with shows and had been travelling to the events for months without a break, she said.
Poland could try to get Encarina back via the UAE.
That was the solution earlier this year, when a deal was signed to send Polish stallion Equator from Saudi Arabia to the Dubai International Arabian Horse Championship. The horse eventually returned to Poland.
What makes Poland's Arabian horses special?
Prized for their endurance, grace and intelligence, Arabian horses' reputation travelled with the early Muslim conquests and they were later cherished by the Ottoman Turks.
After a Polish army defeated the Ottomans at the gates of Vienna in 1683 the Poles took up their tradition of breeding Arabians.
Poland is blessed with centuries of horse-breeding tradition: it was largely agricultural but unfortunately a major battlefield too - factors that made horses all the more important. "Good horses were needed for transport, agriculture, the army: they needed good cavalry," Ms Stojanowska said.
Read more on related topics:
Nazi Germany laid waste to much of Poland in World War Two, but the precious Janow Podlaski stud was left unharmed.
Under communism, the state monopoly caused misery for many Poles, but state control of the top studs was "the only good thing that communism left", according to Ms Stojanowska. "It gave us the chance to continue breeding, across the human generations."
Privately-owned studs often suffered when children turned away from their parents' business, she explained.
Political row over top team
Now, the Encarina case illustrates wider problems plaguing Poland's oldest stud.
Janow Podlaski has been mired in controversy under Poland's conservative-nationalist Law and Justice Party (PiS) government.
In 2016, the state Agricultural Property Agency (ANR) which owns the stud, sacked its director Marek Trela, as well as the head of another state stud and Ms Stojanowska, the national horse-breeding inspector.
Critics passionate about Arabian horses saw the sackings as a political move by PiS to exert tighter control over the three top studs' finances.
There were fears that Poland's horse-breeding reputation could be harmed by much less experienced managers. A protest petition on change.org attracted more than 5,000 signatures.
Among Janow Podlaski's best customers was British horse-breeder Shirley Watts, wife of Rolling Stones drummer Charlie Watts. But in 2016 two valuable mares she had loaned to Janow Podlaski died there. She urgently took back two more mares - which were both pregnant - to her Halsdon stud in Devon.
She had been helping Marek Trela's breeding programme, but when he was sacked she stopped visiting Janow Podlaski.
"I'm afraid I cannot comment on all these events, they were far too painful to consider," she told the BBC.
Critics of the state agency's move included Jaroslav Lacina, a Czech judge at the European Conference of Arab Horse Organizations.
ANR president Waldemar Humiecki dismissed his objections as "emotional and unfortunately absurd". New management was needed to improve the stud's efficiency and state supervision of its activities, he argued.
Ms Stojanowska said "for our government what's important is not quality or knowledge, but loyalty".
These are hard times for Poland's oldest stud farm, but its international reputation and the potential of its horses should be enough to keep its fine traditions going.
UPDATE, 25 May 2021: The feature was updated to include a later comment from the Polish agriculture and rural development ministry on Encarina's situation in Saudi Arabia.