Zelensky v oligarchs: Ukraine president targets super-rich
By Jonah Fisher
BBC Kyiv correspondent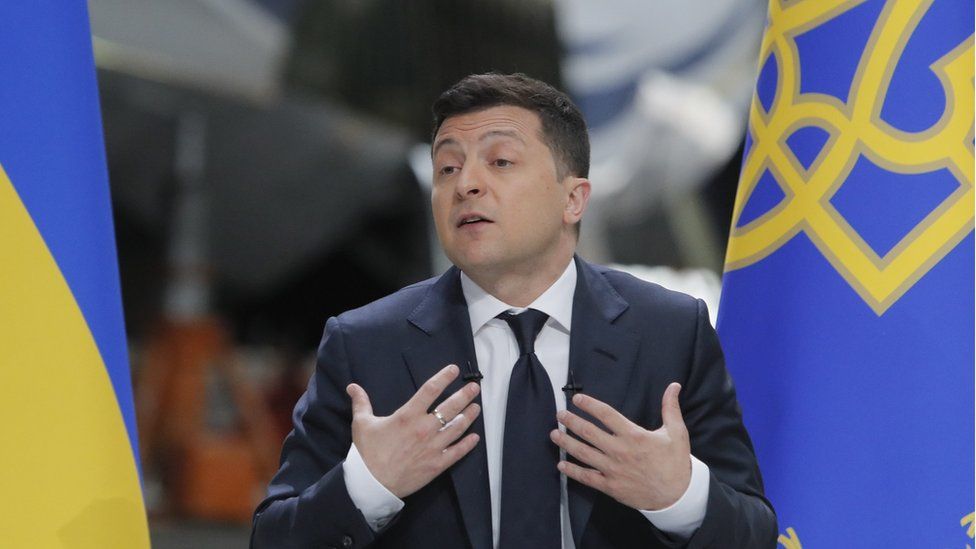 Two years after becoming Ukraine's president, Volodymyr Zelensky seems to have finally discovered a sense of purpose.
"We are building a country without oligarchs," he announced. "We are killing the idea of an oligarch system in our country."
It's the sort of bold phrase that helped presidential candidate Zelensky, then a comedian, win a landslide victory back in 2019. But since he's taken office there's been little sign of Zelensky the president delivering on his promises to really shake up the way Ukraine works.
Ukraine's oligarchs are a small group of super-rich businessmen who dominate the country's economic and political life. Most got rich in the 1990s by buying state assets cheaply as they were privatised. Overnight the men became owners of lucrative monopolies.
The oligarchs' well-funded tentacles now reach deep into Ukrainian society. Many have their own political parties, and supportive television stations. Some also have judges and senior civil servants ready to do their bidding if the need arises.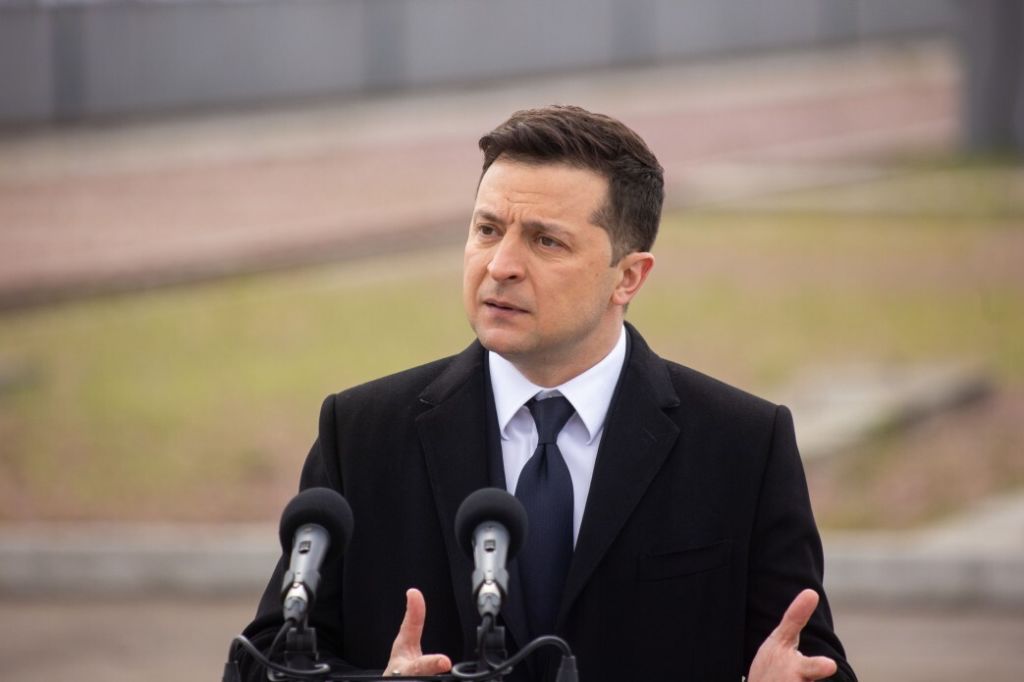 Getty Images
If there is influence, then these people will get a ticket called 'oligarch'. They will be included in a special register
"Nowhere in Emerging Europe, where countries have adopted the Westernising approach, are oligarchs as dominant as in Ukraine," says Timothy Ash, a strategist for Bluebay Asset Management. "Sure, you have a few, but they do not absolutely dominate the economy as in Ukraine."
Faced with such a rotten set-up it's hard to push through any reform that threatens the oligarch ecosystem.
In recent weeks, with some firm prodding from Washington, there have been signs that President Zelensky is trying.
Mr Kolomoisky is perhaps Ukraine's best-known oligarch. Notoriously coarse in language and blunt in his methods, he has a wide range of business interests ranging from extractive industries to airlines. In 2016 the bank he founded, Privatbank, was taken from him and nationalised after $4.5bn (£3.2bn) went missing from its balance sheet.
He has always denied doing anything wrong.
Then there's Viktor Medvedchuk. A wealthy businessman and close friend of Russian President Vladimir Putin, he was this month charged with treason and put under house arrest, moves that Mr Medvedchuk described as "political repression".
For years Mr Medvedchuk, leader of pro-Russian party For Life, has been tolerated in Ukrainian political circles because he was seen as an important channel of communication with the Kremlin. With Mr Zelensky making little progress in attempting to negotiate with Russia an end to the war in the east, it's clear the calculus has changed.
Petro Poroshenko, Ukraine's oligarch ex-president, may prove the most delicate case. A sweet-shop tycoon, he won in 2014 before losing in an acrimonious race to the newcomer Mr Zelensky five years later.
Since leaving office Mr Poroshenko has found himself facing a series of investigations and prosecutions. He dismisses the charges as politically motivated.
President Zelensky alleged this week that his predecessor had done "many serious and bad things" in office and was now facing "karma".
At President Zelensky's request, his National Security and Defence Council has drafted a list of 13 as yet unnamed oligarchs and a De-oligarchisation Bill is likely to be published in the next few weeks.
"There will be no influence on mass media, no influence on politics, no influence on officials," he said of the legislation.
"But if there is influence, then these people will get a ticket called 'oligarch'. They will be included in a special register, and then this big business may lose a great share of its assets."
What might that mean for former President Poroshenko?
With a net worth of $1bn, a political party and TV channels he's a certainty to be on any "oligarch register". The new legislation could also conceivably prevent him from taking on President Zelensky in an election re-match in 2024.
There are plenty of people, some with close experience of Mr Zelensky who have their doubts about the methodology, whether it will actually work.
Oleksandr Danylyuk was a key member of the Zelensky 2019 campaign team and his first national security chief: "This is just PR. Going against oligarchs looks good for him. People like a president who's decisive and going after oligarchs and bandits."
A former minister of finance, Mr Danylyuk, says that any measures against the oligarchs' businesses will also damage Ukraine's economy. He's scathing in his assessment of President Zelensky's ability to deliver.
"He won't be successful because he doesn't know what he's doing," says Mr Danylyuk. "He only knows how to destroy. He doesn't know how to build."
President Zelensky is known to monitor his public popularity closely and some doubt whether he can withstand what is certain to be a barrage of criticism from the TV channels that the oligarchs own and control.
But he is, at least in part, following an example set by Vladimir Putin who demanded early on his presidency that the country's billionaires either back him or surrender their wealth.
"Putin obviously made examples of a few oligarchs, like [Mikhail] Khodorkovsky and [Boris] Berezovsky, and the rest quickly fell into line." says Timothy Ash.
"Maybe this is what Zelensky is doing with Medvedchuk? Maybe he thinks he won't have to take them all on?"