Donegal: Crumbling house homeowners want new support scheme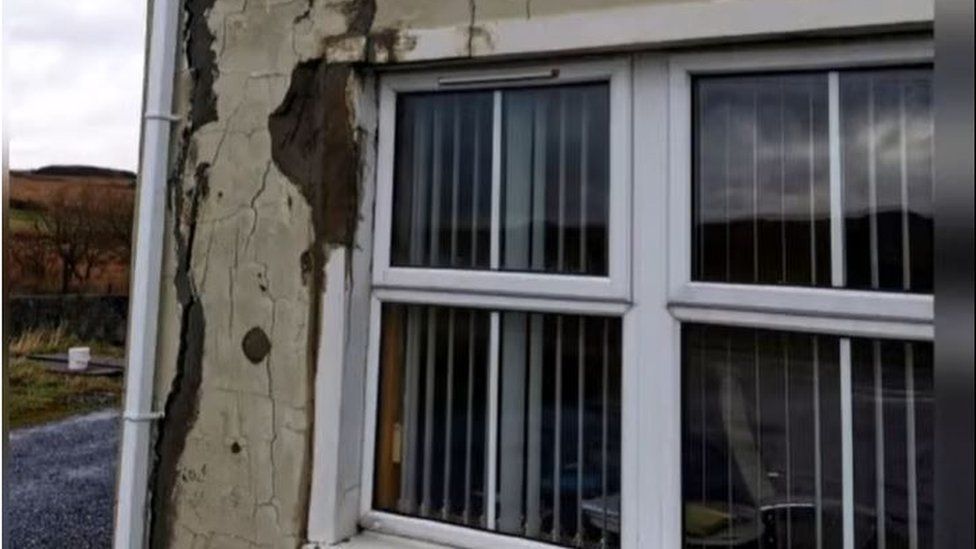 For 17 years, Coreen Robinson has put her all into making the County Donegal house she and her husband bought in 2003 a home.
When they first saw the house they "just fell in love and bought it straight away".
They have raised their children in that home, making countless cherished memories since.
But now it must be torn down. Like thousands of other houses in the county, it's literally falling apart.
Coreen is one of a huge number of homeowners in Donegal and in County Mayo whose homes have been crumbling over the years because of blocks containing high levels of the mineral mica.
She, and a number of others, are calling on the government to revamp a two-year-old support scheme, which she said has left property owners both out of home and out of pocket.
Under the scheme, eligible homeowners must pay for 10% of repairs, plus any outstanding mortgage payments on the home, with the government covering 90% of the cost.
It's a situation which Coreen described as "simply not workable".
It all starts with mica, a mineral which absorbs water and can cause walls to crack.
"When we learned what the signs of mica were, maybe just in the last three years, we knew we had it, but obviously not to what extent."
Small hairline-type cracks appeared at first along the windows on the outside of the house, bigger cracks then emerged around the doors and cornerstones.
Cracks started to emerge inside and now she's been told the load bearing blocks on the inside of the family home are 50% weaker than they should be.
That reality is a stressful one, she said, one "you never really get away from".
Up to 5,700 houses across counties Donegal and Mayo have been falling apart because of the issue.
In 2016 an expert panel was set up to investigate problems with homes affected by mica and another mineral, pyrite.
But in the years since, many homeowners now see the scheme as not fit for purpose, given it still requires homeowners for 10% of the repairs.
A family like Coreen's will receive no recompense for the engineering tests to prove the presence of mica, nor the costs of demolition.
The cost of building a new home has risen since the scheme was announced, she added, and families still have to pay any outstanding mortgage on homes that will be torn down.
Families too must pay their own rent when they move out to allow for demolition.
"It should not cost us, we did nothing wrong," Coreen said.
"We want 100%. We worked hard, we saved hard, to build our houses, provide a home for ourselves and our families.
"I am not in a position to find €50-70,000 to rebuild a house that I've spent the past 17 years paying for and putting money in to make it the family home it is today," she said.
On Thursday, campaigners calling for an improved scheme met with Irish Housing Minister Darragh O'Brien. A further meeting is scheduled in the weeks ahead.
They have taken their demands for a new redress scheme to the streets.
'An entire community on its knees'
Crowds of protesters marched through Buncrana in Donegal on Saturday afternoon calling for the government to address the existing support scheme.
Among the protestors was Aoife NicSheáin, who recently found out the home she built in 2010 would have to be demolished due to the presence of mica.
She said she believed the current scheme would have to be addressed.
"It's just a shame it has had come to marches and boycotts to get due attention," she said.
"But the sheer size of the protest today should show that this is not simply a few people hankering for a better deal, it's an entire community on its knees."
A protest was held in the Inishowen town of Carndonagh earlier this month and further protests are due to take place County Mayo.