Belarus jails: Stories of fear and violence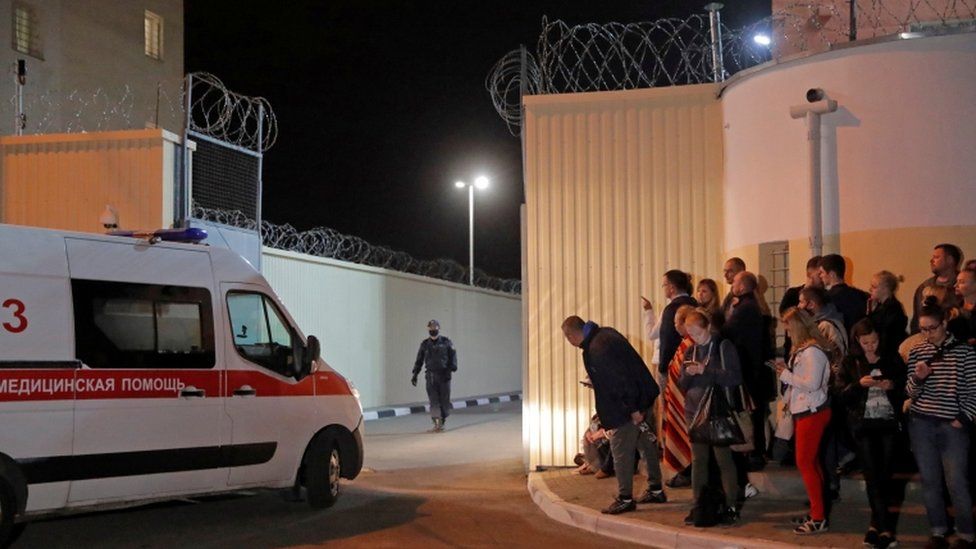 Belarus's jails and detention centres are holding hundreds of people described as political prisoners, whether they are political opponents, independent journalists or protesters.
Some 7,000 Belarusians were rounded up and thrown into crowded prisons in a matter of days, when they took to the streets in August 2020 to denounce the presidential election as rigged. Reports suggested beatings and torture were rife.
The arrests have continued and jail terms too. That is the situation facing captured blogger Roman Protasevich and his student girlfriend. Mr Protasevich said before he was detained he feared the death penalty, which Belarus still has, because he had seen his name on a terrorism list.
One shocking official video, purportedly of a political activist who died last week, shows a man collapsing unconscious in his cell. Belarus's biggest independent news site Tut.by has been raided and its top editors put in jail.
'No doubt he was tortured'
Many of the thousands arrested in the capital Minsk last August ended up at the notorious police detention centre at Okrestina Street.
That is also where student Sofia Sapega has been taken, according to her mother. She and Roman Protasevich were arrested after their Ryanair flight was forced to divert to Minsk airport. He is said to be in another Minsk jail, identified as preventive prison number one.
Both have made video confessions, widely assumed to have been made under duress. In Mr Protasevich's brief video he was shown with dark marks on his forehead.
Exiled opposition leader Svetlana Tikhanovksaya said: "He's clearly beaten and under pressure; there is no doubt that he was tortured. He was taken hostage."
Belarus's leader of 26 years, Alexander Lukashenko, told parliament that ill-wishers at home and abroad had "crossed many red lines and crossed boundaries of common sense and human morality".
Alina, 20, described her treatment at Okrestina last August, after she was grabbed by Belarus special forces. "At the entrance stood a man who shouted: 'Faster, you bitches!' I said: 'Why are you speaking to us like that?' He grabbed my neck and kicked me against the wall," she told BBC Russian.
Threatened with violence, she signed a statement without knowing what was in it. "Get on and sign it, or I'll [rape] you and put you away for another 20 days," she describes being told.
Another detainee called Sergei described being forced to crawl while being beaten repeatedly. Amnesty International said some ex-detainees had described detention centres becoming torture chambers.
At the time, Alexander Lukashenko's government denied widespread allegations of abuse.
"We were forced to stand in the yard all night. We could hear women being beaten," said another man who showed the BBC his bruises. Journalist Nikita Telizhenko wrote an account of people lying on the floor, piled on top of each other.
Another journalist, Yan Auseyushkin, told the BBC of his experience in a Belarusian prison while covering the protests. He spoke of having to enter the jail through a long tunnel in a squatting position before being placed in a cell with 16 others.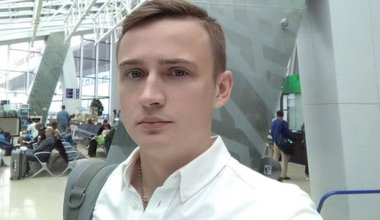 Yan Auseyushkin
It's hard emotional pressure: it's shouting, they're very rude, sometimes they smack you or beat you a little bit – the main feeling is that you do not belong to yourself
The arrests have continued and, according to human rights group Viasna, there are 421 political prisoners ranging from bloggers to businessmen, peaceful protesters to presidential election candidates.
Among the candidates in jail since last year are Viktor Babaryko and Sergei Tikhanovsky, whose wife Svetlana took over as candidate and later claimed victory in the vote. Babaryko's closest aide, Maria Kolesnikova, became a protest leader and was detained in September. She faces charges including "conspiracy to seize power through unconstitutional means".
Political dissidents are still being sentenced. Senior opposition activist Pavel Severinets was given seven years in jail this week for taking part in "mass unrest", while six others were given jail terms of four to seven years.
Journalists have been targeted too. In February Katerina Andreyeva and Daria Chultsova of Polish-based Belsat TV were jailed for filming an unauthorised protest. This month, Belarus's biggest independent website Tut.by was raided and many of its journalists arrested. Twelve are still in jail.
Testimony of beatings and torture from freed protesters has highlighted the risk of abuse in Belarus jails.
The death of Vitold Ashurok at a penal colony in the eastern town of Shklou last week aged 50 has raised further questions, according to human rights groups.
A video released by Belarus authorities shows a man, said to be Ashurok, staggering around his cell and hitting his head on a sink and collapsing. The edited footage shows him being given an injection before he collapses again.
Belarus authorities said he died suddenly after a cardiac arrest, although his widow is adamant his heart was healthy when he went into jail.
You don't need to be a high-profile dissident to get prosecuted in the current climate.
As street protests became increasingly risky, symbolic gestures took over, although even they can be targeted by authorities.
One man was arrested in Minsk for allegedly supporting protesters with a red-and-white "paper banner" on his balcony - the colours of the opposition flag. A woman wearing red-and-white socks was fined 2,320 Belarus roubles (£650; $906) under the laws of unauthorised protest.