Belarus bans most citizens from going abroad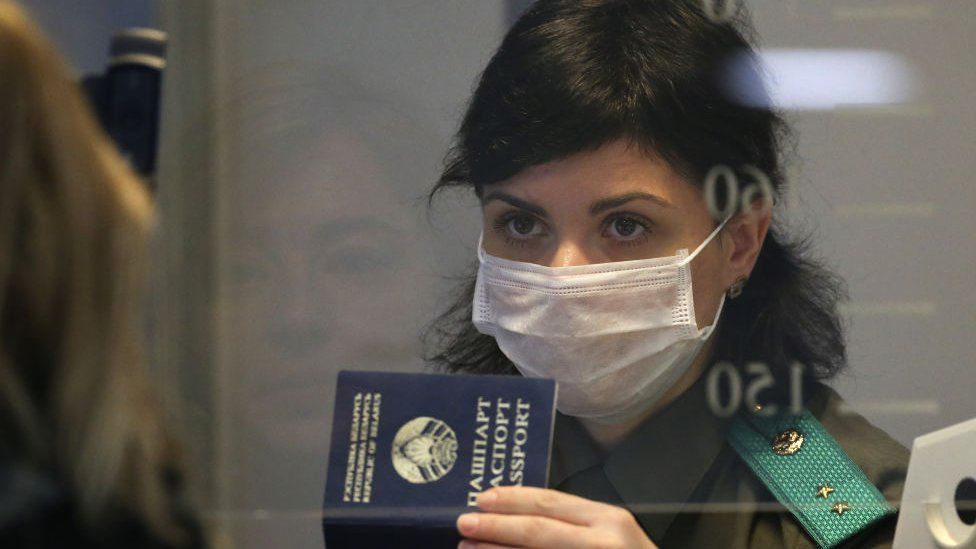 Belarus has temporarily banned most of its citizens from leaving, including many foreign residency permit holders.
There are some exceptions, such as for Belarusian civil servants on official trips and state transport staff.
The State Border Committee's tightening of the rules follows international outrage over Belarus's recent diversion of a Ryanair flight and arrest of a top dissident and his girlfriend on board.
Many dissidents have left Belarus since a disputed election last year.
In its statement on the Telegram messaging service, the border committee says it has received "many requests to leave Belarus on the strength of residence permits [issued] by foreign countries".
Only those with permanent residence in foreign countries - not temporary - are allowed to leave Belarus now, it says. The border committee blamed the measures on the coronavirus pandemic.
President Alexander Lukashenko's harsh crackdown on opponents since his disputed 9 August election victory has sent many into exile or to jail.
His main rival, Svetlana Tikhanovskaya, who insists that she won, moved to neighbouring Lithuania with her team. Poland also hosts many Belarusians.
Her foreign affairs adviser, Valery Kovalevsky, posted an angry tweet, saying President Lukashenko had "severely limited the right of Belarusians to travel, asserting that certain grounds (residency abroad) aren't sufficient to leave Belarus".
"Yet the Constitution stipulates no conditions at all. Outright violation of the law," he said.
Belarus was gripped by huge anti-Lukashenko demonstrations last year after the election, broken up brutally by the police.
The new travel rules also apply to foreigners: they can only leave after a 10-day period of self-isolation, as part of Covid restrictions.
President Lukashenko has confirmed that dissident Roman Protasevich and his girlfriend Sofia Sapega - both detained by the KGB secret police in Minsk - will be investigated in Belarus. They were arrested after the diverted Ryanair jet landed in Minsk on 23 May.
He said he had told Russian President Vladimir Putin last week that "the investigation of both persons will take place in Belarus - this is adamant". He added that "there won't be any issues over consular access".
Ms Sapega is a Russian citizen, while Mr Protasevich is Belarusian but has been living in Lithuania.
There was an outcry after Belarus used a hoax bomb threat and sent up a jet fighter to force the Ryanair plane - flying from Greece to Lithuania - to divert to Minsk.
Many EU countries are now barring the Belarusian state airline Belavia from their airspace and have instructed airlines to avoid Belarus airspace.