Belarus activist 'stabs his neck' in court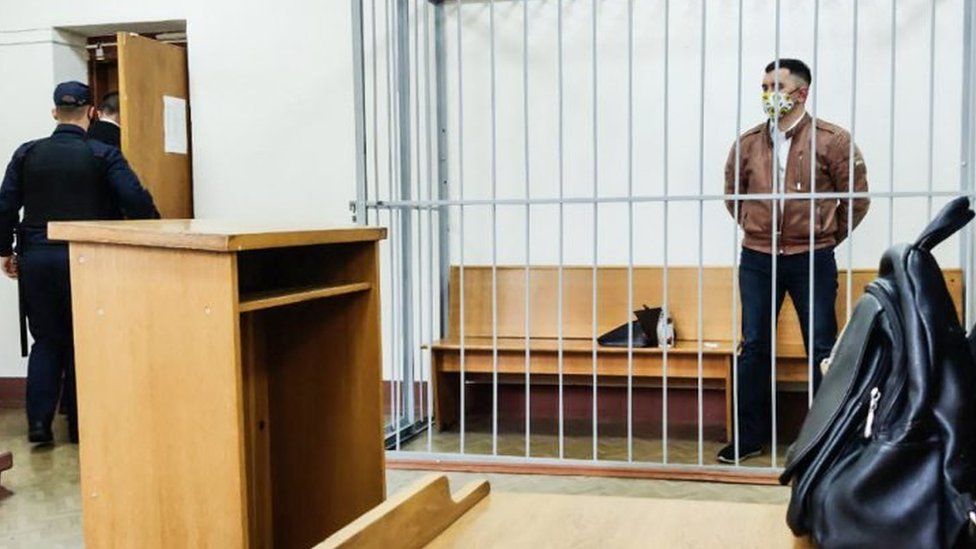 The article below contains details which some readers might find upsetting.
A Belarusian activist stabbed himself in the neck during a court appearance in the capital, Minsk, a rights group and opposition media have reported.
Footage appeared to show Stepan Latypov collapsing after using what looked like a pen as a weapon on Tuesday.
Mr Latypov was taken to hospital and was reportedly in a satisfactory condition after surgery.
He is accused of setting up opposition social media and also resisting police during his arrest last September. He has denied all the charges.
President Alexander Lukashenko has carried out a harsh crackdown on opposition since his heavily disputed election victory last August.
What happened in the Minsk courtroom?
It said that, earlier, Mr Latypov was heard telling his father that the law enforcement authorities had threatened to physically punish him if had not admitted his guilt.
He also said that they had promised criminal cases against his relatives and neighbours.
Viasna said it took some time before courtroom guards opened the defendant's cage holding Mr Latypov.
The Belarus opposition Nexta Telegram channel published a video apparently showing Mr Latypov lying down on a bench in the courtroom.
He was later taken by ambulance to hospital.
Nexta said Mr Latypov had undergone surgery and that his condition was "satisfactory".
The Belarusian health ministry said a 41-year-old man was in a stable condition after medics treated his wound in hospital under anaesthetic, Reuters reports. The ministry did not name the man.
In a tweet, Svetlana Tikhanovskaya, a Belarusian opposition leader, wrote: "Belarusian activist, political prisoner Stsiapan Latypau cut his throat in the courtroom today. He was threatened with the persecution of his family if he didn't admit himself guilty.
"This is the result of state terror, repressions, torture in Belarus. We must stop it immediately!"
Ms Tikhanovskaya was using a Belarusian spelling of Mr Latypov's name.
The State Border Committee's tightening of the rules follows international outrage over Belarus's recent diversion of a Ryanair flight and arrest of a top dissident and his girlfriend on board.
Many dissidents have left Belarus since the disputed election.
Ms Tikhanovskaya, who insists that she won, has moved to neighbouring Lithuania with her team.