Coronavirus: Germany fights trade in fake Covid vaccine certificates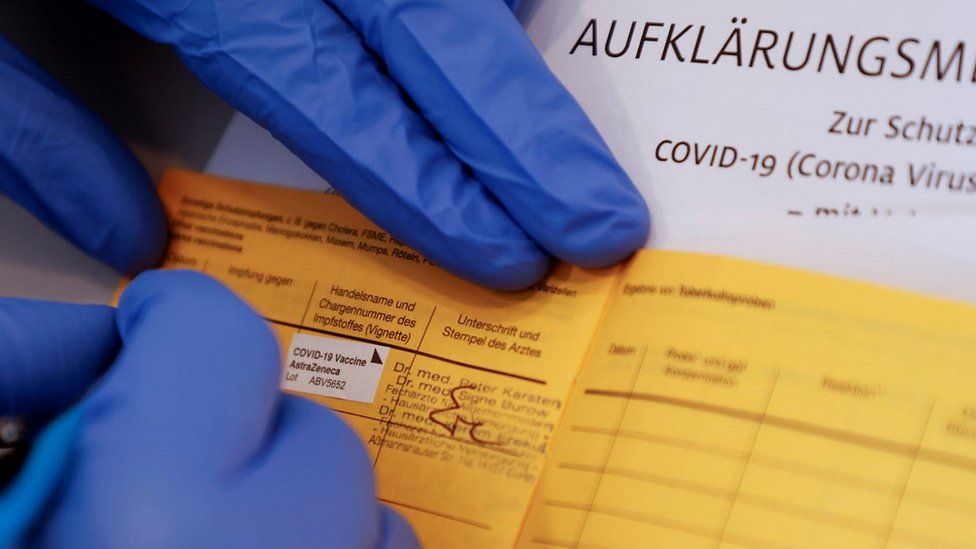 A German police force has set up a special team to combat a growing black market in forged vaccine certificates.
Police in Cologne told the broadcaster ARD that fraudsters were communicating via an encrypted messenger service which makes investigations difficult.
They are still trying to determine the scale of the problem nationally. Some people are duped into paying about €100 (£86; $122), then get nothing.
Covid "passports" to ease travel are being rolled out now across the EU.
Of the Covid vaccinations approved by the European Medicines Agency (EMA) all but one - the Johnson & Johnson (Janssen) one - require two jabs, several weeks or months apart.
In Germany, more than 44% of adults have had at least one jab and more than 18% of the population has been fully vaccinated against Covid-19, Our World in Data reports.
The certificate fraud, which takes place on the Telegram messenger service, involves both real traffic in fake certificates and fake offers which simply lure people into paying. Often cryptocurrency is used, like in the online black markets in drugs and weapons.
A specialist in this new type of crime, Miro Dittrich, said Telegram had become a hub for anti-vaxxers who are suspicious of vaccines and often deny the official data about the pandemic. But proving you are Covid-free opens access to restaurants, leisure facilities, foreign travel and many other things.
Six suspected fraudsters are being investigated by the new unit, Cologne police spokeswoman Nicole Gentner said. Those proven to have issued or used fake certificates face stiff penalties, including possible prison terms.
Last month, police searched the clinic of a Munich doctor suspected of fraud concerning vaccine certificates, the German website Merkur reported.
A state prosecutor, Juliane Grotz, said blank certificates could be ordered easily on the internet and doctors' stamps were also easy to get online. She said fraudsters were also finding the individual vaccination numbers - part of the certificate - in photos posted by vaccinated people on social media.
An investigation by German broadcaster MDR revealed fake certificates being offered for vaccination centres in Weimar, Kamenz, Munich and Hamburg.
One Telegram offer quoted by MDR read: "The order with stamp - already available - takes 1-3 days. We will give you a certificate, stamp, BioNTech or Astra sticker and signature on the stamp. Two certificates cost €150."
What about the EU 'Covid passport'?
The EU says its new EU Digital Covid Certificate is secure because the data is contained in a QR code which has to be scanned. The holder is then checked electronically in a central EU database.
An EU regulation on the certificate - nicknamed a "Covid passport" - will enter into force on 1 July, meaning all 27 member states will start using the system.
The aim is for EU citizens to travel throughout the EU without having to take repeated Covid tests or go into quarantine. The technology has been rushed through in the hope of salvaging some of the vital summer tourism business.
Seven countries began issuing the EU certificates on 1 June: Bulgaria, Croatia, the Czech Republic, Denmark, Germany, Greece and Poland.
The UK is developing its own digital Covid certificate but does not yet have a deal with the EU on mutual recognition.
In the EU, national health authorities will hold their citizens' data, but the QR code verification will not transmit personal data to the central electronic "gateway" in Luxembourg, the EU Commission says.
The digital certificate will show the bearer's vaccination status, whether they have immunity from a Covid infection they have recovered from, or a Covid test result.
The EMA has approved the following vaccines: Pfizer-BioNTech, Oxford-AstraZeneca, Moderna and Janssen.