Roman Protasevich: Belarus journalist's confession was forced - family says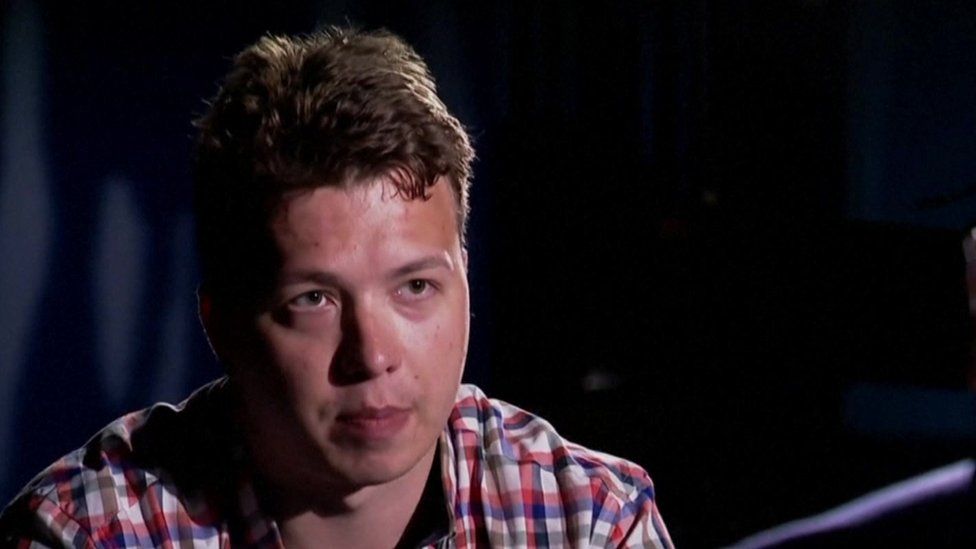 The family of Belarusian journalist Roman Protasevich says he was coerced into making a confession on TV of organising anti-government protests.
Mr Protasevich, 26, was arrested in Minsk last month after his flight to Lithuania was diverted.
In a tearful appearance on state TV, he praised President Alexander Lukashenko and admitted attempting to topple him.
Marks were visible on his wrists. Human rights and opposition campaigners say he was tortured.
Mr Protasevich was editor of the opposition Nexta channel on the Telegram messaging app until last year.
He was put on a list of "individuals involved in terrorist activity" by the government in Belarus.
Mass protests erupted across Belarus after Mr Lukashenko claimed victory in a 9 August presidential election widely condemned as rigged, which was followed by a crackdown.
The protests have been curbed and opposition leaders have been sent to prison or into exile.
In the interview broadcast on Thursday evening, Mr Protasevich admitted to attempting to topple Mr Lukashenko and said that he was speaking to the television channel by choice.
He said that he had criticised President Lukashenko a lot but "began to understand that he was doing the right thing and I certainly respect him".
At the end of the interview, he burst into tears and said he hoped one day to marry and have children.
The journalist's father told AFP TV that it pained him to watch the interview.
"I know my son very well and I believe that he would never say such things. They broke him and forced him to say what was needed," he said. "No one should believe these words because they were beaten out, through abuse and torture of my son."
And his assertions were echoed by exiled opposition leader Svetlana Tikhanovskaya.
"You should understand in what conditions these people are, and they are for sure being tortured and violated, and we shouldn't believe any of the words of these people, including Roman Protasevich, because you have to understand how they are forced to say," she said.
Advocacy group Human Rights Watch (HRW) said the video was evidence of "brutality" by the security forces.
"It should be Exhibit A in a prosecution for torture and ill treatment under President Lukashenko," said HRW director Kenneth Roth.
Thursday's interview was Mr Protasevich's third appearance on state television since he was detained.
In one interview, he said there was no use in the opposition calling for further street protests.
On the face of it, it looked like a normal TV interview: there was a studio, multiple cameras, fancy lighting, two chairs.
But think of the circumstances in which it was being recorded and you realise this was no regular conversation between interviewer and interviewee.
For a start, Mr Protasevich is in custody in a Minsk detention centre. In most parts of the world, it would be highly unusual for an individual under arrest (and under interrogation) to appear on an interview show on state TV. Not unless he or she had been forced into it.
Mr Protasevich said he had agreed voluntarily to the interview. But he is not a free man: we should be wary of the programme's contents. The authorities' aim in putting him on TV is clear: to discredit the opposition and the protest movement.
For much of this long interview, Mr Protasevich spoke fluently and looked directly at the host. But most of the things he was saying were out of character, at odds with comments made before his arrest.
When asked about his time in conflict-hit eastern Ukraine, he grew agitated. Russian-backed separatists in the Donbas region have opened a criminal case against him over his alleged participation in the hostilities.
"Are you frightened you may be extradited?" he was asked.
"Of course," Mr Protasevich replied, looking down.
That prospect clearly makes him nervous. And Minsk may use the threat of transfer to the Donbas to ensure Mr Protasevich cooperates with their investigation.
The journalist and his girlfriend Sofia Sapega were flying back to Lithuania, where they were both living, when their jet was made to land in Minsk over a fake bomb threat.
He faces serious charges. The charge of causing mass unrest can be punished by up to 15 years in jail. But terrorism offences carry higher sentences and as he was taken off the plane, passengers quoted him saying: "I'll get the death penalty here".
Mr Protasevich and Ms Sapega were led away by police and later appeared in videos where they were shown making what appeared to be forced confessions to crimes against the Belarusian authorities.
As a result of their arrests, the EU has now banned Belarusian airlines from overflying its airspace.
"We won't tolerate that one can try to play Russian roulette with the lives of innocent civilians," EU Council chief Charles Michel said.