Belarus plane: Sofia Sapega 'not giving in' after arrest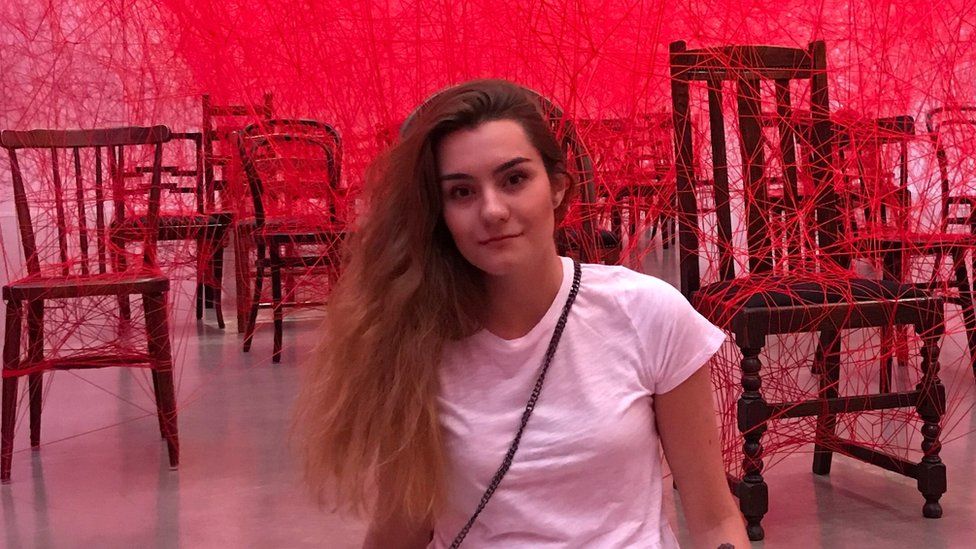 Sofia Sapega has told her family she is "not giving in" and is "holding up" in prison, in her first direct communication since being arrested in Belarus along with her opposition activist boyfriend Roman Protasevich more than two weeks ago.
The couple had been returning to Lithuania from a holiday in Greece when their Ryanair flight was forcibly diverted to Minsk, sparking international condemnation and fresh sanctions against the government of Alexander Lukashenko.
In letters marked "KGB Prison" at the top, shared with the BBC by her mother, Sofiya reassures her family that "everything has its end, including this misfortune", although it's still not clear what the 23-year-old student has been charged with.
The letters describe being "tormented" by what she is missing out on in life, including completing her master's degree.
"I should have defended my dissertation today, and gone to a restaurant with Roma [Roman] in the evening to drink champagne," she writes in one extract.
Instead she drank tea and ate a biscuit alone in her cell.
"It's so sad to think that so much else will happen in life that I will miss," Sofiya writes. "I didn't want to write about this, but I have no-one to share things with and I couldn't stop myself. Forgive me."
The Belarusian authorities previously released a video of Sofia - looking deeply uncomfortable and apparently speaking under duress - supposedly "confessing" to editing a Telegram channel known as the "Black Book of Belarus". Banned in the country as extremist, the channel revealed personal information about state officials and members of the security forces.
Sofiya's lawyer is unable to share any information about the case even with her family, including whether she's been formally charged with anything, as he was obliged to sign a non-disclosure agreement.
"We know nothing. That's the scariest thing," Sofiya's mother Anna Dudich told me by phone from Belarus. "Apart from these letters we are living in total ignorance of what's happening to her. Everything has gone quiet. It's really horrible."
Sofiya's boyfriend, Roman Protasevich, was editor of the Nexta Telegram channel based in Poland that published videos and information from the wave of giant street protests against Alexander Lukashenko that began last summer.
The opposition activist was among the "most wanted" people in Belarus. But the move to declare a bomb threat on board his flight across Europe, and scramble a Mig fighter jet to divert it to Minsk, shocked the world.
"Please don't blame Roma for the way things have turned out," Sofiya begs her family, saying her boyfriend had protected her as best he could. "Things will be hard for him, but I hope that he will cope."
The pair are being held in the same prison in Minsk.
Her neatly-written letters detail how she's keeping time by chimes of a nearby church bell, as she has no watch, and reassure her mother that she's begun taking pleasure in "the small things" in life, like bird song and sunshine through her cell window.
Her lawyer says she suffered panic attacks at first; in her letters, Sofiya says she's been given medication to help and insists that she's eating.
She admits to crying, though, just once - when she received the first letters from home, smelling of her mother's perfume.
"She's trying to hold things together, but it's just very sad and I don't know how I can help," Anna says.
"She's a clever girl, her head's not up in the clouds," she adds. "I can tell that she understands what situation she's ended up in."