Hungary LGBT: Content aimed at children to be banned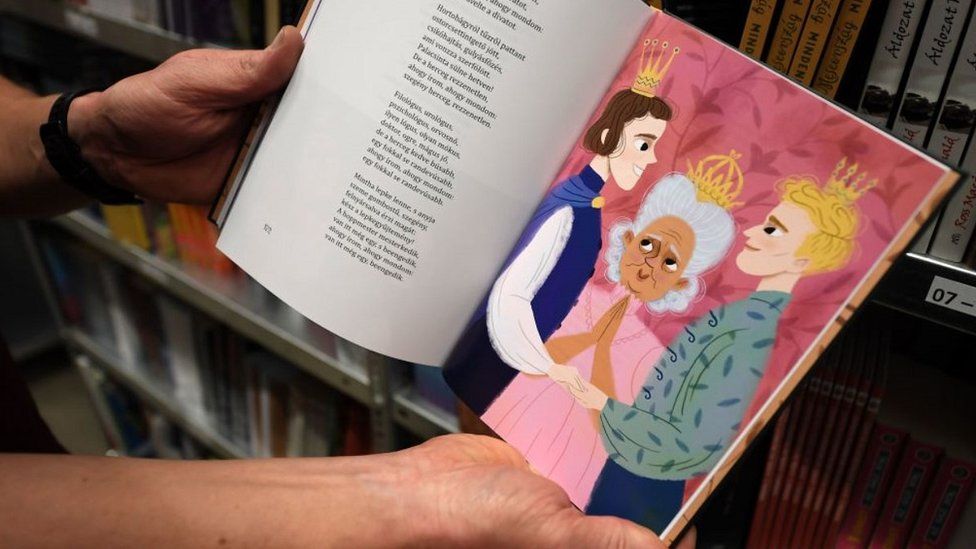 Hungary's ruling nationalist party has submitted legislation to ban content it sees as promoting homosexuality and gender change to minors.
The draft law would ban LGBT literature for under-18s, including educational material, and advertisements deemed to be promoting gay rights.
Several human rights groups denounced it, saying it was similar to Russian restrictions on LGBT activities.
The party, PM Viktor Orban's Fidesz, is preparing for elections in early 2022.
Hatter Society, one of those groups, said the Fidesz proposal "would seriously curb freedom of speech and children's rights".
The proposal is included in a government bill that punishes paedophilia. It says youngsters under 18 cannot be shown pornographic content, or any content that encourages gender change or homosexuality, Reuters news agency reports.
The Fidesz government and Poland's ruling nationalist Law and Justice (PiS) government are both under formal EU investigation for alleged breaches of EU rule-of-law standards.
Neither country recognises gay marriage and both have laws restricting gay adoption. Hungary's constitution states that marriage is for heterosexual couples.
In 2013 Russia passed a law imposing heavy fines for disseminating so-called "gay propaganda" to people under 18. It bans promotion of "homosexual behaviour among minors".
Last year the Fidesz government condemned a Hungarian children's book, Wonderland Is For Everyone, which recasts fairy tale characters in roles representing minorities, notably Roma and gay people. Fidesz labelled it "homosexual propaganda", saying it should be banned from schools.
Mr Orban, a Eurosceptic nationalist, has been re-elected in landslide votes since 2010.
He has been widely criticised in the EU, accused of curbing the rights of migrants and other minorities, politicising the courts and media, and tolerating anti-Semitism. He claims to be defending Hungary's Christian values in a Europe gripped by left-wing liberalism.
Fidesz dominates the Hungarian parliament and media. But a new opposition coalition has gained ground on Fidesz in opinion polls.