Turow: Vast Polish coal mine infuriates the neighbours
By Adam Easton
BBC News, Warsaw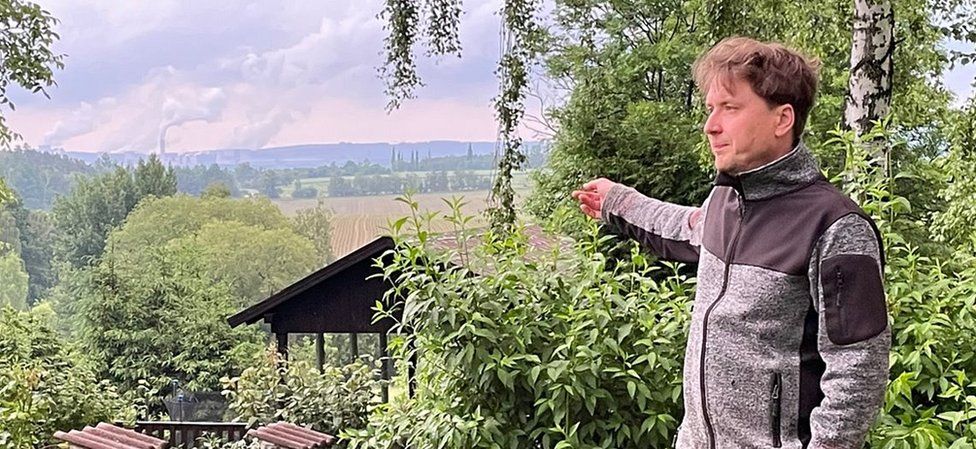 Access to running water is taken for granted by almost everyone in Europe. But that's not the case for thousands of Czech villagers living near a gigantic open-pit coal mine just across the border in Poland.
Several times in recent years, Milan Starec, a 39-year-old father of four from the village of Uhelna, has turned on his tap and nothing has come out. The water level is dropping because of the Turow mine, which he says is getting closer each year to the Czech border.
"There is one common well in our village and all the houses are connected to it. If the water disappears from this well then our village will dry out in one moment, because we have no other possibility to get water," he told the BBC. The well is 65m (213ft) deep: last year he says the water level went down by 8m.
Already the Czech Republic has asked the European Court of Justice - the EU's top court - to fine Poland €5m (£4.3m; $6m) daily for disobeying the Court's order to halt mining there. Polish and Czech ministers are due to meet in Prague on Thursday in a bid to resolve the dispute.
And water is not the only issue. Turow contributes to CO2 pollution - a particular problem for Poland, whose energy sector is still about 80% dependent on coal.
In the mine, excavating machines that dwarf small tower blocks dig soft brown coal, also known as lignite, to provide fuel for the adjacent power plant.
The mine is owned by Poland's largest power company, state-controlled PGE. It must pump water from the pit into a nearby river to prevent the mine turning into an enormous lake. Mr Starec says pumping drains 40 litres every second from groundwater on the Czech side of the border.
"A lot of the villages in this area are having the same problem," he complains.
There are many vast open-pit mines excavating lignite in this region, most of them fuelling power plants in the Czech Republic and nearby Germany.
But unlike the others, Turow lies right on the border with both Germany and the Czech Republic and the mining has a direct impact on both countries.
According to a geological study, continued mining would contaminate and lower groundwater, and cause soil subsidence in the German city of Zittau.
For years the Czechs have tried and failed to resolve the problem, suggesting that Poland fund water management improvements.
But when Turow obtained a six-year extension to its mining licence in 2020, the Czech authorities decided they had had enough - they took Poland to the European Court and last month it ordered the immediate suspension of mining, pending a final judgment.
Before the ruling Warsaw extended Turow's mining licence again, to 2044.
Why Poland is clinging to coal
Warsaw has refused to implement the ruling, saying Turow is essential to energy security because it generates about 5% of Poland's electricity.
Suspending mining would deprive the adjacent power plant of its fuel, meaning a temporary shutdown threatening the livelihoods of 80,000 people, says PGE.
That plant is also the sole provider of heat and hot water to hospitals, schools and 1,400 homes in the nearby Polish town of Bogatynia.
Last week thousands of Polish energy sector workers protested in Warsaw against potential job losses in Turow and elsewhere.
There was anger towards the EU's climate policy. Outside the European Commission's office, protesters held up signs with the words "Hands off Turow" and "Yesterday Moscow, today Brussels is taking away our sovereignty".
"This is a warning for the European Commission: take your paws off the Polish economy and Polish workers," said Solidarity trade union leader Piotr Duda. "We live in a nation state and we are not a colony of the German state."
For centuries coal has fuelled Poland's economy and Poland is one of the few European countries still building coal power plants:
It's home to the EU's largest hard coal reserves
It has extensive lignite deposits, like Germany and the Czech Republic: for decades, lignite was the cheapest and dirtiest way to generate electricity
Coal mining was glorified under communism and miners were paid well
When communism fell in 1989, coal mining unions wielded considerable political influence in Warsaw
Successive governments, including the current one, promised miners that coal would remain king for decades to come.
Poland is the only EU member state yet to sign up to the bloc's 2050 carbon neutral goal, and a new coal unit was opened at Turow only last month.
And yet Polish cities have some of the worst air quality in the EU. Rising public disapproval of smog and falling profits have prompted state-run power companies to announce large investments in renewable energy and gas, including Poland's first offshore wind farms.
According to public policy think-tank Instrat, 45% of Polish coal-fired power plants were already losing money in 2020.
That's because EU energy firms have to buy allowances for emitting CO2, which have got more expensive in recent years: from €26.5 per tonne in 2020 to €36.7 in 2021 alone.
What next for Polish power?
Polish coal plants are only viable because they receive state subsidies, says Instrat economist Pawel Czyzak.
"The government's inability to set a coal phase-out date blocks the transformation of the power sector, because it makes it difficult to get funding for energy projects and access to EU funds," he told the BBC.
Poland is set to be the biggest recipient of the EU's Just Transition Fund to help retrain workers in coal-dependent regions. But first the government must draw up plans to phase it out.
And it must reach a deal with the neighbouring Czechs too.
Milan Starec believes after years of frustration "a happy ending" is in sight. He wants to see Turow close in five years, or by 2030 at the latest.
"I would be happy if the mining stopped tomorrow, but there are 4,000 people working in the mine and it's not my wish to make anyone homeless.