Spain confirms plans to pardon Catalan separatists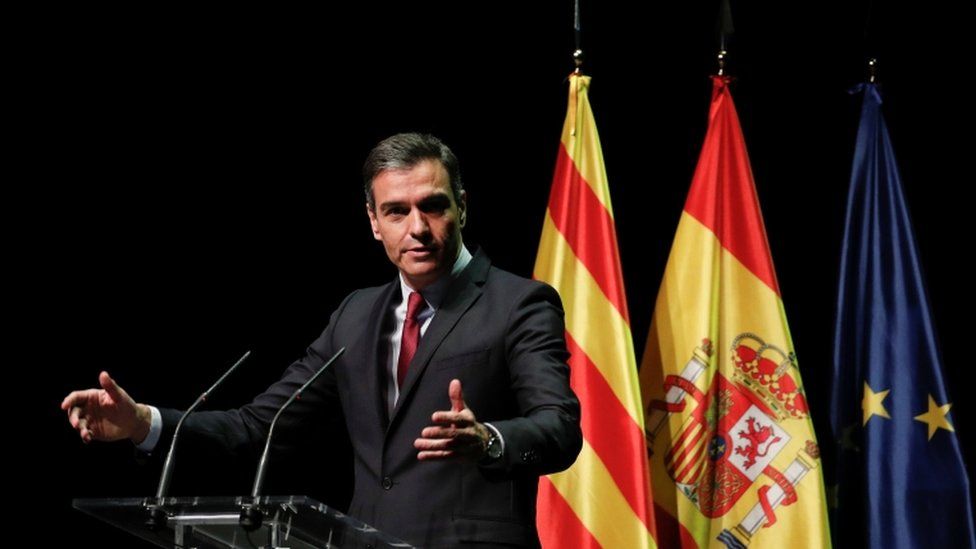 Spanish Prime Minister Pedro Sánchez has confirmed plans to pardon Catalan separatists this week.
Nine leaders were jailed for sedition over a failed independence attempt in 2017. Another three were found guilty of disobedience but not jailed.
Their pardons will be sent to the cabinet on Tuesday.
Tens of thousands of people protested against the plans earlier this month, but the government says the move will help calm tensions over Catalonia.
The semi-autonomous region's drive for independence almost four years ago plunged Spain into its biggest political crisis in 40 years.
Opponents, however, have accused the Spanish government of using the plans to gain political support.
"Tomorrow, guided by this constitutional spirit of forgiveness, I will propose that the cabinet approve the pardon," Mr Sánchez announced during a speech in Barcelona on Monday.
"To reach an agreement someone must almost always take the first step," he said. "The Spanish government will take that step now."
Opposition to the decision has been widespread, with a recent poll for Spanish newspaper El Mundo finding that about 61% of people were against pardoning the separatist leaders.
The country's Supreme Court has also said it opposes the decision, although its position is not binding.
But the prime minister's decision has also been met with anger by Catalan protesters, who believe the leaders should never have been jailed in the first place.
Riot police were stationed outside Barcelona's opera house, where hundreds of protesters calling for Catalan independence continued to demonstrate during Mr Sánchez's visit.