Angela Merkel receives Moderna as second jab after AstraZeneca shot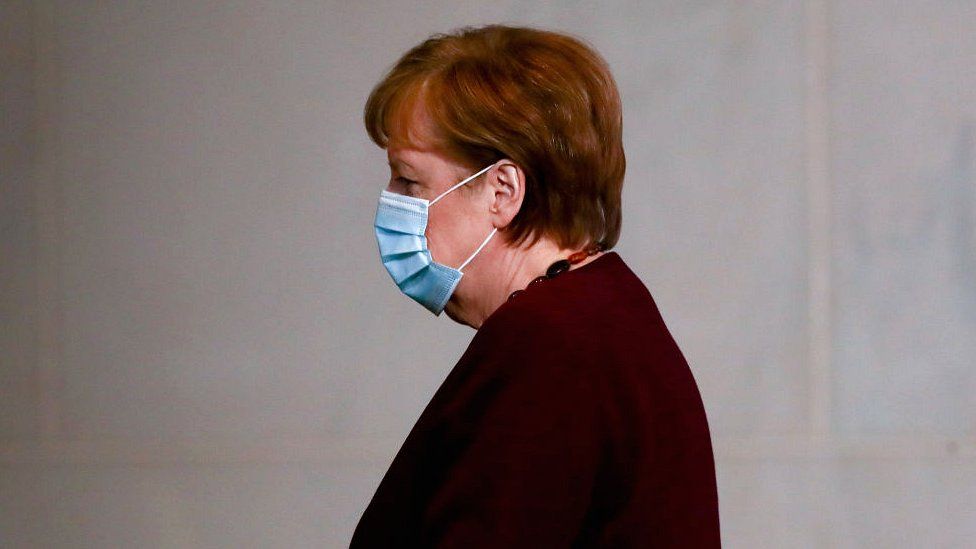 German Chancellor Angela Merkel has received a dose of Moderna as her second shot of coronavirus vaccine having had Oxford-AstraZeneca as her first, a government spokesman said.
The 66-year-old leader was vaccinated a few days ago after getting a dose of AstraZeneca in April.
Experts believe mixed dosing of Covid vaccines could be a good idea but it is too early to say for sure.
After a slow start, Germany's vaccination rollout accelerated in recent weeks.
More than half of the country's population has now received their first dose of a vaccine.
In April, Mrs Merkel's spokesman tweeted a photo of her vaccination certificate to show she had received the injection.
Kanzlerin #Merkel: "Ich freue mich, dass ich heute die Erstimpfung mit AstraZeneca bekommen habe. Ich danke allen, die sich in der Impfkampagne engagieren – und allen, die sich impfen lassen. Das Impfen ist der Schlüssel, um die Pandemie zu überwinden." pic.twitter.com/P4kMJYNrlc

— Steffen Seibert (@RegSprecher) April 16, 2021
There have been some studies conducted on the mixing of different vaccines.
The Canadian provinces of Ontario and Quebec have both said they plan to mix vaccines in the near future, amid uncertainty over shipments of the Oxford-AstraZeneca jab and concerns about rare blood clots.
Experts believe mixed dosing of Covid vaccines could be a very good idea. It might give broader, longer-lasting immunity against the pandemic virus and new variants of it, and offer more flexibility to vaccine rollout.
Studies are under way, but some countries are already allowing it within their national immunisation programs.
Germany initially restricted the use of the AstraZeneca (AZ) vaccine to people under 60 because there wasn't much trial data available on efficacy in older people.
It reversed that decision in April, offering it to all adults. Weeks later Mrs Merkel received her first dose.
More recently, following reports of rare blood clots in a small number of younger people who had the AZ vaccine, Germany recommended that under-60s who had already received a first dose of should have a different coronavirus vaccine for their booster second jab for safety reasons, as a precaution.
Merkel doesn't fit this age bracket, but, nonetheless, she's had Moderna rather than AZ for her second dose.
It may prove to be a decision that gives her better protection, but until we have the evidence from large trials, it is really too early to say for sure.