Spanish school students stuck in hotel quarantine in Majorca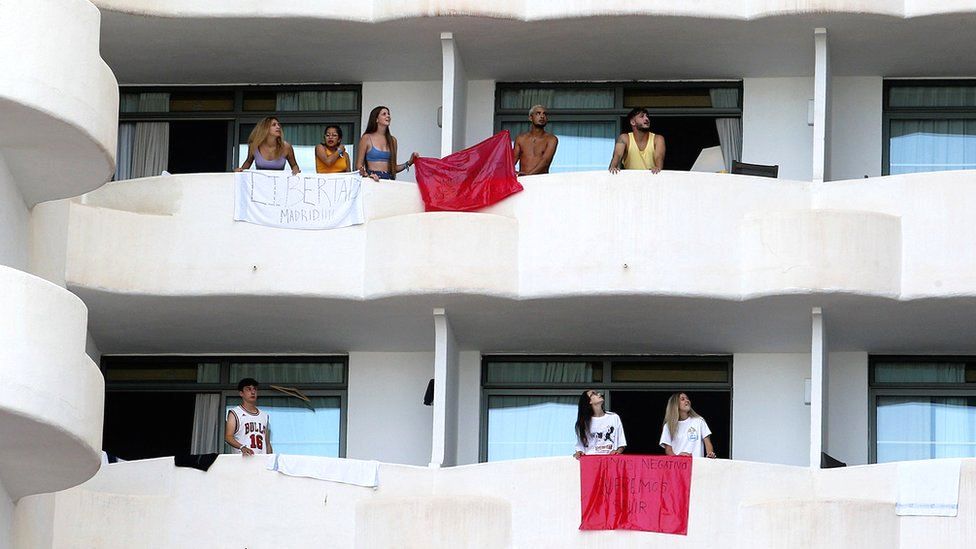 "We are afraid, because they haven't told us how long we are going to be trapped here," says 17-year-old Lucía, adding: "We were moved without our parents' consent."
She is among around 200 Spanish students being held under police guard at the Palma Bellver hotel in Majorca, in Spain's Balearic Islands, after an outbreak of more than 1,000 cases of Covid-19 were linked to end-of-year trips by celebrating school students.
Last week, several students attempted to leave the island, but most were stopped by police at the airport and taken to the hotel for quarantine.
Three managed to make it back to the mainland and authorities have issued search warrants for their detention, local media report.
Police are now monitoring the four-star Palma Bellver hotel with 24-hour surveillance. Balearic Islands public prosecutors have said they are opposed to keeping the students confined to the hotel.
Students have been protesting from their balconies and expressing their frustration on social media using the hashtag #secuestrogobiernobalear - which means Balearic government kidnapping.
Infections linked to the Majorca outbreak account for about 5% of new cases recorded in the past week, the head of Spain's public health body said on Tuesday.
Lucía's trip to Majorca was organised with friends last October as a celebration after completing their senior year of school.
"At first they told us if we declined to go [to the Palma Bellver hotel] they would sue us," Lucía, who is from Cádiz in the south-west, has told the BBC. "They were basically forcing us."
Nobody in her school group has yet tested positive for Covid, she maintains, and yet they are not allowed to leave their rooms under any circumstances.
She also complains they are at risk of being exposed to others isolating in the same hotel who had tested positive.
Since being forced to isolate she describes being "threatened, insulted, and harassed" by people on social media telling her they should not have gone to Majorca in the first place.
The majority of the students held at the Palma Bellver are from the southern Andalucía region, although several are from Madrid.
The Madrid region has reported more than 400 cases linked to the return of students on end-of-year trips, while 172 have been recorded in the Basque Country and Valencia in the east has reported 104.
Daniel, a student aged 18, arrived on the island on 22 June from his home town of Córdoba in southern Spain.
He says he feels anxious about being held at the hotel under police guard despite twice testing negative for coronavirus.
"I don't know what is going to happen," he says. He was among several students who complained to the BBC about the police presence, saying he felt intimidated every time he opened his hotel room door to make a request.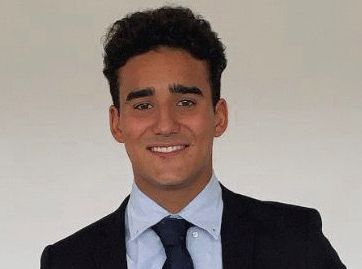 Daniel
We shouldn't be here... my family only knows I am here because I told them.
He was worried that for some people with health conditions access to treatment was proving difficult.
"A person on my floor who is asthmatic and was considered at risk wasn't allowed to go to the hospital after waiting six hours for an ambulance to pick him up."
Neither the Palma Bellver hotel nor Majorca health authorities have yet responded to BBC requests for comment. However, Balearic Islands Health Minister Patricia Gómez has insisted they are acting to protect local citizens, by detecting positive cases to "break the chain of infection". So far 26.1% of young people in quarantine had tested positive in PCR tests and 12 were admitted to hospital with mild symptoms, she said on Monday.
Another student from Córdoba, 17-year-old Marina, had been staying with a group at a different hotel on 25 June when they were told to gather their belongings at short notice before being transferred to the Palma Bellver.
"We were told there was someone who had tested positive in our hotel," she says. As she had tested negative for Covid she could not understand the need to remain in isolation.
"It is likely that we will have to remain here until 7 July," she says. "We miss our families very much and they are very confused because they haven't been told what is really happening."
Ignacio, 18, says that while the hotel rooms were comfortable enough, staying in quarantine is depressing.
"Most of us are isolated individually, which means we won't be able to speak face-to-face with anyone for the next 10 days."
Students are not being given enough information, he complains: "We are unsure about how long we will stay here."
Spain's Balearic Islands are among the places recently added to the UK's green travel list, meaning that from 30 June British travellers with a negative test result will not have to quarantine on arrival.
You may also be interested in: