Picasso painting found as builder arrested over art heist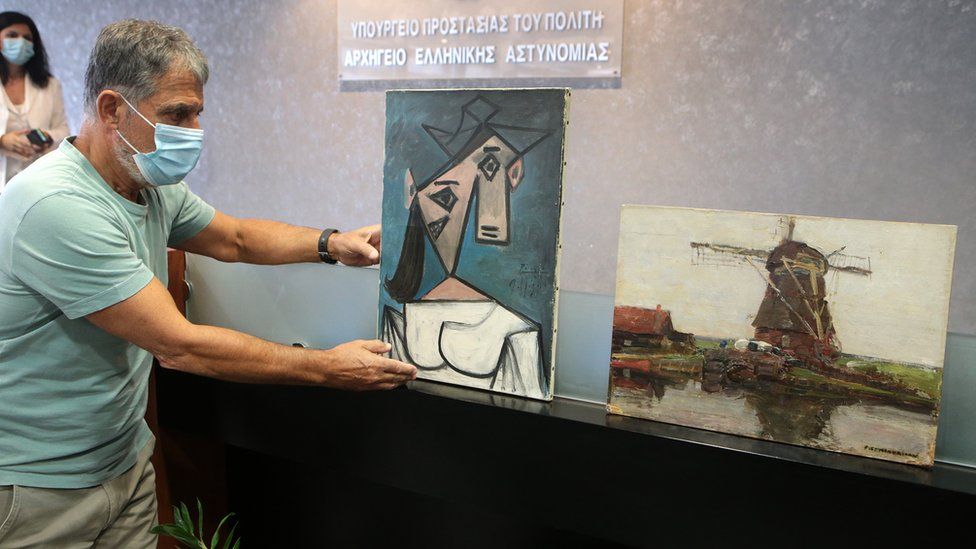 A painting by Pablo Picasso that was stolen nine years ago during a heist at a Greek gallery has been recovered.
Police say a 49-year-old builder has been arrested for the theft of Picasso's Head of a Woman and a second work by Dutch artist Piet Mondrian.
Initially, the raid on the Athens National Gallery in 2012 was blamed on two thieves.
The artworks were stripped from their frames in the early morning heist which took only seven minutes to carry out.
A third work in pen and ink by Italian artist Guglielmo Caccia, from the 16th Century, was also seized but police said the suspect told them it had been damaged and he had flushed it down the toilet.
Police first revealed that the Picasso painting and Mondrian's 1905 work Stammer Mill with Summer House were recovered late on Monday, and gave further details to reporters the following morning.
A few months ago it had emerged that they still believed the Picasso had not left Greece.
Culture Minister Lina Mendoni told reporters the artwork would have been "impossible to sell or go on display" because it had a personal inscription from the Spanish painter on the back that read, in French, "For the Greek people, a tribute by Picasso."
He had given it to the National Gallery in Athens in honour of Greek resistance to Nazi Germany during World War Two. The Cubist work, painted in 1939, is one of a number of portraits of Picasso's partner Dora Maar.
During the Tuesday press conference, police alleged that the 49-year-old suspect had confessed to the theft and explained how he planned the raid for six months in advance.
Almost every day he would monitor the movements of security guards and other staff, they said, noting the times the guards took cigarette breaks. On 9 January 2012, the suspect set off a false alarm in another part of the building and broke into the ground floor of the museum, police explained.
At the time the police minister condemned security measures as "non-existent", with faulty alarms and some areas of the building not covered by security cameras.
Within minutes, four works had been seized, although a second Mondrian painting was apparently dropped during the escape.
Police said the builder, described as a decorator, had hidden the paintings at his home for years and had no intention of selling them. Recently, however, he had moved them, wrapped in plastic sheets, to a dried up riverbed in Keratea, outside Athens, where they were eventually found in good condition.
The museum's security system has since been upgraded and the Greek government hailed the paintings' recovery as "a major success".
The culture minister said the National Gallery's "greatest wound has been healed" while its director, Marina Lambraki-Plaka, told Greek media that it was like a resurrection.