Euro 2020: Uefa bans rainbow ads at two quarter-finals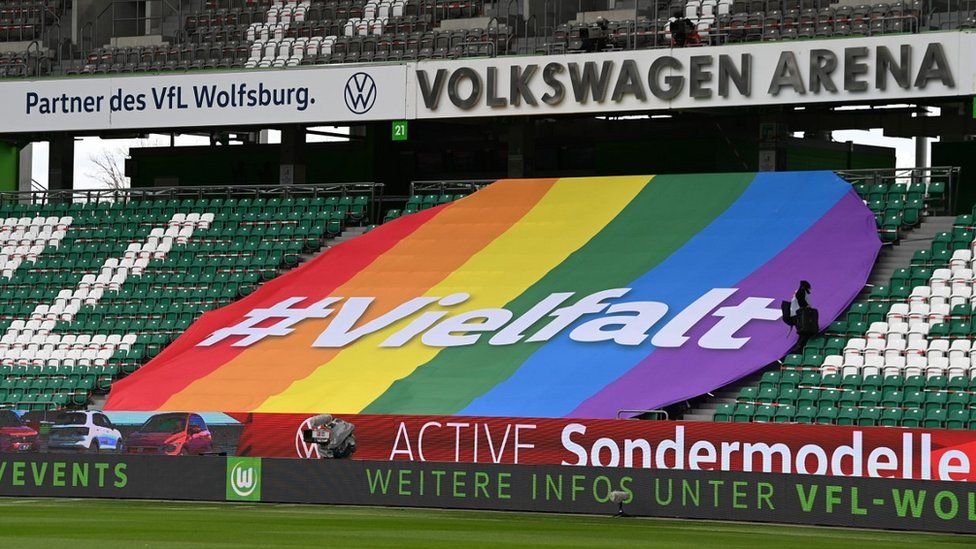 Euro 2020 organiser Uefa has banned advertising using the LGBT rainbow colours at the quarter-final matches in Russia and Azerbaijan, citing local laws.
It comes after they refused to allow a Munich stadium to be lit up in rainbow colours for the Germany v Hungary match earlier in the tournament.
The move has prompted condemnation.
"UEFA's audacity and deceit are boundless," Germany's gay and lesbian association told AFP news agency.
"With this action, it is betraying not only lesbians, gays, bisexuals, trans and intersex people in Azerbaijan and Russia, but also in the whole of Europe," LSVD spokesman Alfonso Pantisano said.
Uefa has said it "requires its sponsors to ensure that their artwork is compliant with local legislation". The organiser has previously said it must stay politically neutral.
Hungary, Russia and Azerbaijan have acted to curb gay rights. They do not allow gay couples to marry or adopt children and have clamped down on efforts to provide information about homosexuality, especially to young people.
One of the tournament's sponsors, VW, said it regretted the advertising ban move.
In a statement to German RND news, car-maker VW said Uefa had told it that "it is not possible to show adverts in rainbow colours in St Petersburg and Baku, in view of the legal framework for sports venues in Russia and Azerbaijan".
It said "we regret this development", as it wanted to "give another clear pro-diversity signal" with the rainbow.
In its statement Uefa said it "fully supports the display of such messages of tolerance and respect for diversity, which were already displayed in all stadiums at all Round of 16 matches and will be displayed by Uefa's partner Volkswagen at the Uefa Euro 2020 quarter-final matches in Munich and Rome".
Many fans at the Germany v Hungary match sported rainbow colours in support of gay rights, and in protest at a new law in Hungary that bans the sharing of any content seen as promoting homosexuality and gender change to under-18s.
Uefa said all other sponsors apart from VW had decided not to use rainbow artwork any longer in Euro 2020, as gay pride month had ended.
St Petersburg is hosting Friday's Switzerland v Spain match, and Baku is the venue for the Czech Republic v Denmark match on Saturday.
In the Hungary match Germany's captain, goalkeeper Manuel Neuer, wore a rainbow captain's armband. England captain Harry Kane did so too during the England v Germany match at Wembley.