Russian food firm VkusVill triggers row over lesbian family ad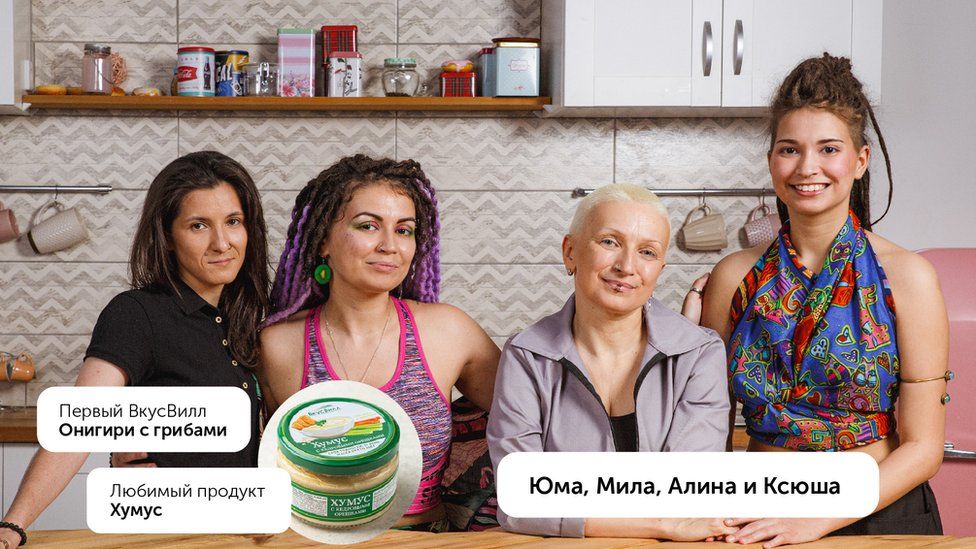 Russian health food chain VkusVill has triggered a storm of criticism on social media for posting an online advertisement showing a lesbian family, then removing it and apologising.
There was anger from those for and against the ad, which ran on VkusVill's website under the slogan "Recipes for family happiness".
The firm said the ad was intended for people aged 18 and above.
Russia bans any content deemed to be spreading gay "propaganda" to minors.
In addition to that 2013 law, Russia bans gay marriage and adoption by gay couples.
Instead of the photo showing the family group - mother Yuma, daughters Mila and Alina, and Alina's girlfriend Ksyusha - VkusVill now shows a traditional family under the same slogan. VkusVill translates into English as "Tasteville".
The firm has placed an apology under the new photo on Instagram: "There was an article here that hurt the feelings of many of our customers, staff, partners and suppliers. We regret that this has happened, and we consider this publication to be our mistake, a manifestation of the unprofessionalism of certain employees." The company managers expressed their "sincere apologies".
After removing the photo of the family VkusVill has received thousands of comments, most of them critical.
"Will people really boycott curd snacks and cherries because of lesbians? Of course not... But now both sides hate the retailer," said prominent social influencer Ksenia Sobchak on Instagram.
"Shame. Very disappointed," commented singer Mozee Montana.
Writer and director Michael Idov tweeted: "The most hellish aspect of the VkusVill story is that there is now a family in this world, that [VkusVill] with the help of media and social networks practically doxed [made public], then added that it is so scary and unacceptable that it needs to APOLOGISE just for their photo. Unimaginable."
Mila, one of the daughters shown in the controversial ad, said that after publication she had received online "threats to murder my family" and homophobic abuse. "But I also received just as many messages of support," she added.
More on LGBT+ issues in Russia:
VkusVill posted the original ad on 30 June, with the message: "We think it would be hypocritical not to talk about the real families among our shoppers. We advise you to weigh up all the pros and cons, before reading this article." It was posted at the end of gay pride month.
Among the conservative critics of VkusVill was Margarita Simonyan, chief editor of the Kremlin-backed state broadcaster RT. "[VkusVill] lost the audience of traditionalists like me and now they have severely disappointed the audience they flirted with. Bring them new marketing specialists or something," she said.
Homophobia is widespread in Russia, where many supporters of President Vladimir Putin and the Russian Orthodox Church identify LGBT+ activists with Western liberal values, seen as contrary to Russian tradition.
Russia is among the lowest-ranking countries in an annual survey of LGBT+ rights in Europe, by ILGA-Europe, a campaign group.