Covid-19: Germany lifts ban on tourists from UK and Portugal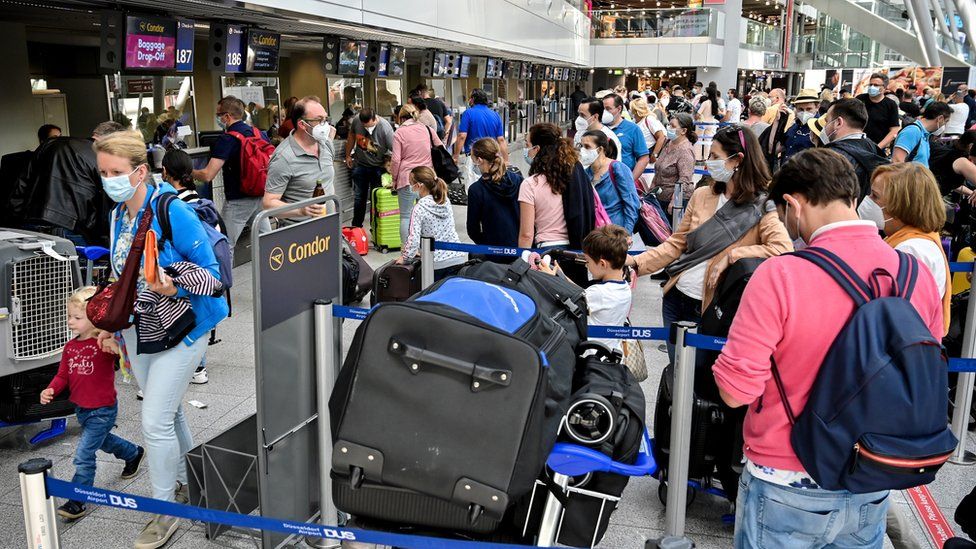 Germany is lifting a Covid-related travel ban on people from the UK and four other variant-hit countries.
The restrictions, which also applied to people from Portugal, Russia, India and Nepal, will be relaxed from Wednesday.
Visitors who are fully vaccinated will also not be required to quarantine.
Non-vaccinated people will however still be required to quarantine for up to 10 days, with the option to end their quarantine early with a negative test on the fifth day.
The five countries have until now been classified as "virus variant areas" because of the spread of the Delta and Delta Plus variants, which were first identified in India.
Although German citizens and residents were exempt from the travel ban, they were required to quarantine for 14 days after visiting any of the five "virus variant" countries.
The countries will now be reclassified as "high incidence areas", the Robert Koch Institute (RKI) said on Monday.
On Friday, after talks with UK Prime Minister Boris Johnson, Chancellor Angela Merkel said fully vaccinated Britons would soon be able to visit Germany without having to quarantine.
Are you planning on travelling to Germany? How will lifting the travel ban affect you? Email haveyoursay@bbc.co.uk.
Germany's vaccination campaign has made big advances: by Monday 32.4m people - or 39% of the total population - had been fully vaccinated against Covid, Germany's RP news website reported. Recipients of at least one jab totalled 56.5%.
The Germany-wide infection rate has declined to about five per 100,000 people over seven days - a much lower rate than in the UK. In none of the 16 German regions is the rate above 10.
Currently Germany has 526 Covid patients in intensive care, German ntv news reports - again far below Germany's peak levels in the pandemic.
On Monday, the RKI reported 440 new infections and 31 Covid-related deaths in Germany.
Germany's relaxation of restrictions came a few hours after Mr Johnson confirmed the UK was expecting to lift all Covid-related rules from 19 July.
The UK government is also expected to announce plans for fully-vaccinated British people to travel to "amber" countries - that is, countries designated as medium risk for Covid, including many in Europe - without having to quarantine on their return.
German travel agents say they have a high level of bookings for short summer holidays abroad, with no apparent trend towards cancellations because of Covid.
Foreign Minister Heiko Maas has called for all Covid-related restrictions to be lifted once all adults in Germany have been offered vaccinations, "which should happen during August".
And a YouGov survey quoted by DPA news agency said 51% of Germans questioned would support lifting all restrictions for those fully vaccinated from September. Those against totalled 39%, with the others undecided.