France receives remains of Napoleonic general from Russia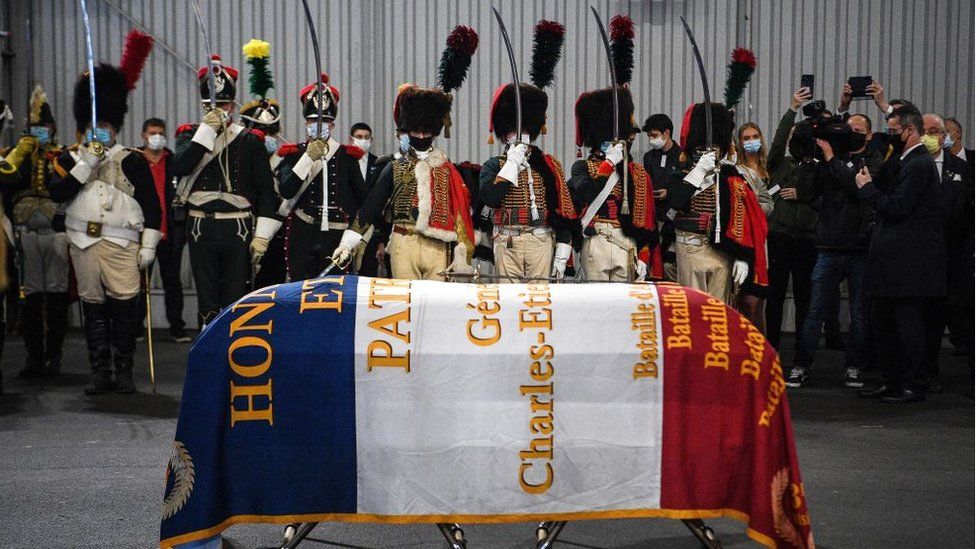 The remains of one of Napoleon's favourite generals have been returned to France, two years after they were discovered in western Russia.
The one-legged skeleton of Charles-Étienne Gudin was found in a park under the foundations of a dance floor. His identity was confirmed by DNA.
Gudin, aged 44, was hit by a cannonball near the city of Smolensk during the French invasion of Russia in 1812.
He had to have his leg amputated and died of gangrene three days later.
His heart was taken back to France to be buried.
On Tuesday, Gudin's coffin was officially received by the French veterans' affairs minister, with a guard of honour wearing Napoleonic uniform.
However, plans for a larger ceremony involving French and Russian officials were cancelled amid tension between the two countries.
An aristocrat by birth, Gudin was a veteran of both the French Revolutionary and Napoleonic wars.
He attended the same military school as Napoleon, and is believed to have been one of the French emperor's favourite generals.
He led an attack against the Russian army in the city of Smolensk during Napoleon's ill-fated invasion of Russia, during which he lost his life.
The search for Gudin's remains began in May 2019 and was led by Pierre Malinowski, a historian with support from the Kremlin.
Researchers used the memoirs of Louis-Nicolas Davout, another French general of the Napoleonic era, who organised Gudin's funeral and described the location.
They then followed another witness account, which directed them to the wooden coffin.
Although Napoleon's Grande Armée (Great Army) of 400,000 men had rapidly advanced in Russia and captured Moscow, it was forced to retreat during the harsh winter.
The three women are thought to have provided food and first aid for the troops, while the boys served as drummers.