Germany floods: Where are the worst-hit areas?
By The Visual and Data Journalism Team
BBC News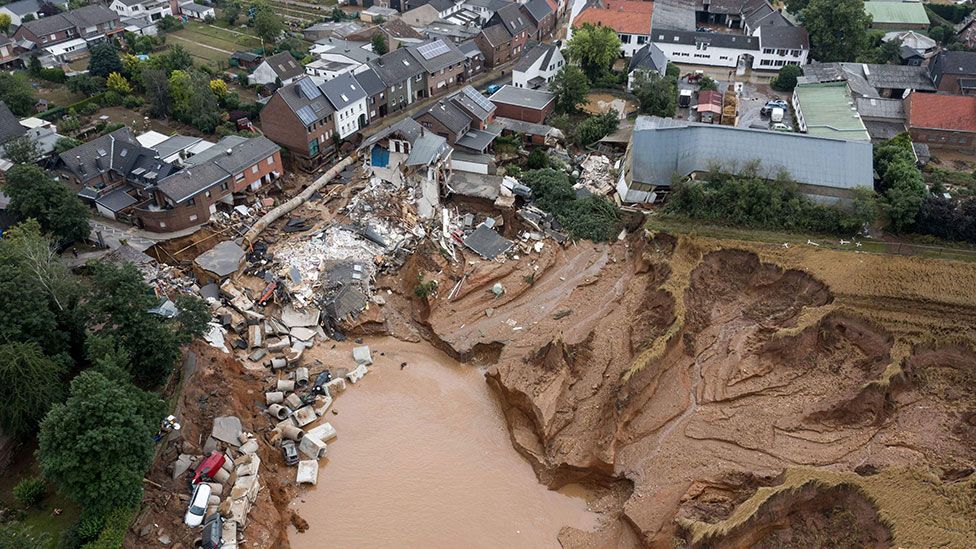 Record rainfall has caused widespread flooding across Western Europe, with some areas suffering the worst devastation in decades. Dozens have died and hundreds remain unaccounted for.
Areas of Germany, Belgium, Luxembourg, the Netherlands and Switzerland have been hit.
Satellite analysis shows rivers bursting banks
Large swathes of the region have seen rivers overflowing following torrential rainfall. The red areas on the map below show where there has been flooding in recent days.
In Germany, the states of Rhineland-Palatinate and North Rhine-Westphalia have been worst hit.
In Belgium, residents of Liège, the country's third-largest urban area after Brussels and Antwerp, were ordered to evacuate. Cars were swept away along a street in the nearby city of Verviers.
And in the Netherlands, thousands of people in towns and villages along the River Meuse have been urged to leave their houses.
The flooding has been caused by a record amount of rainfall this week.
Among the worst-hit parts of Germany, the area of the city of Cologne known as Köln-Stammheim saw more than 153mm of rain on 14 July. To put that in context, it is six times higher than the average heaviest rainfall days for the area in July.
Scientists have repeatedly warned that human-induced climate change would bring pulses of extreme rainfall such as this.
Many towns have been affected
Bad Neuenahr-Ahrweiler, in western Germany, is among the many places hit by the catastrophic floods.
Hundreds of people remain unaccounted for there, and cars and rubble are piled up in streets.
Your device may not support this visualisation
In Echtershausen, near Bitburg, also in western Germany, roads and bridges have been damaged by the rising waters.
Several houses have collapsed.
Your device may not support this visualisation
Elsewhere, the village of Schuld (population 700), in the western Eifel region, has been almost entirely destroyed and in Erftstadt-Blessem, near Cologne, flood waters caused a row of houses to collapse.
Your device may not support this visualisation
The weather system causing the flooding was expected to drift further south and east on Friday and over the weekend.
By Dominic Bailey, Mark Brysom, Ana Lucía González, Daniele Palumbo, Lucy Rodgers, Becky Dale, Nassos Stylianou and Mike Hills