Germany floods: How a country was taken by surprise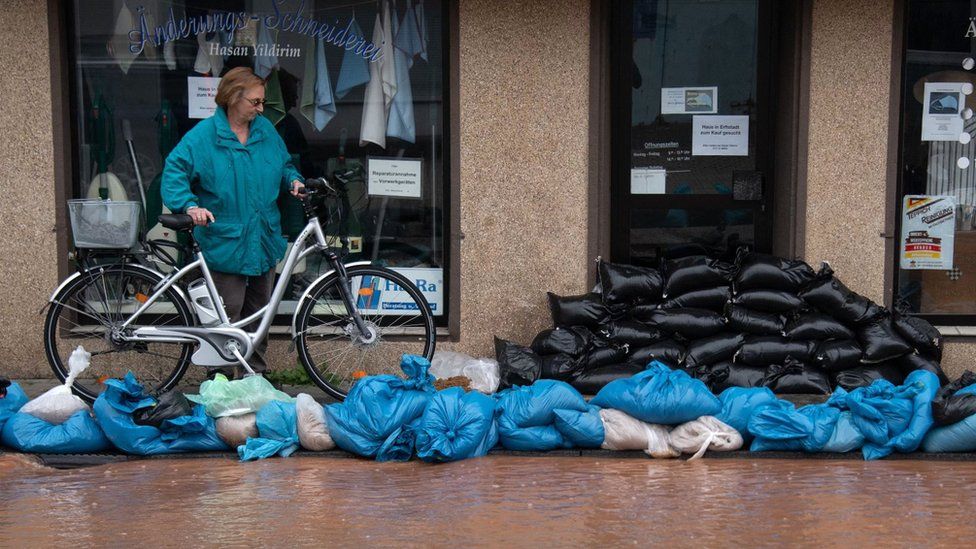 Amid the despair and the mounting death toll in Germany and Belgium are questions about how such a disaster could have happened.
The flooding followed record rainfall in parts of western Europe that caused rivers to burst their banks.
Professor Hannah Cloke, a hydrologist who set up and now advises the European Flood Awareness System - an EU programme designed to provide early warnings of dangerous floods - said alerts were sent to authorities in Europe over the weekend.
"There were alerts going out... saying there's some very serious rain and floods coming: be aware. It's then for the national authorities to take that information and go with it," she said.
Prof Cloke said there were places where the system had "done what it's designed to do", with early warnings heeded.
But there were "also places where those warnings did not get through to the people and they did not know it was going to happen".
Prof Cloke set up the warning system after deadly flooding in Europe in 2002, hoping to prevent such an event from happening again.
But she said the latest flooding had exposed "breaks in the chain".
"We should not be seeing this number of deaths from floods in 2021. It's just unacceptable. There's something going wrong with the system."
Structures in place for flood forecasting and warning differ across European countries.
Prof Cloke says Germany has a "fragmented" system involving many different authorities in different states, resulting in varying responses.
A spokesman for the German weather service Deutscher Wetterdienst said it had issued a number of warnings about extreme rainfall. He said it was up to other authorities to determine the flood risk and act on evacuating people, or taking other measures.
In the city of Hagen, Armin Laschet, the leading candidate to succeed Chancellor Angela Merkel, told reporters authorities had been warned and had erected barriers "while the sun was still shining and nobody saw this coming".
The environment ministry in Rhineland-Palatinate - one of Germany's worst affected states - says flood warnings are done for major rivers, but that information for tributaries and smaller rivers is not as detailed, so floods cannot always be prevented.
Prof Cloke said there were places where people did not know the floods were coming, or did not know how to respond to protect themselves and their homes.
"They were putting themselves at risk, they were walking through the floodwater," she explained.
Friederike Otto, associate director of the Environmental Change Institute at the University of Oxford, said "urgent education" was needed on the risks of flooding.
"I think people are really not aware that weather can actually be deadly," she said.
"The fact that so many soils are sealed also leads to more dramatic impacts than would be the case if the water could go somewhere," she added.
Soil sealing occurs when land is covered for housing, roads or other construction work.
Andreas Friedrich, a spokesman for the German weather service, said many people were not aware of how critical situations could become after weather warnings.
Pensioner Annemarie Mueller, 65, told AFP news agency that the town of Mayen had been completely unprepared for the destruction.
"Where did all this rain come from? It's crazy. [The floodwater] made such a loud noise, and given how fast it came down, we thought it would break the door down," she recalled.
Prof Cloke said forecasters and authorities needed to "do better at getting a message across" about the risks of impending floods.
Interior Minister Horst Seehofer said Germany "must prepare much better" in the future, adding: "This is a consequence of climate change."
Many factors contribute to flooding, but a warming atmosphere caused by climate change makes extreme rainfall more likely.
The world has already warmed by about 1.2C since the industrial era began and temperatures will keep rising unless governments around the world make steep cuts to emissions.
"The nature of the storm, the fact that it was extreme, that it had a lot of moisture in it, there was a lot of rainfall, it was slow moving - we have evidence that these types of storms are going to be more likely," Prof Cloke said.
"This is one of those things that you expect to see under a changing climate."
Hayley Fowler, professor of climate change impacts at Newcastle University, explained that global warming leads to a slowing in the jet stream which causes storms to be slower moving, while the warmer atmosphere is also able to hold more moisture.
"Extreme rainfall events will intensify and the most extreme ones will become more frequent," she said.
Prof Fowler said countries needed to redesign infrastructure systems to cope with these types of events.
Your device may not support this visualisation
But, she said, they could never be "completely resilient".
"There will always be an event that's bigger, one that perhaps exceeds our flood defences. That's why we really need those emergency management and warning systems," she explained.
In the German district of Ahrweiler, residents on Friday used snow shovels and brooms to sweep mud from their homes and shops after the floodwaters receded.
"I was totally surprised. I had thought that water would come in here one day, but nothing like this," Michael Ahrend told Reuters news agency.
"This isn't a war, it's simply nature hitting out. Finally, we should start paying attention to it."