Cork: How sheep and goats uncovered hidden headstones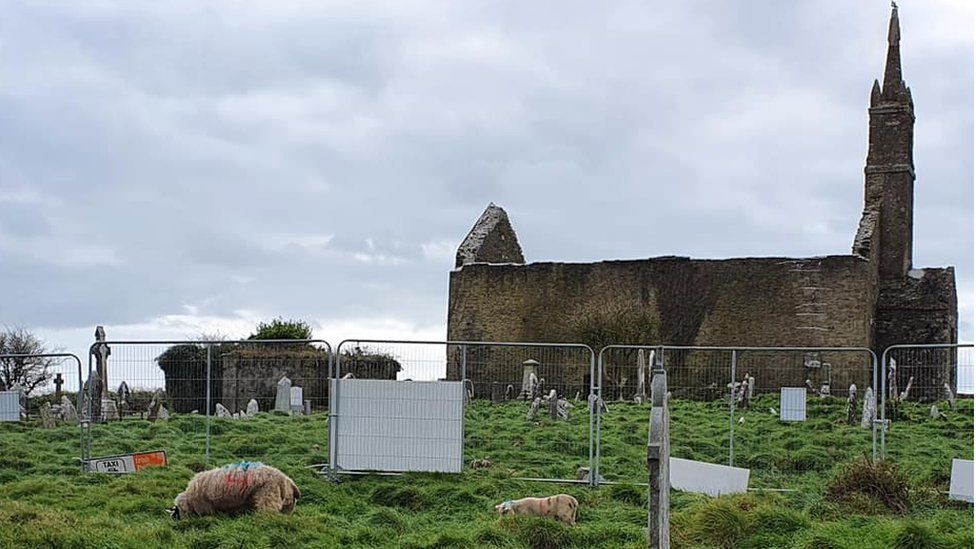 Hidden by nature for centuries, hundreds of long-forgotten graves are being rediscovered in an Irish churchyard - with the help of the natural world itself.
Goats and sheep have been drafted in to clear the overgrown graveyard beside St Matthew's church in Templebreedy in County Cork.
"They are helping to bring a forgotten history back to the fore," said Audrey Buckley one of the conservation project's volunteers.
More than 500 graves thought lost have been recovered from the overgrowth.
Work to recover the graves began in the summer of 2020, as part of the wider Templebreedy Save our Steeple conservation project.
"We are trying to bring our history back, allow people to connect with forgotten ancestors," said Ms Buckley.
"It's about bringing our community together as we preserve our past."
The church sits on a hilltop overlooking the village of Crosshaven, Cobh, and Cork Harbour and dates back to the 18th century.
Built on the site of an earlier church, it has since fallen into ruin with its oldest grave dating back to 1711.
Some 400 of the uncovered graves have headstones with inscriptions, and these details have now been uploaded to an online database.
Among them is the grave of two-year-old Maria Kate Russell who died in 1872.
Uncovering her gravestone was one of a number of moments during the project that "had us stop in our tracks," said Ms Buckley.
"It was important to us to know who this little girl was and we have since been able to trace the little girl's grand-nephew.
"We have been in touch. He lives in Southampton and is hoping to visit soon."
The volunteers have also been able to find "three or four other people" connected to some of the other reclaimed graves.
Nearby, on the Cork coast, sits Fort Camden, a coastal military installation that dates back to the mid-16th century.
In the years since, it has been used by both the British military and Irish Defence Forces.
"It was home to a company of British Royal Engineers for many years and we've found many of their family members, children, buried here, and in some cases we've managed to find some relatives," Ms Buckley said.
Little Maria Kate Russell's father was among those stationed there.
But many of the graves are unmarked, with little evidence of who lies in them.
"Back in the 1600s, and more so in the 1700s, when people could not afford headstones, they would bring these large stones from their homes, that would be the marker for your grave," said Ms Buckley.
Since enlisting the goats and sheep and with the careful work of the project volunteers, more than 100 marker stones have been uncovered at St Matthew's.
Ms Buckley's inspiration came during a trip to The Mumbles to visit Welsh cousins.
"We were walking in the Gower and I was amazed to see the sheep, walking around and the place was like a carpet. It was fantastic.
"Straight away I thought: 'This is amazing, wouldn't this work very well where I live - there is an older church that no one maintains'."
Four goats were borrowed from a woman in west Cork.
They became a novel and focal point of the project and the community was quick to get involved.
The goats went home after clearing the first layers of dense scrub and ivy bush and four sheep were drafted in earlier this year.
And as the sheep got to work, they began to uncover large marker stones.
Work is ongoing at the churchyard, the sheep moved on a regular basis.
While it continues, volunteers are working now with the Irish Heritage Trust to determine what might lie ahead for the project.
"We want to know how best we can maintain and sustain what we have done, and how we can preserve it and use it, especially to educate a younger generation," Ms Buckley said.
"I've lived here for more than 50 years and it's a history that I didn't know about, that I'm only now getting a sense of because of all the hard work of the volunteers.
"It's important we do what we can to pass that on."