Covid-19: 10,000 vaccinated at walk-in centres in Republic of Ireland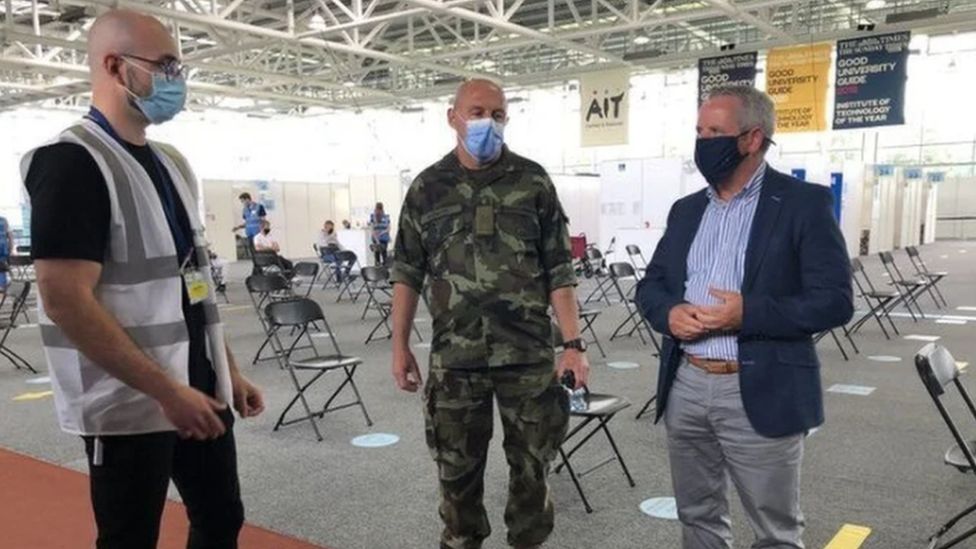 Ten thousand people attended walk-in Covid-19 vaccination centres in the Republic of Ireland on Saturday, according to the chief executive of the Health Service Executive (HSE).
Dozens of centres are being operated by the HSE throughout the country over the Irish bank holiday weekend.
They are open for first Pfizer-BioNTech vaccine doses to those aged over 16.
Paul Reid said about two thirds of those who attended the clinics on Saturday were aged under 19.
He said 87% of the adult population in the Republic is now partially vaccinated, while almost 76% are fully vaccinated, as of Sunday morning.
Asked about vaccine hesitancy among some in younger cohorts, Mr Reid told RTÉ the HSE understands that people have questions they want answered.
He said the service was taking time to "get the consent processes right, and get the communications processes right".
"We really believe that on the balance of risk we would like to see as many as possible among 12-15 year-olds to be vaccinated," Mr Reid said.
The recommendation was made to the Irish government by the National Immunisation Advisory Committee (NIAC).
On Saturday, Taoiseach (Irish prime minister) Micheál Martin said a greater percentage of adults were now fully vaccinated in Ireland than in the UK.