Belarus protests: Trial of opposition figures begins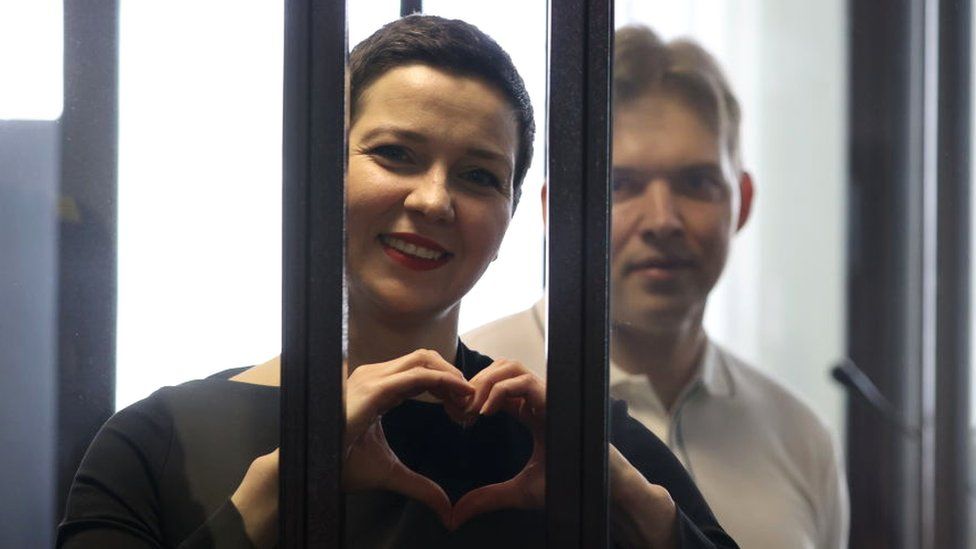 The trial of two leading Belarusian opposition figures has begun behind closed doors at a court in Minsk.
Protest organiser Maria Kolesnikova was arrested last year after she tore up her passport to resist attempts by authorities to forcibly expel her to Ukraine.
She and opposition lawyer Maxim Znak have been charged with incitement to undermine national security.
If found guilty they could each face up to 12 years in prison.
Belarus was gripped by mass protests last year, triggered by an election widely believed to have been rigged in favour of Alexander Lukashenko.
Street demonstrations continued for weeks after the disputed 9 August vote, which the EU and US rejected as neither free nor fair.
The protests were often broken up brutally by police, and thousands of people were detained.
Mr Lukashenko, who has been in power since 1994, later cracked down massively on his opponents.
Attending the court behind a glass screen in the capital on Wednesday, Ms Kolesnikova smiled and danced.
The opposition activist, one of three women who joined forces to challenge Mr Lukashenko in August's vote, gave a thumbs up and made a heart shape with her fingers - a gesture that became a symbol of the protests.
On the eve of the trial, Ms Kolesnikova's father Alexander told the BBC that he had not been allowed to see his daughter since her arrest, but that she wrote to him every day.
"I know my daughter is not guilty," he said, adding: "She told me, 'whatever sentence I get, I'm ready for that'."
Ms Kolesnikova and Mr Znak, both aged 39, are members of the National Co-ordination Council, which was set up by exiled opposition leader Svetlana Tikhanovskaya following the presidential result.
Prosecutors accuse the council of trying to stage a coup, and Belarusian authorities said both defendants were accused of harming national security and destabilising the country.
They have been charged with "conspiracy or other actions committed with the aim of seizing power", threatening national security and "the creation of an extremist group".
Lawyers for the pair are under a non-disclosure agreement, and face the threat of being disbarred if they discuss the case publicly.
Where is Belarus? It has its ally Russia to the east and Ukraine to the south. To the north and west lie EU and Nato members Latvia, Lithuania and Poland.
Why does it matter? Like Ukraine, this nation of 9.5 million is caught in rivalry between the West and Russia. President Alexander Lukashenko has been nicknamed "Europe's last dictator" - he has been in power for 27 years.
What's going on there? There is a huge opposition movement demanding new, democratic leadership and economic reform. The opposition movement and Western governments say Mr Lukashenko rigged the 9 August election. Officially he won by a landslide. A huge police crackdown has curbed street protests and sent opposition leaders to prison or into exile.
Mr Znak briefly went on a hunger strike after being imprisoned in September. He told his lawyer at the time that he felt he had no other way to fight against injustice and arbitrary actions while in detention.
Ms Tikhanovskaya, who stood against Mr Lukashenko last August, said she had won the election. She was forced to flee to Lithuania shortly afterwards.
A small group of supporters gathered outside court today beyond metal barriers put up by police.
Maria Kolesnikova's father brought roses for her, which he handed to her lawyer - because the trial was closed, even to family. Officially, that's because of the charges: the two activists' alleged threat to national security. But their relatives told us they think it's because the accusations are purely political; that there's no evidence.
Alexander Kolesnikov has been barred from seeing his daughter since her arrest 10 months ago. So when he was shown a video of Maria dancing in the court room cage and smiling broadly, he said he was relieved and proud that her spirit clearly hasn't been broken.
There were no big crowds today; Minsk has changed dramatically since the mass protests a year ago. Open support for the opposition is dangerous now.
You may also be interested in: