Tucker Carlson: What the Fox News host is doing in Hungary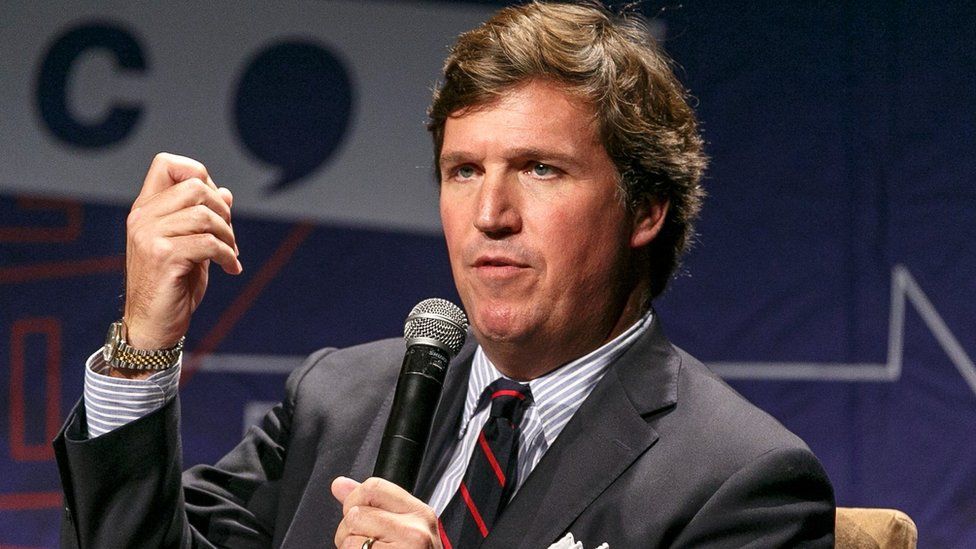 US guest of honour and Fox News host Tucker Carlson was granted a lightning visit by military helicopter to Hungary's 175km (109-mile) high-tech, high-cost razor-wire border fence with Serbia this week.
He liked what he saw. After praising the fence for being so "clean and orderly", in contrast to the "chaos" on the US-Mexican border, he told his viewers: "It doesn't require a GDP the size of the US, it doesn't require high-tech walls, guns, or surveillance equipment. All it requires is the will to do it."
And he praised Hungarian Prime Minister Viktor Orban for not allowing "this nation of 10 million people to be changed forever by people we didn't invite in and who are coming here illegally".
To make sure his US viewers understood his message, he contrasted Mr Orban's policies with those of US President Joe Biden.
"Because the lessons are so obvious, and such a clear refutation to the policies we currently have, and the people who instituted those policies, Hungary and its government have been ruthlessly attacked and unfairly attacked: 'It's authoritarian, they're fascists…' There are many lies being told right now, that may be the greatest of all."
Carlson is attending a three-day festival organised by the Matthias Corvinus Collegium (MCC) in Esztergom, the former Hungarian capital and home of the Roman Catholic Church.
MCC is an extremely well-funded school for top students, whom Mr Orban's Fidesz government are carefully grooming to become the country's new right-wing elite. Both Carlson and Mr Orban are due to address the crowds from the main stage.
Carlson's visit comes at a useful time for Mr Orban.
After 11 years in almost unchallenged power, he faces a fierce battle for re-election in eight months time, against an unusually united opposition, from left to right, which accuses him of hijacking Hungarian democracy and financially favouring his own coterie of oligarchs and loyalists.
The European Commission has suspended the disbursement of post-Covid EU recovery funds, citing insufficient safeguards against corruption. Nordic governments have also suspended payment of funds to NGOs, after failing to reach agreement with the government over who should disburse them.
But the embattled Hungarian prime minister loves a fight, and Carlson is his latest high-profile ally.
The pro-government Central European Press and Media Foundation (KESMA), comprising 457 TV and radio stations, online news portals, daily and regional newspapers, have been lavishing praise on Carlson, described as "the most influential conservative thinker in the United States", star-status previously allotted only to ex-Trump campaign manager Steve Bannon or Donald Trump himself.
"The American political elite has become too mediocre and stupid to face the truth," Carlson said in an interview with the Hungarian Mandiner weekly.
"The elite has turned against its own people, and that's not healthy. Simply put, the leadership of the country hates the American people."
In contrast, he praised Mr Orban.
"He is defending democracy against the unaccountable billionaires, the non-governmental organisations (NGOs) and certain western governments. He is fighting for democracy against those forces which would like to bury it."
In his Fox News report, Carlson described the "polite" way in which Hungarian police first detained then pushed two Syrian asylum seekers through a gate in the fence, back into Serbia.
"This practice causes horrible suffering to those trying to seek protection," Andras Lederer of the Hungarian Helsinki Committee, a human rights NGO, told the BBC.
"It is unlawful, poses serious security risks, and plays into the hands of organised crime."
Last month, the European Court of Human Rights found the Hungarian pushbacks unlawful, in a case brought by the Helsinki Committee. According to government figures, building and patrolling the fence has cost more than $1.5bn (£1.1bn) so far.
For conservative populists in the US, Hungary is more than just a small country in central Europe. It's an example of right-wing politics done right.
Viktor Orban's restrictions on press freedoms, his opposition to immigration and unfettered trade, his outspoken advocacy for "traditional" family values and his ethno-nationalist politics that push back against academia and internationalists all fit snugly alongside US Republican Party rhetoric in the Trump era.
That explains Tucker Carlson's decision to broadcast his popular Fox News talk show from Budapest and his words of praise for Mr Orban, not just for his policies but for defending Western civilisation and being "hated by the right people". It's a nod to the provocative brand of politics Mr Trump embraced during his four years in office.
The Trump presidency heralded an unprecedented level of modern political success for right-wing populists in the US. It also ended in tumult, in the middle of a deadly pandemic and the US Capitol attacked by the president's angry supporters.
Despite all the recent attempts to burnish Mr Trump's legacy, the ex-president's popularity has significantly eroded among the general US public, leaving his ideological compatriots looking for hope in the unlikeliest of places.