Suspect in Nantes cathedral fire held over French priest's killing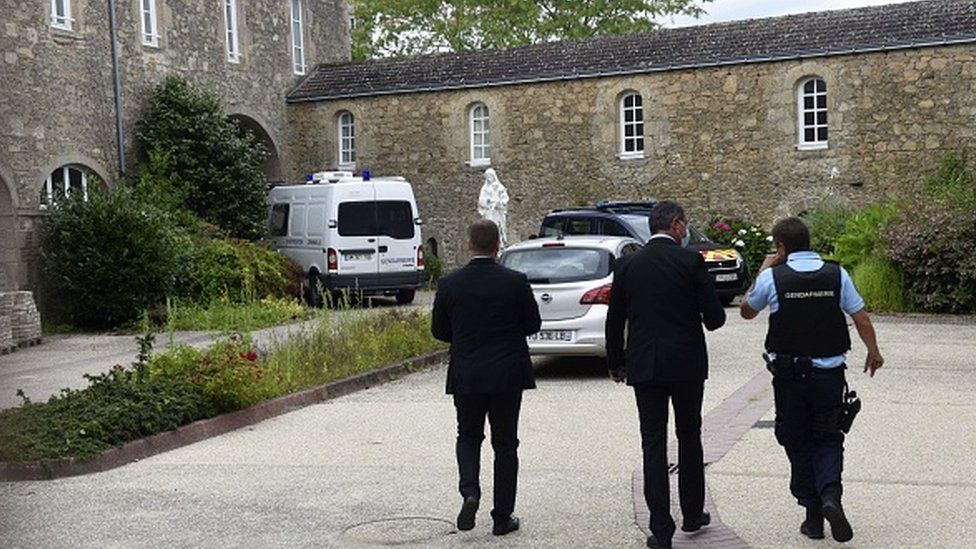 A Rwandan man has been arrested on suspicion of killing a Roman Catholic priest in western France.
The body of Olivier Maire was found in the village of Saint-Laurent-sur-Sèvre in the Vendée area on Monday morning.
The unnamed suspect, a failed asylum seeker housed by the priest, turned himself in and confessed, reports say.
The 40-year-old man is also suspected of starting a fire that seriously damaged the cathedral in nearby Nantes in July last year.
French President Emmanuel Macron praised the "generosity" of Fr Maire and said his thoughts were with all Catholics in France.
Il portait jusque dans les traits de son visage la générosité et l'amour de l'autre. Au nom de la Nation, je rends hommage au Père Olivier Maire. Pensées chaleureuses pour les Montfortains et tous les catholiques de France. Protéger ceux qui croient est une priorité. https://t.co/meWKC8ZWWB

— Emmanuel Macron (@EmmanuelMacron) August 9, 2021
Interior Minister Gérald Darmanin echoed those sentiments and visited the area later in the day.
The killing has sparked political debate about why the suspect was still in France.
Mr Darmanin said that although the asylum request had been rejected, the suspect could not be expelled while being investigated on charges of arson.
He was detained until May this year and later transferred to a psychiatric hospital. Fr Maire, 60, had been welcoming the man into his church for several months, French media say.
Sister Dorothee Harushinana told Reuters news agency that the priest "close to the people. You could always call on him."