Spain migrants: Sole survivor rescued in dinghy in Atlantic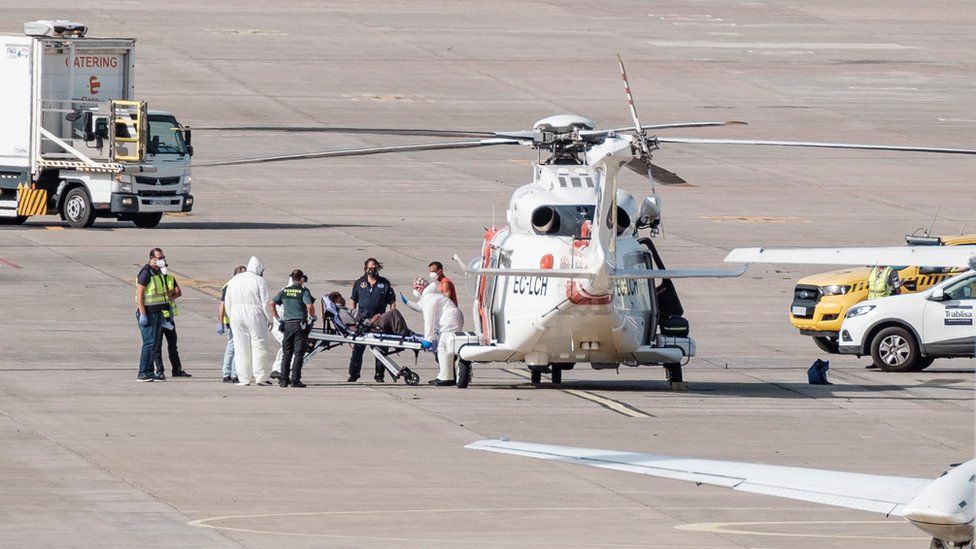 A woman has been found clinging to an upturned inflatable dinghy about 138 miles (220km) off the Canary Islands - the only survivor of a migrant tragedy feared to have claimed 52 lives.
She was spotted in a poor state by a passing merchant ship and emergency services flew her to safety.
Two bodies were found by the coastguard and the woman told officials that more than 50 other people were on board.
More than 8,000 migrants have reached Spain's Canary Islands this year.
Many of them set off from a stretch of coastline between Tarfaya in Morocco and Laayoune in Western Sahara, a disputed territory claimed by Morocco.
The route has become increasingly popular as migrant passages to Europe through the Mediterranean have become harder to take. However, human rights group Walking Borders has described it as the world's most dangerous migration route.
The woman rescued on Thursday was taken to hospital suffering from severe dehydration.
UN migration officials estimate more than 350 people have died this year trying to reach Spain's Canary Islands, but Walking Borders believes it could be higher than 2,000.
Only this week, 47 people were feared to have died off the coast of Mauritania when a boat lost power and drifted for almost two weeks, until it was spotted by coastguards.
Seven people were found alive on board and the International Office of Migration said they had probably left Laayoune on 3 August.
Earlier this year a 17-year-old from Ivory Coast and two others were rescued by the Spanish air force after drifting for 22 days at sea.
The teenager, named Aicha, told the BBC that she had left her home for Mauritania and after two days at sea they had run out of food. More than 50 people on the boat died.