French presidency: Michel Barnier joins race 'to change France'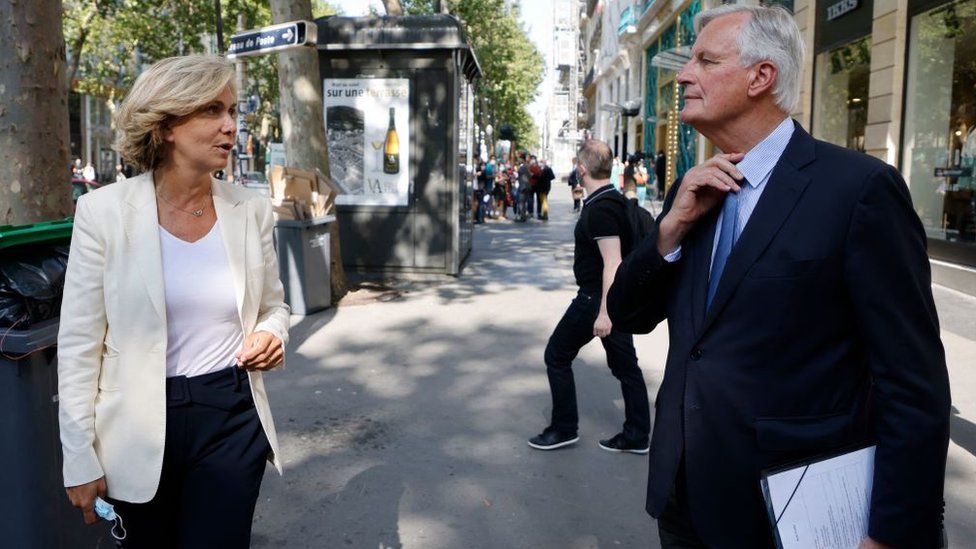 Former EU Brexit negotiator Michel Barnier has said he wants to take on Emmanuel Macron for the French presidency - as candidate for the right-wing Republicans.
He told French TV these were demanding and grave times and he aimed to be president of a "reconciled France".
Mr Barnier, 70, is the fourth name to challenge for the Republicans' nomination.
He released his memoirs of the turbulent Brexit talks this year.
For months now the former French minister and European Commissioner has been dropping hints of his presidential ambitions, and with the election due in April he confirmed his intention to stand.
"Since the end of my Brexit mission I've listened a lot, had lots of discussions and worked on building a team and a project," he told Le Figaro newspaper. "The world around us is dangerous, unstable and fragile. Our country is doing badly and we need a change-over."
President Macron came to power in 2017, spearheading a new, centrist party La République en Marche (On the Move), drawing talent from both the Republican right and the Socialist Left.
Mr Barnier said his role in the long route of "extraordinary" Brexit negotiations had taught him the value of doing the job to the end rather than speaking out about it in public, and he had to work with EU leaders to preserve European unity.
His aim, he said, was to bring together the right and the centre of French politics and to limit and take control of immigration. While Afghans who had helped French forces should be given asylum, he said France should not welcome everyone.
Although his role as chief Brexit negotiator was widely praised across the EU as well as in France, he will face tough opposition within his own party to run as the Republicans' candidate.
Also running are Valérie Pécresse, the head of the Paris regional council who is seen as his main party challenger, Philippe Juvin, a mayor from the Paris suburbs, and MP Éric Ciotti.
Even then, far-right leader Marine Pen is currently seen as President Emmanuel Macron's main challenger for the presidency.
While Mr Barnier is seen as the most senior of the Republicans' hopefuls so far, it is not yet clear how the party will choose their candidate.
A congress will meet in late September to decide whether to hold primaries, but the issue has been complicated by right-wing politician Xavier Bertrand who is doing well in the polls but refuses to take part in primaries.