Austrian ex-far-right leader Strache guilty of corruption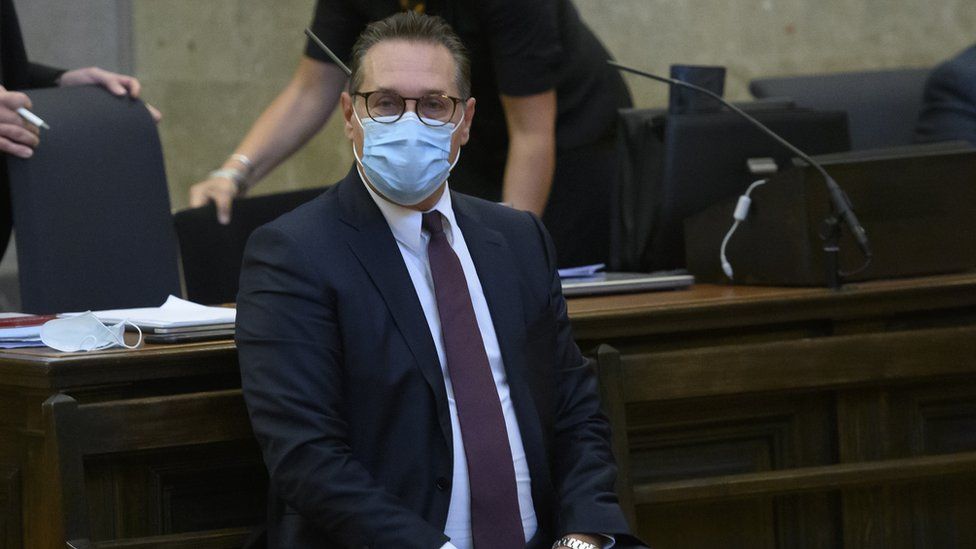 The downfall of Heinz-Christian Strache, who was head of Austria's far-right Freedom Party, began with a video sting on the holiday island of Ibiza.
Two years on, a court in Vienna has found him guilty of corruption, giving him a 15-month suspended jail sentence.
He was vice-chancellor when the scandal brought down Sebastian Kurz's coalition government.
The video that emerged hinted at potentially illegal donations to his far-right FPÖ.
Strache, now 52, was seen promising public contracts to a woman posing as a Russian oligarch's niece in exchange for electoral support. Although Mr Kurz's alliance with the far right collapsed in May 2019, he later returned to power in alliance with the Greens.
Strache denied wrongdoing, but the revelations paved the way for a series of corruption investigations.
He was accused of helping to change a law so a friend and donor to his party could secure public funding for his private health clinic.
The head of the hospital, Walter Grubmüller, went on trial with him over two donations he made to the FPÖ of €2,000 (£1,700) and €10,000. Chief prosecutor Bernhard Weratschnig told the court on Friday that even if the donations were relatively small, "every euro is one euro too many".
Although both men denied the allegations the regional court in Vienna found them guilty, with Grubmüller facing a year's suspended sentence. They have both said they will appeal against the conviction, with Strache declaring the verdict a miscarriage of justice and Grubmüller saying he was disappointed.
The judge, Claudia Moravec-Loidolt, ruled that Grubmüller had for years tried unsuccessfully to secure money from a public health fund.
Central to the case was whether the donations, in 2016 and 2017, were connected to the former vice-chancellor's move to change the law. The law was changed in 2018, months after Strache went into government.
The judge told the court she was convinced that the reason for the donations was as an incentive to Strache to help. The chronology left no doubt that the former far-right leader knew of the donations.
Prosecutors cited mobile text messages in which Strache had asked Grubmüller which law had to be changed for clinics such as his to receive public funds. They also argued that the clinic owner's offer of a holiday on the Greek island of Corfu was a criminal offence, but the judge rejected that charge.
Earlier this year Chancellor Kurz announced that he was being investigated by anti-corruption prosecutors over allegations that he made false statements to a parliamentary commission. He has denied wrongdoing, saying he would be happy to be questioned by a judge.