Paris speed limit falls to 30km/h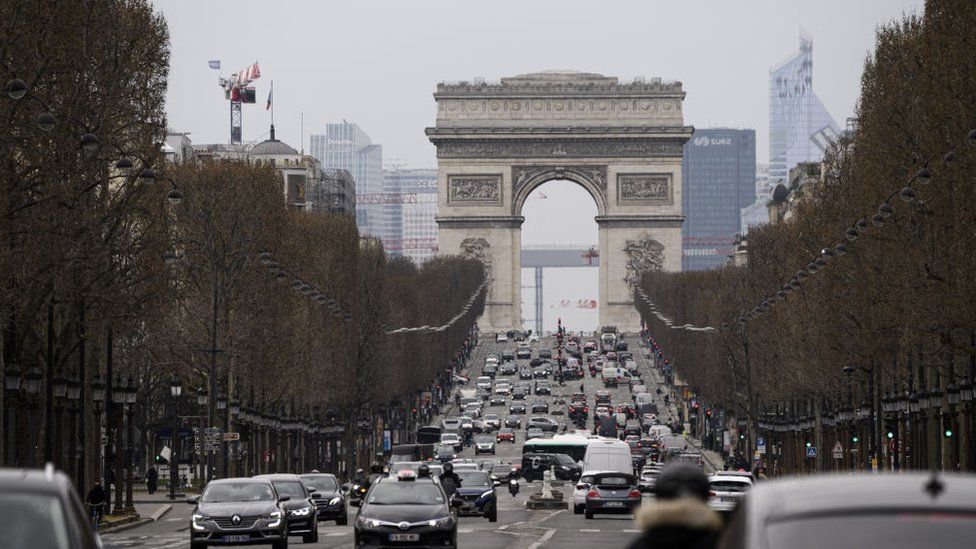 A speed limit of 30km/h (18mph) has come into force across Paris in a drive to improve the environment.
The aim is to cut accidents, and reduce noise and pollution.
A poll suggests 59% of Parisians are in favour of the measure, but some businesses are among those opposed.
Two-thirds of the city was already subject to the limit before Monday's change, which has been pushed through by Mayor Anne Hidalgo. Several key routes will remain exempt though.
These include the Champs Elysées (50km/h) and the main ring road, the Boulevard Périphérique (70 km/h).
Similar limits are already in force Grenoble and Lille, as well as Bilbao in Spain, and the Belgian capital, Brussels.
The measure is being introduced now so Parisians can get used to it during a period of lighter summer holiday traffic, city officials say.
It's one of several policies proposed by Ms Hidalgo, who was re-elected last year, to wean Parisians off their cars.
The number of street parking bays is being halved and most vehicles are expected to be banned from the city centre next year. Cycle lanes have increased and streets are being redesigned to make districts more pedestrian friendly.
Ms Hidalgo, a Socialist, wants a greener city as Paris prepares to host the Olympic Games in 2024.
Opponents include Pierre Chasseray, from campaign group 40 Million Motorists, who disputes the idea that pollution and noise are reduced by such measures.
"There is no reduction in sound, there is no reduction in pollution and there is no reduction in accidents, except for a reduction in accidents which is the same as in all the other communes," he told AFP news agency.
A speed awareness campaign would have been more effective, he said.
Another campaign group, SaccageParis, or Trash Paris, accuses the authorities of allowing Paris to deteriorate through unkempt streets and what it sees as ugly cycle lanes.
The BBC is not responsible for the content of external sites.
Others point out that the average speed in Paris is already less than 16km/h.