Russia election: Opposition crushed ahead of managed polls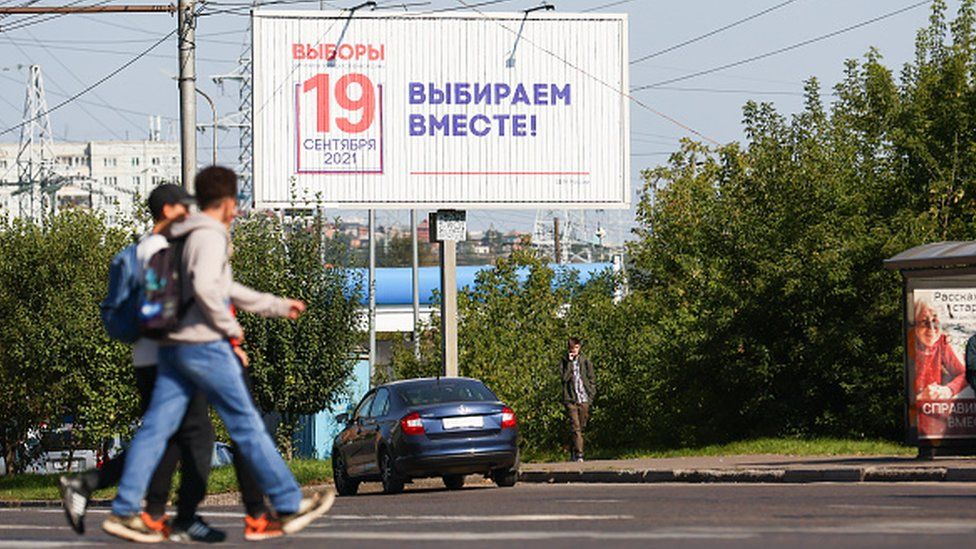 "Together we choose!" declare the election posters around Moscow.
The slogan is punchy. But it's misleading. Critics say that, in today's Russia, it is the authorities who choose - who's on the ballot, and who's not.
"Our elections are like a puppet theatre," believes sociologist Vladislav Inozemtsev. "Many independent candidates have not been allowed to run."
The list of politicians and activists excluded from these parliamentary and local elections reads like a Who's Who of the Russian opposition.
"Alexei Navalny is in prison and all his team are off the ballot; [opposition politicians] Ilya Yashin and Lev Schlossberg are barred, too," explains former MP Dmitry Gudkov.
'They don't want independent MPs'
Earlier this year Mr Gudkov himself announced plans to run again for parliament. Police raided his flat and the homes of family members; he and his aunt were detained.
"My father was sent a message," Dmitry Gudkov tells me. "The message was that if I stay in Russia, my aunt and I will be sent to jail. They were going to use my aunt as a hostage."
Dmitry left Russia for Bulgaria.
"Putin's popularity is going down. The authorities don't want any independent MPs in parliament. That's why they get rid of all prominent opposition leaders. The security services, the police and prosecutors are the key to providing victory for Putin's forces."
Mr Navalny, Russia's most prominent opposition figure, was sent to prison in February after what was widely seen as a political trial. His movement has been declared "extremist" and banned; any individual linked to it is barred from running for office.
Violetta Grudina used to run the Murmansk branch of Mr Navalny's organisation. She claims the authorities went to extraordinary lengths to stop her getting on the ballot.
"For 20 days I was forcibly hospitalised in a Covid ward," Ms Grudina explains. "They isolated me by court order so that I couldn't submit my election registration documents.
"I felt like I was in a TV crime drama. But this is the reality of life for an opposition activist in Putin's Russia."
Kremlin supporters deny their political opponents have been excluded en masse from the elections.
"We are speaking about a few persons," says senator Andrei Klimov, a senior figure in the ruling party United Russia.
"They are removed not because of their political positions, but because of criminal investigation around them. In my country the situation with elections is more or less on the same level as in other countries."
'We're expecting big fraud'
Golos, an independent vote monitoring group, disagrees.
"We see right now that Russian authorities can disqualify any candidate they don't like," Golos co-chairman Stanislav Andreichuk says.
"We are also expecting big fraud and falsifications. In this election there will be online voting, which lacks transparency. And there will be three days of voting. We would need up to half a million monitors for the polling stations. That's a huge number."
Golos has also criticised the authorities' decision to deny public access to video feeds from polling stations. In previous years apparent ballot stuffing was caught on camera.
"All candidates, observers and official representatives will be able to watch the video stream, just not seven billion inhabitants of the world," says Mr Klimov. "It's a clever decision. We keep our transparency and a normal level of privacy."
Journalists branded 'foreign agents'
Ahead of the elections it's not only the Kremlin's political opponents who are coming under pressure. So are the media.
The authorities have labelled a string of independent journalists "foreign agents".
"The speed with which this is being done is linked to the elections," believes Novosibirsk journalist Petr Manyakhin, "but it's a logical continuation of what was already happening: the destruction of the main opposition forces. It's logical for them to now destroy independent media."
Mr Manyakhin worked for the website Proekt, which published high-profile investigations into those with power and money in Russia.
In July the authorities designated the site an "undesirable organisation", effectively closing it down. They named several of its journalists, including Mr Manyakhin, "foreign agents".
"There are a lot of legal restrictions on me now," he says. "Every three months I must submit reports to the justice ministry on my income and expenses. They demand to know everything I spend money on, each time I go shopping or use public transport. And it's much harder for me to find work because the 'foreign agent' label scares a lot of people off."
A challenge to Russia's 'managed democracy'
On paper, at least, Russian voters do have a choice in these elections. United Russia is not the only option: there are more than a dozen parties on the ballot, from communists to nationalists.
But these so-called systemic parties are vetted by the Kremlin. They are allowed to take part because they are not seen as a threat: approved opponents in the system of "managed democracy", where the Kremlin does the managing.
So, the Kremlin has everything under control? Not completely.
In recent years the popularity of United Russia has been declining, making it increasingly difficult for the Kremlin to "manage" the system to ensure it always wins big.
Then there's Alexei Navalny. Even from jail he has a plan to embarrass the ruling party: it's called Smart Voting.
Mr Navalny is calling on Russians to vote for the candidate in their constituency, regardless of party affiliation, whom Team Navalny considers has the best chance of beating the United Russia nominee. The aim: even within the confines of the Putin system, to deprive the ruling party of its super majority.
The authorities have reacted by blocking access to Mr Navalny's Smart Voting website and preventing downloads of an app that will indicate which candidates to back. Moscow has accused Washington of providing technical support to the Smart Voting initiative.
But will Smart Voting make any difference? And, amid growing authoritarianism in Russia, how much do ordinary Russians care about free and fair elections?
"Russians don't feel a deep natural need for democratic liberties. Even now I can't see that the majority of the people want to exercise their electoral rights," says sociologist Vladislav Inozemtsev.
"People grow accustomed to a political system or regime. If it doesn't affect their everyday life, they can tolerate it for a long time."