Arc de Triomphe wrapped in fabric in tribute to artist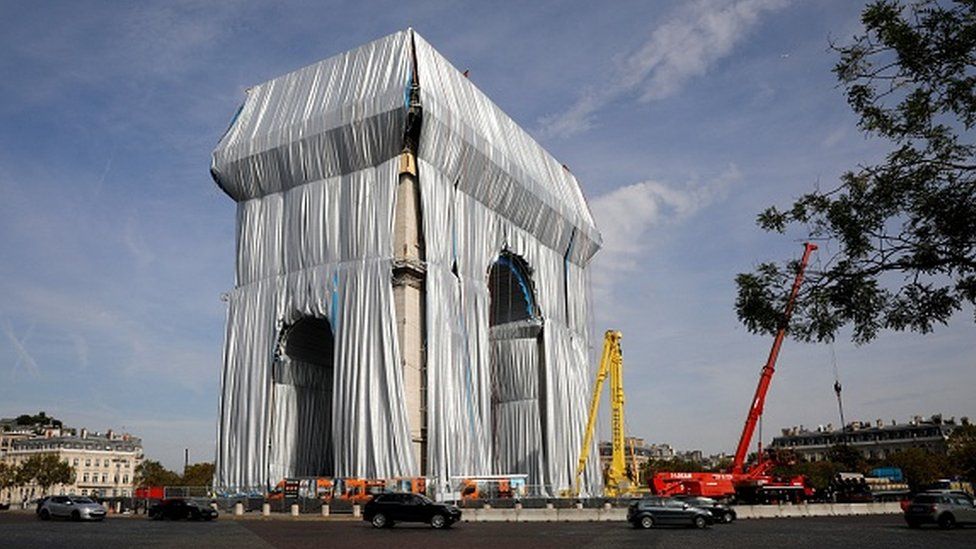 Giants sheets of fabric have been draped down the Arc de Triomphe monument in Paris in tribute to a late artist's unfulfilled dream.
The memorial in the French capital will be covered in 25,000 sq m (270,000 sq ft) of plastic wrapping over the next few days.
Crowds have been gathering near the monument on the Champs-Élysées since work began on the installation on Sunday.
The idea was first imagined by Bulgarian-born artist Christo, who died last year, and his late wife and collaborator Jeanne-Claude.
Known for wrapping famous landmarks in fabric, Christo had dreamed of sheathing the 50m-high monument since renting a nearby apartment in the 1960s.
Christo, who always worked with his wife Jeanne-Claude, famously covered the Reichstag in Berlin and the Pont-Neuf in Paris with reams of cloth.
But he never managed to realise the Arc de Triomphe project.
Now, that vision has finally been brought to life by Christo's nephew, Vladimir Javacheff, at a cost ofabout €14m (£11.9m; $16.54m).
He collaborated with the Pompidou museum and French authorities to bring the project to fruition.
"Today is one of the most spectacular moments of the installation," said Mr Javacheff. "The wrapped Arc de Triomphe starts to take form and approach the vision that was a lifelong dream for Christo and Jeanne-Claude."
The installation is expected to be completed on Saturday and will remain in place until 3 October.
The Arc de Triomphe will be accessible throughout the 16-day exhibition.
It was built in the 1800s by French Emperor Napoléon Bonaparte to commemorate soldiers who died during his military campaigns.
Christo Vladimirov Javacheff was born in 1935. He spent time in Austria and Switzerland before moving to France, where he met Jeanne-Claude in Paris.
Along with transforming large-scale landmarks, the couple also created monumental environmental works of art together in natural settings, before Jeanne-Claude's death in 2009 at the age of 74.
Christo died of natural causes last May at his home in New York City.
All images subject to copyright.