German elections: How Angela Merkel changed her country
As one of the world's most influential leaders, Angela Merkel has helped to determine the course of European and global politics. But during her 16 years as German chancellor, she's also had a considerable impact on her own country, shaping the lives of millions of citizens for better or worse.
Among them, the students who celebrated the end of their school days this summer.
At one prom in Berlin, excited teenagers in smart jackets and formal dresses danced to a thudding bass in a marquee. The class of 2021 has come of age in Mrs Merkel's Germany; they have never known another German leader.
"We don't have a perfect democracy," says Ole Schroeder, "but I think we have a good democracy."
"Germany is good with the immigration system," adds Alisa Gukasov. "Everyone has the chance to live here and to achieve their dreams."
But they worry about the future.
Lina Ziethen's main concern is climate change. "We have to stand up and say stop driving cars, stop flying on holiday because we need to reduce emissions - but we should have also already done this 50 years ago, not just now."
It is on the minds of many Germans, not least because of this summer's deadly floods in the west of the country.
Under Mrs Merkel, Germany has reduced emissions and invested in renewables.
But it's widely acknowledged that current targets aren't strict enough; and Germany is still burning coal, in part because Mrs Merkel abandoned nuclear power after the Fukushima disaster in Japan 10 years ago.
If you wander through the fairy-tale forests that carpet so much of this country, you can see the damage wrought by climate change.
The Borkenkäfer, a beetle that bores into trees and destroys them, is proliferating in warmer, drier conditions.
The trees' natural defences are weakened too. Hans Schattenberg, who manages the forests of the eastern Harz region, says all he and his staff can do is cut down acres of woodland to try to halt the spread.
"We never thought the forest would react so quickly to climate change," he says. "'What shocked us most is that it wasn't just the conifers that were badly affected, but also old oak and beech trees."
Old certainties are shifting here.
Under Mrs Merkel, Germany has prospered, though her predecessors must take some of the credit for the wealth of today. And critics worry that, as competitors move ahead with technological and digital advances, this economic giant is struggling to keep up.
Germans vote in parliamentary elections on Sunday 26 September.
Mrs Merkel's conservative CDU has led coalitions for four terms, but the latest opinion polls suggest the centre-left is on course to win.
As glass bottles rattle along the production line, Anke Ketterer surveys Germany's best-loved export.
Her family have been brewing beer since 1877; one of the so-called Mittelstand (family firms) responsible for much of this country's economic success.
These have been good years, she says, and Angela Merkel has done a good job.
"We don't really have much to complain about," adds her husband Phillip, who took her surname when he married into the family business. The Mittelstand could, he says, do with more support and less bureaucracy.
"We are doing well in Germany. But, of course, the danger is you feel too content and stagnate and fall behind."
Perhaps Mrs Merkel's greatest influence can be seen in German society. Her refusal to close the doors to hundreds of thousands of people seeking asylum in the country in 2015 was a pivotal moment in her chancellorship.
Germany has long relied on migrants to fill jobs, keep the economy going and rejuvenate an ageing population - ever since the Turkish "Gastarbeiter" who came to help rebuild the country after World War Two.
Today more than a quarter of people living in Germany have a migrant background.
Among them is Negin, who arrived from Iran as a teenage asylum seeker and told us she nearly drowned as she crossed the Mediterranean in a small, overcrowded boat.
Today, she's an apprentice at a Berlin dental practice and, in fluent German, says she plans to become a dentist herself.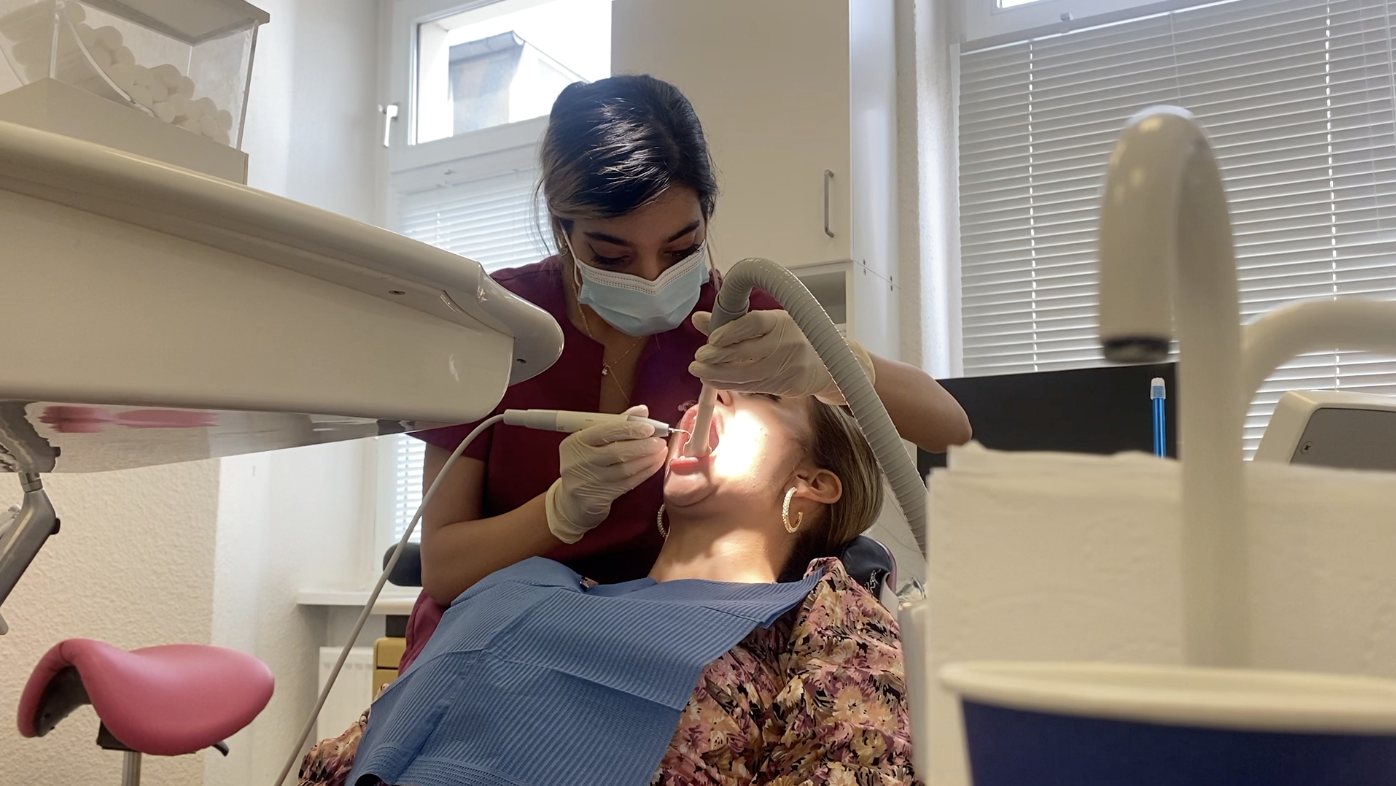 BBC
Life's good. I have an aim in life. I'm fighting. But some things are still too difficult. I have to study a lot and work harder than other people. Sometimes I still feel new
Mrs Merkel famously told Germany "Wir schaffen das" (we can do it) during the so-called migrant crisis. Six years later, many would agree she was right. The sense of crisis has long passed.
But some Germans - a minority - are still furious. They point to migrant crime and terror attacks.
A far-right anti-migrant party, the AfD, now sits in the national parliament. Fuelled by lingering resentment that is particularly strong in the former communist East.
When the Iron Curtain fell, people in the East were promised blooming landscapes. But 30 years on opportunities are fewer, and salaries and pensions lower than in the rest of the country. It's hard to convince young people to stay.
In their typical German Schrebergarten (allotment garden) Hannelore and her friends say they thought Mrs Merkel would do more for the former East. After all, the chancellor herself grew up behind the Iron Curtain.
Disillusioned with Germany's long-established political parties, they vote AfD.
"Since 2015 when the migrants came marching in uncontrolled, since then it has gone downhill for Germany," says Hannelore.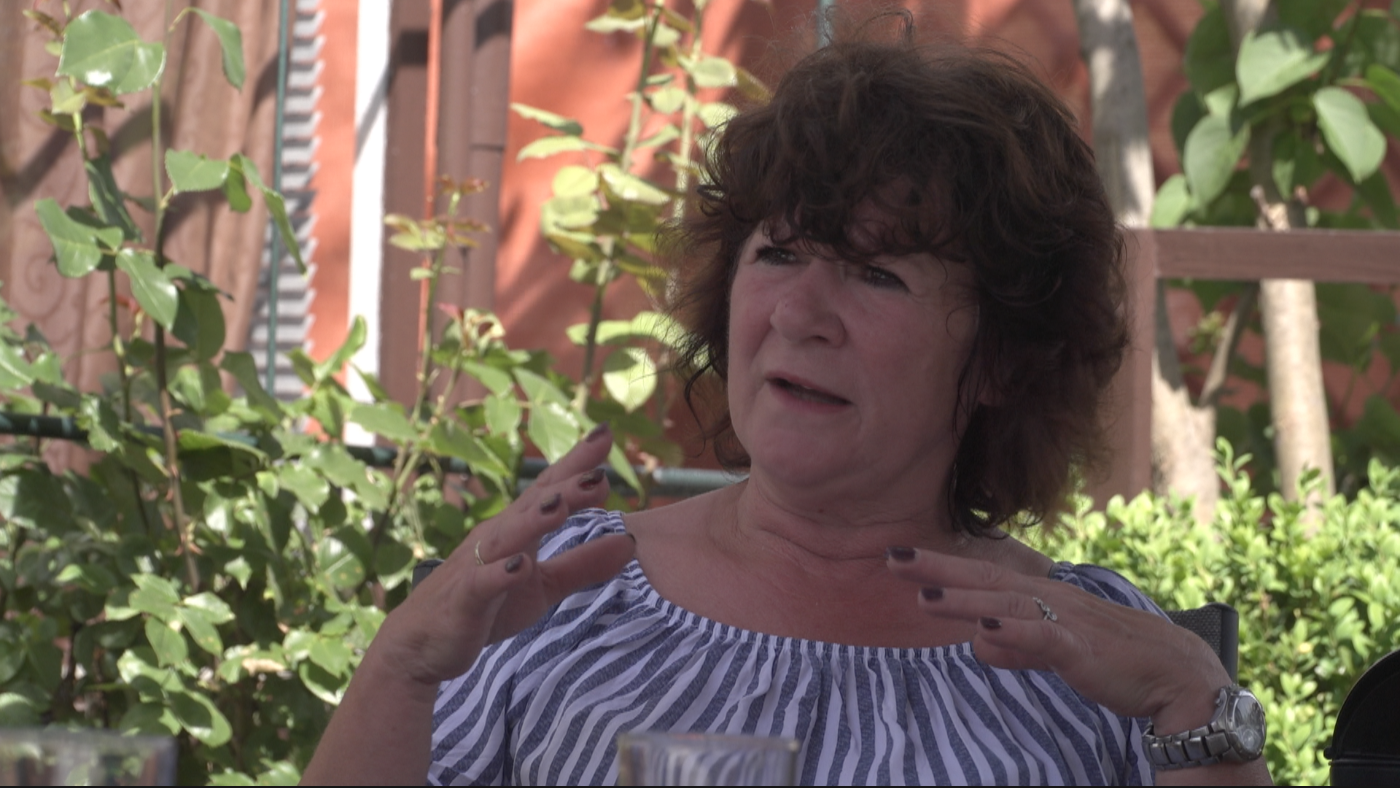 BBC
There is nothing left of the Germany we knew because we have been overrun and are still overrun by migrants
Inequalities persist in today's Germany.
Mrs Merkel's critics, for example, say she could have done more to address the gender pay gap, one of the worst in Europe, or encourage more women into leading positions in business and politics.
"She did try," says Daniela Schwarzer from the Open Society Foundation. Like many here, she believes that by simply occupying Germany's top job, Mrs Merkel has been a powerful role model to younger women.
She cites her support for Germany's current Defence Minister Annegret Kramp-Karrenbauer, who was once in the running to succeed her as chancellor.
"When you hear about how she actually managed the chancellery, there were women in key positions, and she was actually surrounded by women as her closest advisers."
And Mrs Merkel remains a popular figure in the country she's led for so long.
"In the long run people will see that these 16 years, if you sum it up, were quite successful, not only economically, but also in shaping the country towards preparing it for a future which will not be easy," says Professor Magnus Brechtken from Munich's Institute of Contemporary History.
Her legacy is to have represented "rational, pragmatic solution-orientated" thinking, in a world he sees as more shaped by people who have taken an approach that is either national, irrational, narcissistic or populist.
At a casual glance, the world of German politics can look rather boring. It's all about compromise, consensus and continuity.
In that sense Mrs Merkel has given her country what it expects from a leader. A voice of calm in a turbulent and shifting world.
You might also be interested in: